Pantar Marine Park
---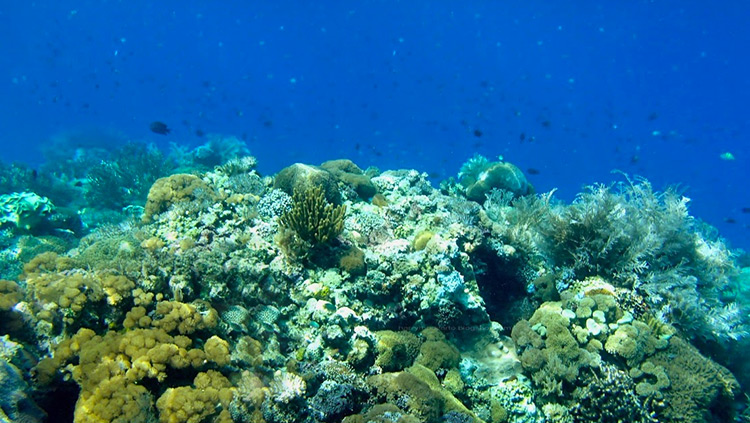 Pantar Marine park is located in Alor regency, East Nusa Tenggara. Pantar Marine Park covers Alor Besar, Alor Kecil, Dulolong, Buaya Island, Kepa Island, Ternate Island, and Pura Island. This marine park has the characteristics of caves and contours of the seabed between 60 until 90 degrees and the uniqueness of the water flow in the strait changing direction.
Pantar Marine Park offers beauty underwater life to visitors. The underwater life of this marine park is comparable to the most popular marine park in the world, such as those in Carribean Islands or local marine parks such as Bunaken in Sulawesi or Raja Ampat in Papua. The marine park has numerous species of fish and other sea creatures. You can enjoy the beautiful sea creatures when you dive or snorkel in the underwater of the sea. You will see an amazing panorama that you may have never seen before. The beauty of this marine park offers you challenging adventure as well as amazing experience.
The main activity in Pantar Marine Park is scuba diving. Besides the marine park has many diving spots. They are 26 spots, including Half Moon Bay, Crocodile Rook, The Edge, Cave Point, Peter's Prize, Shark Close and many more. All of the 26 diving spots offer you the most exotic underwater panorama. For example, Shark Close diving spot offers you an amazing shark view. You can encounter and get closer to sharks living in the underwater of this marine park. Apart from diving activity, you can snorkel or swim. While other than water activities, you can do many other interesting things, such as village trip. This means you will explore the culture and the traditional way of life of the local people. So, visiting Pantar Marine Park is not a waste since you can do many activities and buy valuable souvenirs. Visit this marine park if you have a plan to travel to somewhere.

Latest News
Koja Doi Village is located in East Alok sub-district, Sikka Regency, East Nusa Tenggara (NTT). Visitors can access this village by boat with a travel time of about 40 minutes from Nangahale Harbor. Koja Doi is one of the tourist villages that won the Indonesia Sustainable Tourism Award (ISTA) from the Ministry of Tourism and Creative Economy. This village offers marine tourism, nature tourism, and cultural tourism. Koja Doi Village has several spot to visit, such as the site of the 1992 tsunami, a stone bridge, ancient rock hills, and…
---
West Sumba has a number of beaches that are destinations and attractions for its tourism sector. One of them is Marosi Beach. This beach is located in Lamboya District. You don't need long from Waikabubak to the location. Enough to travel overland for approximately one hour. In fact, you are also not charged a levy when entering this beach area. Marosi Beach is a beach that is completely empty of visitors. This is a recommended place for those of you who want to get rid of boredom from tired activities.…
---
Aili Beach in Central Sumba Regency, East Nusa Tenggara Province No one can deny the values of natural attractions like beaches, no? When it is about beautiful beaches, East Nusa Tenggara Province has many of them including the one called Aili Beach of Central Sumba Regency. To be exact, the location is in Konda Maloba Village and it resides in South Katikutana Sub-District. Like other beaches of NTT Province, this one is recognized for its pristine nuance and beautiful white sand. The good thing is that it resides in the…
---
Gunung Meja Waterfall in East Sumba Regency Aside from exotic beaches and interesting local culture, East Nusa Tenggara Province is the home to other tourist attractions including waterfalls. Well, one of them resides in East Sumba Regency, which is called Gunung Meja Waterfall. To be exact, the location is in Kuta Village and it belongs to Kanatang Sub-District. Have no worries. The distance is considered especially for those coming from Waingapu City. So, what makes it unique? Some locals call it the hidden nirvana waterfall due to its nice landscape…
---