East Sumba
---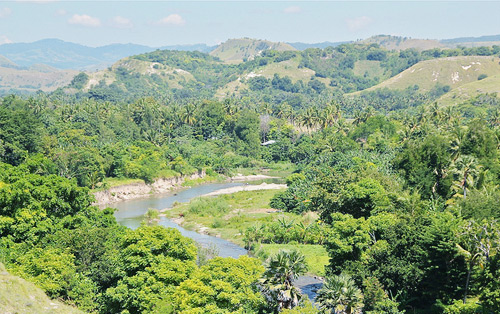 East Sumba has a different climate, it is more dry and mountainous, and the people here belong to one single ethnical group with one common language. Waingapu, the capital, is located here and is a hub for transport to and from the island. There are some facilities here, but the main attractions are located west and southeast on the island. Some traditional villages are located southeast of Waingapu and can be visited on a daytrip from there.
This region is better known for its "ikat" weaving. Traditionally only members of the highest clans and their personal attendants only used for special ceremonies and ikat. During important funerals the corpse was dressed in the finest textiles to make a good appearance in the afterlife, and piles of extra textiles was often sent with the dead as well. Later the Dutch started to export ikat to Europe and Java, where it quickly became very popular. Other products from here are horses and cattle. Horses are still used for transport on Sumba and are a symbol of high status; the large grass fields in the interior of the island are well suited for horse rising.
The island is famous for its megalithic tombs and war rituals. A well-known ritual is 'pasola' were hundreds of men on horses throw spears at each other. The tips of the spears are cut off, but serious accidents, even deaths, occur frequently. The season to experience this festival is in February to March, it will take place in four different districts to satisfy the gods and bring a good harvest. The exact date and time is depending on the arrival of the small 'Nyale' fish to the coast. The priests will study the fish and from it's behavior predict the outcome of the harvest. When this is done the Pasola festival can begin, the fights will usually start at the beach and then move further inland. Although perhaps 40% of the population of East Sumba follows the 'Merapu' religion as their brothers in the out ward manifestations are not nearly as spectacular of frequent.
Near Waingapu, Kuta Beach is a good place to relax, and further down coast, near Baing (125 km from Waingapu), there is great surfing at Kalala Beach. The waves are best from December to May. Traditional hand-woven cloth, one of the most outstanding traditional handicrafts, besides handicrafts of "lontar" leaves and sandalwood carvings, the sasando - the traditional musical instruments - both in miniature or actual size.

Latest News
Koja Doi Village is located in East Alok sub-district, Sikka Regency, East Nusa Tenggara (NTT). Visitors can access this village by boat with a travel time of about 40 minutes from Nangahale Harbor. Koja Doi is one of the tourist villages that won the Indonesia Sustainable Tourism Award (ISTA) from the Ministry of Tourism and Creative Economy. This village offers marine tourism, nature tourism, and cultural tourism. Koja Doi Village has several spot to visit, such as the site of the 1992 tsunami, a stone bridge, ancient rock hills, and…
---
West Sumba has a number of beaches that are destinations and attractions for its tourism sector. One of them is Marosi Beach. This beach is located in Lamboya District. You don't need long from Waikabubak to the location. Enough to travel overland for approximately one hour. In fact, you are also not charged a levy when entering this beach area. Marosi Beach is a beach that is completely empty of visitors. This is a recommended place for those of you who want to get rid of boredom from tired activities.…
---
Aili Beach in Central Sumba Regency, East Nusa Tenggara Province No one can deny the values of natural attractions like beaches, no? When it is about beautiful beaches, East Nusa Tenggara Province has many of them including the one called Aili Beach of Central Sumba Regency. To be exact, the location is in Konda Maloba Village and it resides in South Katikutana Sub-District. Like other beaches of NTT Province, this one is recognized for its pristine nuance and beautiful white sand. The good thing is that it resides in the…
---
Gunung Meja Waterfall in East Sumba Regency Aside from exotic beaches and interesting local culture, East Nusa Tenggara Province is the home to other tourist attractions including waterfalls. Well, one of them resides in East Sumba Regency, which is called Gunung Meja Waterfall. To be exact, the location is in Kuta Village and it belongs to Kanatang Sub-District. Have no worries. The distance is considered especially for those coming from Waingapu City. So, what makes it unique? Some locals call it the hidden nirvana waterfall due to its nice landscape…
---