Ama Tukang Art Shop in East Sumba Regency, East Nusa Tenggara Province
---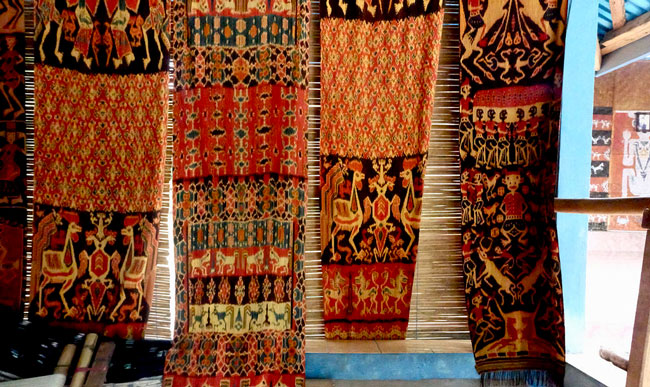 Sumba Island is the part of Indonesia and it has become tourists' recommended vacation destination regardless of their purposes. Well, visiting beautiful beaches is one thing, but witnessing the creation of beautiful Sumba woven fabrics is considered better. The locals have the pride in their Ikat Fabric, after all. For tourists, in this case, the best place to visit is none other than Ama Tukang Art Shop. The location is in East Sumba Regency, actually. To be exact, it resides in Prailiu Village and belongs to Kambera Sub-District.
The Nuance
In terms of nuance, Ama Tukang Art Shop looks like a regular production house featuring several structures and employees. For the information, one building is used to display ready-made Ikat Fabric. Near to the parking area, some employees are working outside so tourists are able to witness the process directly. Also, the workshop is surrounded by lush trees and numerous plants so the atmosphere is quite comfortable there. The best thing is that tourists can enter the location freely! Not to mention both the owner and employees are quite friendly.
Exploring Ama Tukang Art Shop
It is, without a doubt, the main attraction in Ama Tukang Art Shop, is the Ikat Fabric itself. Once tourists arrive at the location, they can enter one of the buildings directly and watch the ready-made woven fabrics. These beauties come in various colors and designs, which are quite astonishing. The good thing is that tourists are allowed to buy some, as long as they have enough money to purchase such beautiful fabric. Have no worries. They can get a more affordable price by bargaining. As an alternative, a help of a local guide would be useful when it comes to bargaining.
The next thing to do in the art shop is none other than watching the creation of the fabric. As long as tourists don't disturb the employees, they are allowed to witness the procedure. Usually, these people do the job outside when the weather is nice. Thus, everyone can watch it comfortably as well. Still, it is recommended to get the consent of either the owner before approaching the employees.
In aesthetic terms, Ikat Fabric of Sumba is indeed valuable. Not only it is colorful, but it also has different designs including animals (buffalo, horsemen, village scenery, Marapu traditions, and much more). The price of the fabric depends on the difficulty of the strip and variety of color, actually. In fact, a single product may take about 2-3 months to be done! It can even take 5 months for a bigger and more complicated design.
Nearby Attractions

Waingapu City Park
Raja Prailiu Village
Manubara Bridge
WGP Pahlawan Monument
How to Get There
From Kupang City, tourists should get an airplane at El Tari International Airport and head to Umbu Mehang Kunda Airport in Waingapu City. This flight may take about 30 minutes, so it is going to be comfortable and fast. Once arriving at Waingapu City, tourists can simply take any local transportation service and get to the art shop immediately. Have no worries. It takes only 9 minutes as the distance is 4 km.
Where to Stay

Tanto Hotel
Kaliuda Hotel
Sacca Residence
Padadita Beach Hotel
Oro Beach Houses

Latest News
Koja Doi Village is located in East Alok sub-district, Sikka Regency, East Nusa Tenggara (NTT). Visitors can access this village by boat with a travel time of about 40 minutes from Nangahale Harbor. Koja Doi is one of the tourist villages that won the Indonesia Sustainable Tourism Award (ISTA) from the Ministry of Tourism and Creative Economy. This village offers marine tourism, nature tourism, and cultural tourism. Koja Doi Village has several spot to visit, such as the site of the 1992 tsunami, a stone bridge, ancient rock hills, and…
---
West Sumba has a number of beaches that are destinations and attractions for its tourism sector. One of them is Marosi Beach. This beach is located in Lamboya District. You don't need long from Waikabubak to the location. Enough to travel overland for approximately one hour. In fact, you are also not charged a levy when entering this beach area. Marosi Beach is a beach that is completely empty of visitors. This is a recommended place for those of you who want to get rid of boredom from tired activities.…
---
Aili Beach in Central Sumba Regency, East Nusa Tenggara Province No one can deny the values of natural attractions like beaches, no? When it is about beautiful beaches, East Nusa Tenggara Province has many of them including the one called Aili Beach of Central Sumba Regency. To be exact, the location is in Konda Maloba Village and it resides in South Katikutana Sub-District. Like other beaches of NTT Province, this one is recognized for its pristine nuance and beautiful white sand. The good thing is that it resides in the…
---
Gunung Meja Waterfall in East Sumba Regency Aside from exotic beaches and interesting local culture, East Nusa Tenggara Province is the home to other tourist attractions including waterfalls. Well, one of them resides in East Sumba Regency, which is called Gunung Meja Waterfall. To be exact, the location is in Kuta Village and it belongs to Kanatang Sub-District. Have no worries. The distance is considered especially for those coming from Waingapu City. So, what makes it unique? Some locals call it the hidden nirvana waterfall due to its nice landscape…
---