Kupang - Lasiana Beach
---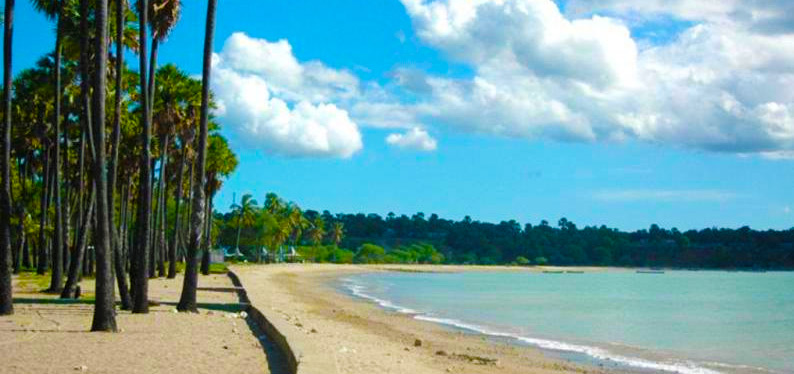 Kupang City has the stunning beauty beach named Lasiana Beach. Located about 12 kilometers from Kupang City. Precisely located in Lasiana Village, Kelapa Lima District, Central Kupang of Kupang City. Lasiana Beach became one of the sights that you must visit if you are getting trip to Kupang, East Nusa Tenggara. It offers the white sands and calm waves. Lasiana is very popular beach not only in Indonesia but also around the world. The beach has been open for public since the 1970's and began to pull more International tourists after the local government built a number of facilities in 1986.
Lasiana Beach has an amazing landscape. It is perfect for a place to relax your mind as it is not too crowded. Unlike many popular beaches, the beach still maintains its natural beauty because there are not many visitors here. The visitors who arrived at this Lasiana Beach most on holiday or Sunday. They usually spend their holiday with the family or friends to explore around Lasiana Beach.
The local government's mission of making the beach as Taman Budaya Flobamora (Cultural Park of Flobamora), a place where the different cultures and tribes in its vicinity are unified to make an interesting site of a tourist destination. Lasiana measures to 3.5 ha and is guarded by lush rows of coconut trees. The beach presents stretch of white sands and sparkling blue water with the classic signature of ocean breeze and occasional scenery of calm waves.
You can do many activities like playing beach volley, jogging, fishing or swimming. The topography combines a fine conjunction of hilly areas and coastlines which makes the surrounding scenery a unique one to enjoy. The other activities, you can diving or snorkeling in this beautiful beach. You can enjoy underwater life consisting various species of fish and coral reefs. The beach is rich of biodiversity as you can find many flora and fauna. The species of fish and coral reefs spread in the islands around the beach. You can dive in many of the surfing points, including the shipwreck from Japan war ship of 1942. It lies hidden in Semau Island waters. It is so shallow that divers can easily reach the spot. The ship was bombed by Australian Air Force in 1942. It sank right in the place where the ship anchored. You can visit the spot and learn how magnificent the bombing was.
Whenever you visit Lasiana Beach, you can stay in Kupang. There are many small hotels and lodge in Kupang. There are also big hotels in Kupang that you can choose. The hotel provides adequate facilities for visitors. Lasiana Beach will give you a great experience. You can do many interesting activities and learn many things in this beautiful beach.

Latest News
Koja Doi Village is located in East Alok sub-district, Sikka Regency, East Nusa Tenggara (NTT). Visitors can access this village by boat with a travel time of about 40 minutes from Nangahale Harbor. Koja Doi is one of the tourist villages that won the Indonesia Sustainable Tourism Award (ISTA) from the Ministry of Tourism and Creative Economy. This village offers marine tourism, nature tourism, and cultural tourism. Koja Doi Village has several spot to visit, such as the site of the 1992 tsunami, a stone bridge, ancient rock hills, and…
---
West Sumba has a number of beaches that are destinations and attractions for its tourism sector. One of them is Marosi Beach. This beach is located in Lamboya District. You don't need long from Waikabubak to the location. Enough to travel overland for approximately one hour. In fact, you are also not charged a levy when entering this beach area. Marosi Beach is a beach that is completely empty of visitors. This is a recommended place for those of you who want to get rid of boredom from tired activities.…
---
Aili Beach in Central Sumba Regency, East Nusa Tenggara Province No one can deny the values of natural attractions like beaches, no? When it is about beautiful beaches, East Nusa Tenggara Province has many of them including the one called Aili Beach of Central Sumba Regency. To be exact, the location is in Konda Maloba Village and it resides in South Katikutana Sub-District. Like other beaches of NTT Province, this one is recognized for its pristine nuance and beautiful white sand. The good thing is that it resides in the…
---
Gunung Meja Waterfall in East Sumba Regency Aside from exotic beaches and interesting local culture, East Nusa Tenggara Province is the home to other tourist attractions including waterfalls. Well, one of them resides in East Sumba Regency, which is called Gunung Meja Waterfall. To be exact, the location is in Kuta Village and it belongs to Kanatang Sub-District. Have no worries. The distance is considered especially for those coming from Waingapu City. So, what makes it unique? Some locals call it the hidden nirvana waterfall due to its nice landscape…
---