Penggajawa Beach
---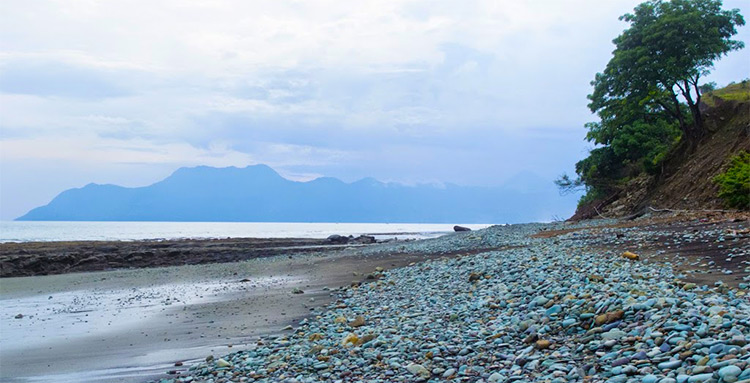 Flores is an island that has a lot of amazing tourist attraction. Starting from the wonders of the world like Three Colored Lake (Kelimutu Lake) are constantly changing color and the beautiful beaches with underwater scenery is so exotic. For a beach, you would have heard or even visit the black sandy beach area. Also the white sand beach was already know or have visited. In Flores there is a beach which has a stretch of green stone. People often call it green stone Penggajawa. The beach with the charm there is in the central of Flores. Precisely in Nangapanda District, Ende Regency named Penggajawa Beach.
To access the beauty of Penggajawa Beach, you must first use public transportation to Ndao station. Then, you can use public transportation to Nanga Penda. Arriving there, you will be greeted toska turquoise colored stone that dominate the coast. Explore the uniqueness of the natural color of its coastal boulders. Not only blue or turquoise, the other stones there is even a purple, red, white, yellow, and even multi-layered color. These stones not only has one form. There are various forms of stone that has natural color. There are square, triangle, round to oval with diverse sizes. Ranging from the tiny to the largest size.
Penggajawa Beach has a dazzling scenery with crystal clear sea water, reflecting the beautiful colors of the stones in it. If the weather is sunny, you can see Ende hill, and the island across the sea. Along the coast stretches limestone cliffs greenish also complements the beautiful view of the beach.
Penggajawa Beach tourism potential is not yet developed and promoted by the local government. Do not be surprised if you find this beautiful beach is still very quiet. But there is no typical souvenirs of handicraft of the blue stone Penggajawa Beach. There is no restaurant grilled fish, because along this beautiful coast line there was just a stretch of rocks and hills greenery. The majority of people around Penggajawa Beach was working as a rock miners. They collect stones from the beach or seabed, then sorted by color, shape, and size. Each week there will be collectors from the city, a bag of stones valued 25,000 IDR. The price can be doubled when it was entered in building material stores.
If usually you collect shells when you are on the beach, here you can collect colorful stones that seemed endless waves brought. According to locals, the stones are always 'stranded' in the morning, even though they had taken every day by the population to be traded, this stone is no limited. This stone was as a windfall resident are continuously exist.

Latest News
Koja Doi Village is located in East Alok sub-district, Sikka Regency, East Nusa Tenggara (NTT). Visitors can access this village by boat with a travel time of about 40 minutes from Nangahale Harbor. Koja Doi is one of the tourist villages that won the Indonesia Sustainable Tourism Award (ISTA) from the Ministry of Tourism and Creative Economy. This village offers marine tourism, nature tourism, and cultural tourism. Koja Doi Village has several spot to visit, such as the site of the 1992 tsunami, a stone bridge, ancient rock hills, and…
---
West Sumba has a number of beaches that are destinations and attractions for its tourism sector. One of them is Marosi Beach. This beach is located in Lamboya District. You don't need long from Waikabubak to the location. Enough to travel overland for approximately one hour. In fact, you are also not charged a levy when entering this beach area. Marosi Beach is a beach that is completely empty of visitors. This is a recommended place for those of you who want to get rid of boredom from tired activities.…
---
Aili Beach in Central Sumba Regency, East Nusa Tenggara Province No one can deny the values of natural attractions like beaches, no? When it is about beautiful beaches, East Nusa Tenggara Province has many of them including the one called Aili Beach of Central Sumba Regency. To be exact, the location is in Konda Maloba Village and it resides in South Katikutana Sub-District. Like other beaches of NTT Province, this one is recognized for its pristine nuance and beautiful white sand. The good thing is that it resides in the…
---
Gunung Meja Waterfall in East Sumba Regency Aside from exotic beaches and interesting local culture, East Nusa Tenggara Province is the home to other tourist attractions including waterfalls. Well, one of them resides in East Sumba Regency, which is called Gunung Meja Waterfall. To be exact, the location is in Kuta Village and it belongs to Kanatang Sub-District. Have no worries. The distance is considered especially for those coming from Waingapu City. So, what makes it unique? Some locals call it the hidden nirvana waterfall due to its nice landscape…
---