Sirung Mountain in Alor Regency, East Nusa Tenggara Province
---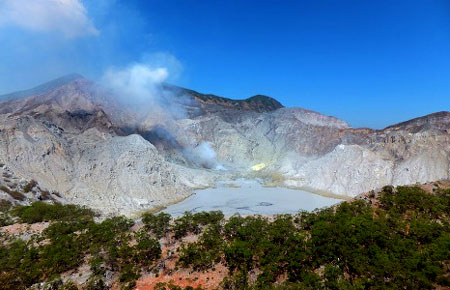 What do people know about Alor Regency? It is true Alor is part of East Nusa Tenggara Province. However, not many people know its tourism potential. Here is the example. Tourists are able to enjoy an adventure on the famous Mountain called Sirung! It is located in Mauta Village and belongs to Central Pantar Sub-District. The presence of this mountain becomes the proof that Alor is more than just beautiful beaches! That means tourists can enjoy more challenging activities there including hiking and photography. So, what makes Sirung famous?
The Nuance
Here is basic information regarding Sirung Mountain. It is considered an active volcano and resides on Pantar Island. The height is only 862 meters above the sea level, so it is considered a short volcano. Due to the volcanic activity, the mountain emits solfatara smoke. No wonder, it becomes one of the best views, which tourists are able to watch while trekking. As long as they come during a good weather, they might be able to witness such natural phenomenon easily. As for the appearance, the mountain features many rocky hills with a dry surface. Even the crater looks so majestic from up there.
Exploring Sirung Mountain
It is, without a doubt, the best thing to do in Sirung Mountain is trekking. As for the information, the checkpoint starts in Kakamauta Village. Also, it takes approximately 1 hour to reach the top of the mountain or the crater. For those who have never done it before, they must consider hiring a local guide or porter to reach the destination. Not only this service helps to find the best trekking route, but it also gives some tips regarding a comfortable and safe hiking.
It is true everyone should prepare enough stamina to get go trekking in Sirung Mountain. Still, tourists should pay attention other tips including the safety. For instance, everyone should not forget wearing a mask while trekking. The purpose is quite clear. It is to avoid getting poisoned by the deadly high amount of sulfur fumes. There is another important tip given by the local guides. They may recommend everyone to carry portable oxygen as the safety measure to avoid respiratory problems.
Well, in order to get the best views, everyone should reach the top of Sirung Mountain at all cost. Even though it may take some time and efforts, the reward won't be disappointing at all. The best view perhaps is the lone lake crater. It also becomes the best object to capture when enjoying photography, actually.
Nearby Attractions

Beang Beach
Pasir Tiga Warna Beach
How to Get There
From Kupang City, tourists should take an airplane at El Tari International Airport and head to Alor Island Airport. Have no worries. It is considered a short flight, which may take about 40 minutes. Once arriving at Alor Airport, they should head to Alor Kecil Village and get a boat service there. This time, their destination is Pantar Island where Sirung Mountain resides.
Where to Stay


Latest News
Koja Doi Village is located in East Alok sub-district, Sikka Regency, East Nusa Tenggara (NTT). Visitors can access this village by boat with a travel time of about 40 minutes from Nangahale Harbor. Koja Doi is one of the tourist villages that won the Indonesia Sustainable Tourism Award (ISTA) from the Ministry of Tourism and Creative Economy. This village offers marine tourism, nature tourism, and cultural tourism. Koja Doi Village has several spot to visit, such as the site of the 1992 tsunami, a stone bridge, ancient rock hills, and…
---
West Sumba has a number of beaches that are destinations and attractions for its tourism sector. One of them is Marosi Beach. This beach is located in Lamboya District. You don't need long from Waikabubak to the location. Enough to travel overland for approximately one hour. In fact, you are also not charged a levy when entering this beach area. Marosi Beach is a beach that is completely empty of visitors. This is a recommended place for those of you who want to get rid of boredom from tired activities.…
---
Aili Beach in Central Sumba Regency, East Nusa Tenggara Province No one can deny the values of natural attractions like beaches, no? When it is about beautiful beaches, East Nusa Tenggara Province has many of them including the one called Aili Beach of Central Sumba Regency. To be exact, the location is in Konda Maloba Village and it resides in South Katikutana Sub-District. Like other beaches of NTT Province, this one is recognized for its pristine nuance and beautiful white sand. The good thing is that it resides in the…
---
Gunung Meja Waterfall in East Sumba Regency Aside from exotic beaches and interesting local culture, East Nusa Tenggara Province is the home to other tourist attractions including waterfalls. Well, one of them resides in East Sumba Regency, which is called Gunung Meja Waterfall. To be exact, the location is in Kuta Village and it belongs to Kanatang Sub-District. Have no worries. The distance is considered especially for those coming from Waingapu City. So, what makes it unique? Some locals call it the hidden nirvana waterfall due to its nice landscape…
---