Ogi Waterfall
---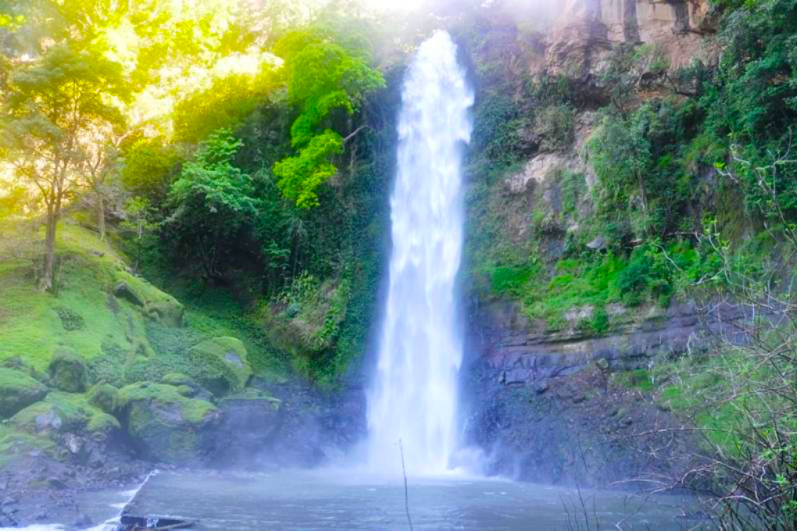 Bajawa is known as a plateau that is region of location where Mount Inerie. Bajawa is also known for its rich natural product especially coffee thrives on mountain slopes. Typical panoramic mountains that attracts tourists to stop at this cool place. The center area for tourists who stop was in the town where there are few hotel or guest house with hot water facilities definite obtained. When stopped at Bajawa do not missed to visit the tourist attractions not far from the hotel. Alternative tourism in Bajawa also vary, but when you has a short time to move on the right place, is the only waterfall in Bajawa very easy and quick to reach only about a half hour. This waterfall is called Ogi Waterfall.
Ogi Waterfall is located in Faobata Village, Bajawa District, Ngada Regency of East Nusa Tenggara Province. You can reach this beautiful waterfall by Motorbike. Would make it more interesting and adventurous as the air's atmosphere along the curvy road will create a stunning refreshment and also many photography places on the way there, one of them may show you the boasting Ebulobo volcano from the distance.
It is around 7 kilometers away to the east side of Bajawa city to get here. The waterfall lies quite near with the road, and you need to start to walk through the dirt path of ricef ields and concrete lines alongside the sewer. Around 900 meters walking from the first point to walk of the greenish rice field lead you toward the waterfall. During the day you would encounter some friendly local farmers with their planting activities, and it would be one of the pleasant feeling before the waterfall.
Soon as you close to the waterfall, more roaring sound of the abundant water discharge would be heard. A mass of water comes out from a slit of a line of a hill, then falls down massively in persistent speed, creating a gust over the air, blowing off water particles everywhere. In one full year, the water discharge has been massive and persistent debit of water, including in the beginning of the dry season. That is why the local government assembled a microhydro electricity power processor next to the waterfall to support the electricity consumption for the city. There is also an assembled iron staircase of a same height of the waterfall which is used for monitoring the water discharge, however it is strongly advisable not to climb them as it is in a quite steep degrees, rusty, and slippery condition.

Latest News
Koja Doi Village is located in East Alok sub-district, Sikka Regency, East Nusa Tenggara (NTT). Visitors can access this village by boat with a travel time of about 40 minutes from Nangahale Harbor. Koja Doi is one of the tourist villages that won the Indonesia Sustainable Tourism Award (ISTA) from the Ministry of Tourism and Creative Economy. This village offers marine tourism, nature tourism, and cultural tourism. Koja Doi Village has several spot to visit, such as the site of the 1992 tsunami, a stone bridge, ancient rock hills, and…
---
West Sumba has a number of beaches that are destinations and attractions for its tourism sector. One of them is Marosi Beach. This beach is located in Lamboya District. You don't need long from Waikabubak to the location. Enough to travel overland for approximately one hour. In fact, you are also not charged a levy when entering this beach area. Marosi Beach is a beach that is completely empty of visitors. This is a recommended place for those of you who want to get rid of boredom from tired activities.…
---
Aili Beach in Central Sumba Regency, East Nusa Tenggara Province No one can deny the values of natural attractions like beaches, no? When it is about beautiful beaches, East Nusa Tenggara Province has many of them including the one called Aili Beach of Central Sumba Regency. To be exact, the location is in Konda Maloba Village and it resides in South Katikutana Sub-District. Like other beaches of NTT Province, this one is recognized for its pristine nuance and beautiful white sand. The good thing is that it resides in the…
---
Gunung Meja Waterfall in East Sumba Regency Aside from exotic beaches and interesting local culture, East Nusa Tenggara Province is the home to other tourist attractions including waterfalls. Well, one of them resides in East Sumba Regency, which is called Gunung Meja Waterfall. To be exact, the location is in Kuta Village and it belongs to Kanatang Sub-District. Have no worries. The distance is considered especially for those coming from Waingapu City. So, what makes it unique? Some locals call it the hidden nirvana waterfall due to its nice landscape…
---