Cunca Rede Waterfall
---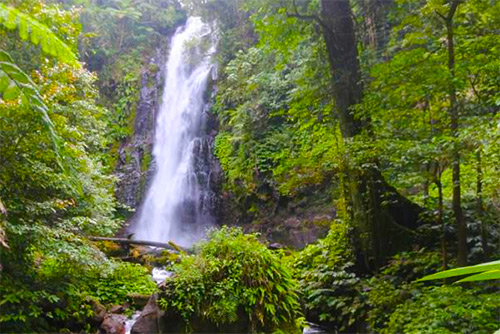 Cunca Rede Waterfall is located in Sano Lokom village, Borong disctrict, East Manggarai regency, this approximately 30 meters high waterfall flowing fresh spring water and offers you spectacular scenery that will refresh your soul. This place can be reached by 2 hours drive from Borong city.
The local resident call it Cunca Rede as the descending stones are quite looking similar to stairway. This spring water has been watering around eight Lingkos, locally called for traditional farming area. Blowing wind delivers humid vapors to the surrounding rocky walls as the huge drops of the splashing water falling in to the ground. The massive water flows is almost unchanged even though during the dry season where it flows downstream to the southern coast.
Diplazium-esculentum Swartz are common vegetation found around this waterfall, and the local resident consume them as vegetable dish. The forest around the waterfall is also a habitat for various tropical trees and other floras, including wild orchids. Some familiar bird sounds like Helmeted Friarbird or Philemon Buceroides is also easily heard from distance.
Cunca Rede Waterfall has amazing scenery of rice terrace will welcome you soon as you arrive at the crossing of Wae Musur and Wae Pagel rivers. Make a stop here to breathe the freshness of the atmosphere. There is another waterfall quite near to Cunca Rede. Named Cunca Ncuar Waterfall, a bigger debit of waterfall but way shorter by its altitude coming from Wae Musur Spring.
You can do various activity in Cunca Rede Waterfall such as swimming, or just playing in the little river Wae Musur. But you shoud be careful as the river stream goes a bit strong, and make sure you find a right safe spot near the river's bank. After refresh yourself, you will be ready to stroll down the street of Cunca Rede Waterfall.

Latest News
Koja Doi Village is located in East Alok sub-district, Sikka Regency, East Nusa Tenggara (NTT). Visitors can access this village by boat with a travel time of about 40 minutes from Nangahale Harbor. Koja Doi is one of the tourist villages that won the Indonesia Sustainable Tourism Award (ISTA) from the Ministry of Tourism and Creative Economy. This village offers marine tourism, nature tourism, and cultural tourism. Koja Doi Village has several spot to visit, such as the site of the 1992 tsunami, a stone bridge, ancient rock hills, and…
---
West Sumba has a number of beaches that are destinations and attractions for its tourism sector. One of them is Marosi Beach. This beach is located in Lamboya District. You don't need long from Waikabubak to the location. Enough to travel overland for approximately one hour. In fact, you are also not charged a levy when entering this beach area. Marosi Beach is a beach that is completely empty of visitors. This is a recommended place for those of you who want to get rid of boredom from tired activities.…
---
Aili Beach in Central Sumba Regency, East Nusa Tenggara Province No one can deny the values of natural attractions like beaches, no? When it is about beautiful beaches, East Nusa Tenggara Province has many of them including the one called Aili Beach of Central Sumba Regency. To be exact, the location is in Konda Maloba Village and it resides in South Katikutana Sub-District. Like other beaches of NTT Province, this one is recognized for its pristine nuance and beautiful white sand. The good thing is that it resides in the…
---
Gunung Meja Waterfall in East Sumba Regency Aside from exotic beaches and interesting local culture, East Nusa Tenggara Province is the home to other tourist attractions including waterfalls. Well, one of them resides in East Sumba Regency, which is called Gunung Meja Waterfall. To be exact, the location is in Kuta Village and it belongs to Kanatang Sub-District. Have no worries. The distance is considered especially for those coming from Waingapu City. So, what makes it unique? Some locals call it the hidden nirvana waterfall due to its nice landscape…
---