Liwu Legur Waterfall
---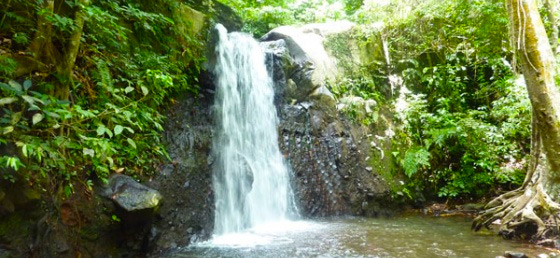 Liwu Legur is a beautiful waterfall located in a forest near Hale Village. For those who loves adventure and active travelers you can hike that is perfect spot for young-spirited. The hike to Liwu Legur waterfall through amazing scenery as well as the option of rock climbing make Liwu Legur the perfect combination for enjoying nature and getting your adventure. While climbing the rocks; walking up and down the hills and big-sized stones; and getting wet in the river is part of the Liwu Legur waterfall experience.
To start hike in Liwu Legur waterfall takes the two-hour hike from Hale Village early in the morning, it is best to stay there overnight and enjoy some relaxing hours of sleep in a villager's home.The hike starts with a walk down the village path past the farms. At the end of the walkable path, where you can already get a glimpse of the beautiful waterfall, you will have to climb down a rock face with a rope which you should already have prepared for the trip. This challenge is worth taking on because of the stunning view of distant Liwu Legur waterfall, charmingly nestled in nature is waiting for you. Even from here, you can already feel its majestic, magnetic energy.
After one hour of walking past savannah landscapes and descending into the forest, you will come across a river filled with big rocks and freshwater shrimps swimming through the clear, cool water. Following the river, you will finally arrive at the site of Liwu Legur Waterfall. After the arduous walking, climbing and rock hopping, it feels like heaven to jump into one of the pools. You may choose to relax a little longer in the freshness of the water, or proceed to the next challenge of rock climbing. This done, the return trip to Hale is even more exciting if you choose a different route.
In Liwu Legur waterfall the facility is still limited, you had better bring along your own supply of food and water. A local guide will be indispensable for finding your way to the waterfall and back. Climbing equipment should be brought along to master the terrain.
Liwu Legur waterfall can reach from Maumere to Hale Village is very pleasant. As there are a number of beautiful places worth stopping, it is recommended to leave Maumere early in the morning. Watu Cruz Beach near Ipir Village, or Doreng Beach near Doreng village, are some of the spots that you should not miss. Hale Village, the starting point for the hike to Liwu Legur, is located about 57km from Maumere. It takes approximately four hours for experienced drivers by motorbike. The country road is generally in good condition, but the part between Ili to Wolokoli Village needs serious improvement. Please ride slowly and carefully on these winding and often steep roads, especially during or after rainfalls.

Latest News
Koja Doi Village is located in East Alok sub-district, Sikka Regency, East Nusa Tenggara (NTT). Visitors can access this village by boat with a travel time of about 40 minutes from Nangahale Harbor. Koja Doi is one of the tourist villages that won the Indonesia Sustainable Tourism Award (ISTA) from the Ministry of Tourism and Creative Economy. This village offers marine tourism, nature tourism, and cultural tourism. Koja Doi Village has several spot to visit, such as the site of the 1992 tsunami, a stone bridge, ancient rock hills, and…
---
West Sumba has a number of beaches that are destinations and attractions for its tourism sector. One of them is Marosi Beach. This beach is located in Lamboya District. You don't need long from Waikabubak to the location. Enough to travel overland for approximately one hour. In fact, you are also not charged a levy when entering this beach area. Marosi Beach is a beach that is completely empty of visitors. This is a recommended place for those of you who want to get rid of boredom from tired activities.…
---
Aili Beach in Central Sumba Regency, East Nusa Tenggara Province No one can deny the values of natural attractions like beaches, no? When it is about beautiful beaches, East Nusa Tenggara Province has many of them including the one called Aili Beach of Central Sumba Regency. To be exact, the location is in Konda Maloba Village and it resides in South Katikutana Sub-District. Like other beaches of NTT Province, this one is recognized for its pristine nuance and beautiful white sand. The good thing is that it resides in the…
---
Gunung Meja Waterfall in East Sumba Regency Aside from exotic beaches and interesting local culture, East Nusa Tenggara Province is the home to other tourist attractions including waterfalls. Well, one of them resides in East Sumba Regency, which is called Gunung Meja Waterfall. To be exact, the location is in Kuta Village and it belongs to Kanatang Sub-District. Have no worries. The distance is considered especially for those coming from Waingapu City. So, what makes it unique? Some locals call it the hidden nirvana waterfall due to its nice landscape…
---