About Belu Regency in East Nusa Tenggara Province
---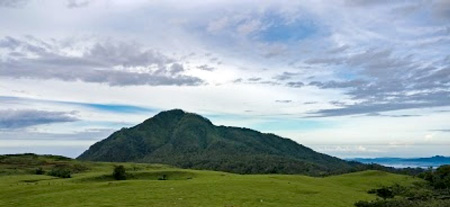 All of regencies in East Nusa Tenggara Province, Belu is not considered popular as Alor Regency. Despite the fact, many tourists keep visiting it over time due to various reasons. For instance, they want to explore all available natural attractions and enjoy numerous cultural heritage of the region. This explains why Belu becomes a nice destination for those who want to spend an unforgettable holiday either with friends or families. Not to mention Belu is where the famous Atambua City (the capital) resides!
The Nuance
Even though more people start recognizing the tourism value of Belu Regency, the majority of them still don't know further regarding the region itself. Let's start with the size. Belu has an area of about 2,445 km per square and it consists of 12 sub-districts! In terms of land surface, the region is considered hilly and mountainous. It is also bordering with Ombai Strait, Timor Sea, Timor Leste, and North Central Timor Regency. As for the climate, Balu is definitely tropical. The dry season even lasts long, which is from April to November.
Exploring Belu Regency
Many things can be done in Belu Regency. For example, tourists can learn the meaning of the name! According to the locals, "Belu" means a friendship or friend. It is a symbolism of how the locals live harmoniously since a long time ago. However, in the past, the Dutch divided the region politically into two parts which are the north and south. Even it has given a significant effect on the locals' life until now. The good thing is that tourists are able to learn more about the history from either the locals or tour guides.
The next interesting part of Belu Regency is none other than its tourism. There is the tallest mountain in the region called Foho Lakaan Mountain where tourists can enjoy hiking and sightseeing. Even famous hills reside including Mandeu and Lidak Hill. As an alternative, visitors can explore various historical sites like Lamaknen Palace, Atapupu Church, and much more. Do not worry about the transportation, as the region provides various types of public transportation service including boats, land transportation, and even flight service. For the information, the significant port is called Atapupu while the airport is AA Bere Talo, located in Haliwen.
What is more? Belu Regency also has a significant attraction related to culture. Tourists can enjoy interesting local dances like Bidu Kikit, Tebe, and Likurai Dance in fact. Moreover, the locals often perform some traditional rituals like Corn Harvesting Festival and Hamis Batar Ceremony. As for the traditional songs, Belu has Lolon Gol, Manumutin Torok, and much more! Do not forget the fact that the region offers numerous types of traditional foods to tourists as well, including Ut Moruk, Bose, Atapupu Fish, and many others.
Nearby Attractions

Atambua City Park
Pancasila Monument
Fulan Fehan Valley
Mauhalek Waterfall
Berluli Beach
Afuik Beach
Rai Katar Beach
Sukaerlaran Beach
Fatuk Kaduak
How to Get There
Well, it is easy to get to Belu Regency. From the capital of East Nusa Tenggara Province, Kupang City, tourists can directly head to Atambua City right away using any local transportation service. The distance is 271 km, though. That means it is going to be a long trip, which may take about 6 hours and 16 minutes. As for a faster trip, it is recommended to take Nasional Trans Timor Street.
Where to Stay

King Star Hotel
Alam Subur Hotel
Klaben Hotel
Intan Hotel
Matahari Hotel

Latest News
Koja Doi Village is located in East Alok sub-district, Sikka Regency, East Nusa Tenggara (NTT). Visitors can access this village by boat with a travel time of about 40 minutes from Nangahale Harbor. Koja Doi is one of the tourist villages that won the Indonesia Sustainable Tourism Award (ISTA) from the Ministry of Tourism and Creative Economy. This village offers marine tourism, nature tourism, and cultural tourism. Koja Doi Village has several spot to visit, such as the site of the 1992 tsunami, a stone bridge, ancient rock hills, and…
---
West Sumba has a number of beaches that are destinations and attractions for its tourism sector. One of them is Marosi Beach. This beach is located in Lamboya District. You don't need long from Waikabubak to the location. Enough to travel overland for approximately one hour. In fact, you are also not charged a levy when entering this beach area. Marosi Beach is a beach that is completely empty of visitors. This is a recommended place for those of you who want to get rid of boredom from tired activities.…
---
Aili Beach in Central Sumba Regency, East Nusa Tenggara Province No one can deny the values of natural attractions like beaches, no? When it is about beautiful beaches, East Nusa Tenggara Province has many of them including the one called Aili Beach of Central Sumba Regency. To be exact, the location is in Konda Maloba Village and it resides in South Katikutana Sub-District. Like other beaches of NTT Province, this one is recognized for its pristine nuance and beautiful white sand. The good thing is that it resides in the…
---
Gunung Meja Waterfall in East Sumba Regency Aside from exotic beaches and interesting local culture, East Nusa Tenggara Province is the home to other tourist attractions including waterfalls. Well, one of them resides in East Sumba Regency, which is called Gunung Meja Waterfall. To be exact, the location is in Kuta Village and it belongs to Kanatang Sub-District. Have no worries. The distance is considered especially for those coming from Waingapu City. So, what makes it unique? Some locals call it the hidden nirvana waterfall due to its nice landscape…
---