Explore East Nusa Tenggara And Those Exotic Islands
---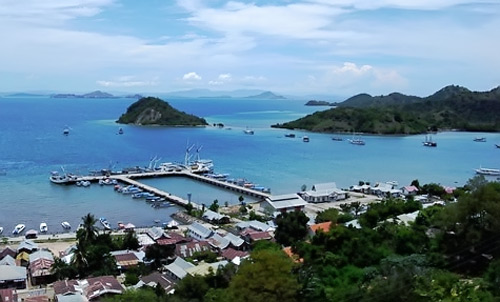 GEOLOGICALLY
Geologically, East Nusa Tenggara can be regarded as being divided into two zones: first, the volcanic inner curve formed by the islands Rinca, Komodo, Flores, Alor, Pantar, Adonara, Lembata and Solor, which have fertile soils and second, the out curve with limestone and rock formation, made up of the island Sumba, Sabu, Rote, Semau, and Timor.
DEMOGRAPHY
The total number of NTT inhabitants in 2001 was 3,888.735 - 1,919.644 (49.36%) men and 1,969.091 (50.64%) women. The most populated is Manggarai regency (621,989 people) and Kupang city is the most densely populated (1,517.30 people per square kilometer).
CLIMATE
Due to central highlands and their closeness to Australia, the seasons are irregular. Generally the islands are semi-arid, with a longer dry season lasting from March to November. The wet season lasts from December to March, but can be considerably shorter and small island of Savu. The average rainfall of this region is between 36 - 4,127 mm/year. The temperature is range from 20.3 C to 31.7 C.
TOPOGRAPHY
East Nusa Tenggara is mountainous, and very steep slopes are everywhere besides some not too wide plateaus or uplands. The lowlands are a long the coastal areas only. Despite of the situation, most part of this region is not fertile, since the rainfall varies between 500 mm and 2000 mm a year. East Nusa Tenggara (NTT) is includes 566 islands. In addition, there are 524 uninhabited islands. It covers an area of about 47,349.9 square kilometers, including 200,000 square kilometers of maritime territory. Roughly 57 percent of the territory is hilly, with cliffs. The lowlands lay generally around the beaches and river mouths.
WIDE AREA
The area of East Nusa Tenggara occupies an area of 49,879.98 square kilometers, and has a population of more than 3,500.000. It is divided into 12 regencies and one municipality. Kupang regency is the largest region (7,178.26 square kilometers) and the smallest region is Kupang city (160.34 km2).
LANGUAGES
There are a lot of languages spoken in East Nusa Tenggara coming from as many different which groups of the population. Bahasa Indonesia is the national language in Malay, written in Roman script and based in European orthography. In all tourist destination areas English is the number one foreign language fairly spoken and written.

Latest News
Koja Doi Village is located in East Alok sub-district, Sikka Regency, East Nusa Tenggara (NTT). Visitors can access this village by boat with a travel time of about 40 minutes from Nangahale Harbor. Koja Doi is one of the tourist villages that won the Indonesia Sustainable Tourism Award (ISTA) from the Ministry of Tourism and Creative Economy. This village offers marine tourism, nature tourism, and cultural tourism. Koja Doi Village has several spot to visit, such as the site of the 1992 tsunami, a stone bridge, ancient rock hills, and…
---
West Sumba has a number of beaches that are destinations and attractions for its tourism sector. One of them is Marosi Beach. This beach is located in Lamboya District. You don't need long from Waikabubak to the location. Enough to travel overland for approximately one hour. In fact, you are also not charged a levy when entering this beach area. Marosi Beach is a beach that is completely empty of visitors. This is a recommended place for those of you who want to get rid of boredom from tired activities.…
---
Aili Beach in Central Sumba Regency, East Nusa Tenggara Province No one can deny the values of natural attractions like beaches, no? When it is about beautiful beaches, East Nusa Tenggara Province has many of them including the one called Aili Beach of Central Sumba Regency. To be exact, the location is in Konda Maloba Village and it resides in South Katikutana Sub-District. Like other beaches of NTT Province, this one is recognized for its pristine nuance and beautiful white sand. The good thing is that it resides in the…
---
Gunung Meja Waterfall in East Sumba Regency Aside from exotic beaches and interesting local culture, East Nusa Tenggara Province is the home to other tourist attractions including waterfalls. Well, one of them resides in East Sumba Regency, which is called Gunung Meja Waterfall. To be exact, the location is in Kuta Village and it belongs to Kanatang Sub-District. Have no worries. The distance is considered especially for those coming from Waingapu City. So, what makes it unique? Some locals call it the hidden nirvana waterfall due to its nice landscape…
---