Ujung Kulon National Park
---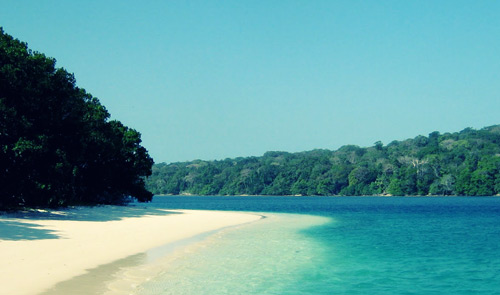 Ujung Kulon National park is an isolated untamed wilderness on the southwestern tip of Java. The Dutch opened this park in 1921 to protect the threatened Javanese rhinoceros. Now the area covers about 760 sq km including Panaitan Island. It is one of the best places in Java for wildlife spotting. There are many kinds of animal species, which can be seen. They are birds, wild pigs, hornbills, river otters, deer, crocodiles and the Javanese rhinoceros. The crocodiles and the Javanese rhinoceros are rare seen but we never know.
The best time to visit Ujung Kulon is between April and October. To get there and to get information about the park the visitors have to go to Labuhan where the PHPA at the coastal road can give us all information and arranges our permit for the park. An entry permit is needed, issued by the Forestry Service / PHPA (Perlindungan Hutan dan Pelestarian Alam) at Labuan. From here we can also take the boat to Ujung Kulon. The boat leaves on Mondays and Fridays and returns on Sundays and Thursdays.
Handeuleum Island is at the northern bay of Ujung Kulon and offers also a small guesthouse. Peucang Island at the western tip of Ujung Kulon also has a guesthouse and also a small restaurant. Marine life in the surrounding seas is a kaleidoscope of colors. Beautiful sea gardens are found off Peucang and Panaitan islands. From one of these two islands we can start to explore the park. In the park are several posts of the PHPA where we can stay over for the night. If we want to hike in the park we must hire a guide from the PHPA in Tamanjaya. It is wise to bring our own food and sleeping back if we want to stay over for the night in the park. If we want to walk around the whole park along the tracks it will take us about 3 three days (45km). On the western tip of the peninsula is a lighthouse built by the Dutch, which stands near the site of the ruins of the old one.
Visit Ujung Kulon Tourism

Latest News
Sawarna Beach Sawarna beach, that located in Lebak, Banten province is now becomes more popular to be visited. In a decade, this beach that located along the forest beach in line with Pelabuhan Ratu, raise as one of most-visited beach and entitled as a new pearl in Southern Banten. To reach Sawarna, the travelers from Jakarta can be start the journey from Tangerang, Tigaraksa and Malimping, Bayah. While, from Bandung, we can start from Pelabuhan Ratu, then down the coast to the west. Unfortunately, we have to ask to the…
---
Serang Serang is the capital of Banten Province and the administrative center of Serang Regency. The administrative center of the regency and the capital of the province is the independent municipality of Serang (Kota Serang). Serang is about 10 km from Old Banten, the province's former capital. Merak, a major port and ferry terminal, is located just west of the regency. Serang is bounded by Java Sea to the north, Tangerang Regency to the east, Lebak Regency and Pandeglang Regency to the south, and Cilegon to the west. Old Banten…
---
Pandeglang Pandeglang is a regency in Banten province with the capital of the same city. This rgency is bordered to the north of Serang, Lebak District in the East, and the Indonesian Ocean in the west and south. Its area also includes the island of Panaitan to the west, separated by the Strait of Panaitan, and number of small islands in the Indian Ocean, including the Deli Island and Tinjil Island. Ujung Kulon Peninsula is the most western tip in Java island, where there are wildlife reserves and there is…
---
Banten Banten is one of Indonesia Provinces that stand on the tip of Java Island. Formerly was a part of West Java Province, but on 2000 was separated and become a single province. The administrative city is located on Serang city. Banten at early begin was a port city with the busiest activity and prosperous people. Also, Banten was the most important port from Sunda Kingdom. When it was become a part of Sultanate of Banten, Banten became the biggest port city on South East Asia as big as Malaka…
---