Holiday at Situ Rawa Cipondoh in Banten Province
---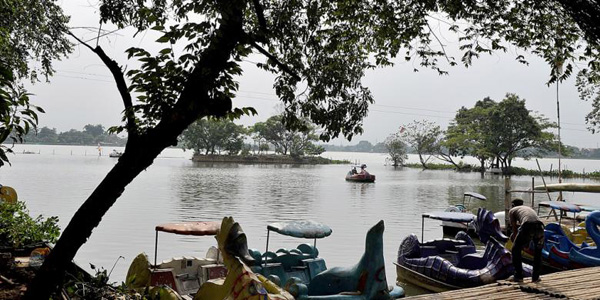 A wonderful holiday doesn't have to be expensive. In Banten Province, there is a recommended tourist lure called Situ Rawa Cipondoh. It is actually a natural lake. To be exact, the location is in Cipondoh District. This place is quite crowded, especially in holidays. It is because most of the visitors are families and kids. The thing is the lake doesn't have much popularity among outsiders. It is because Banten Province has too many natural attractions. Somehow, travelers miss the chance to explore this one.
The Nuance
At the first impression, Situ Rawa Cipondoh is similar to a swamp instead of a lake. The water is calm, yet it doesn't feature clear water. Some features are available in this area including trees, duck boats, and benches. The most popular feature is indeed the colorful duck boats. Visitors are allowed to rent them regardless of the time. However, the boat requires a manual pedaling in order to operate. That means you need to have a good stamina prior to riding the duck boat.
Exploring Situ Rawa Cipondoh
According to the locals, Situ Rawa Cipondoh is quite affordable. That means you don't need to spend much money to enjoy good times in this lake. It is a fun place for either families or a group of friends. Not to mention many fun facilities are available including flying fox, duck boats, and much more. In some occasions, the management performs a special musical performance. In this case, you need to learn about the schedule beforehand. At least, you must visit the location at the right time.
The size of the lake is about 10 ha. Apart from the lake, some parts of it are the land. It becomes the home of numerous outbound activities. In terms of age, the site has been there for more than a decade. According to the management, they keep doing improvements for the sake of visitors. The purpose is to attract more tourists over time. Hopefully, it can be the pride of Cipondoh District. Recently, the visitors come mostly from Tangerang, Karawang, Bandung, and Jakarta. It is rare to see foreign visitors, though.
During school holidays, kids keep coming to Situ Rawa Cipondoh. They take such opportunity by visiting this splendid recreational place. The best thing is related to the price. The entry fee is definitely affordable. However, you should pay more for the rides. One thing, the flying fox costs more than the duck boats. Make sure to carry much money. Not to mention you are going to spend some money for foods. Several local eateries are available and they offer numerous local foods such as fried rice, meatballs, siomay, etc.
Nearby Attractions
BSD Ocean Park
Juang Museum
Sanggar Ki Asoko Adi Negoro
How to Get There
Before reaching Cipondoh District, you should head to Banten Province first. From Jakarta, the trip takes about an hour and the distance is 30 km. The fastest route is Pantura Street and the most comfortable transportation option is a private car. It is possible to use a public transportation, but it usually takes longer and more expensive.
Where to Stay
Kyriad Hotel
Allium Hotel
Ibis Hotel

Latest News
Sawarna Beach Sawarna beach, that located in Lebak, Banten province is now becomes more popular to be visited. In a decade, this beach that located along the forest beach in line with Pelabuhan Ratu, raise as one of most-visited beach and entitled as a new pearl in Southern Banten. To reach Sawarna, the travelers from Jakarta can be start the journey from Tangerang, Tigaraksa and Malimping, Bayah. While, from Bandung, we can start from Pelabuhan Ratu, then down the coast to the west. Unfortunately, we have to ask to the…
---
Serang Serang is the capital of Banten Province and the administrative center of Serang Regency. The administrative center of the regency and the capital of the province is the independent municipality of Serang (Kota Serang). Serang is about 10 km from Old Banten, the province's former capital. Merak, a major port and ferry terminal, is located just west of the regency. Serang is bounded by Java Sea to the north, Tangerang Regency to the east, Lebak Regency and Pandeglang Regency to the south, and Cilegon to the west. Old Banten…
---
Pandeglang Pandeglang is a regency in Banten province with the capital of the same city. This rgency is bordered to the north of Serang, Lebak District in the East, and the Indonesian Ocean in the west and south. Its area also includes the island of Panaitan to the west, separated by the Strait of Panaitan, and number of small islands in the Indian Ocean, including the Deli Island and Tinjil Island. Ujung Kulon Peninsula is the most western tip in Java island, where there are wildlife reserves and there is…
---
Banten Banten is one of Indonesia Provinces that stand on the tip of Java Island. Formerly was a part of West Java Province, but on 2000 was separated and become a single province. The administrative city is located on Serang city. Banten at early begin was a port city with the busiest activity and prosperous people. Also, Banten was the most important port from Sunda Kingdom. When it was become a part of Sultanate of Banten, Banten became the biggest port city on South East Asia as big as Malaka…
---