The Forest House in Cidampit Village, Banten Province
---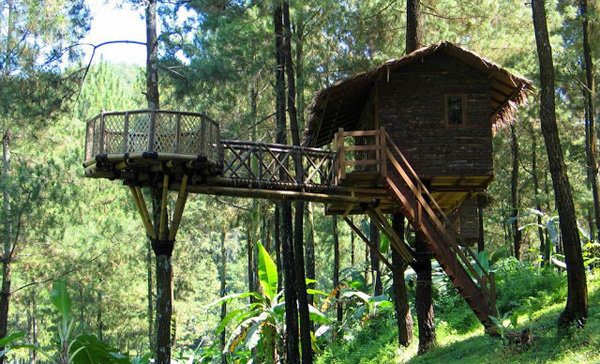 A calm nuance gives a peaceful sensation for travelers. There is a great vacation spot in Banten Province called the Forest House. The location is in Cidampit Village. The locals call it "Rumah Pohon". This tourist spot belongs to Taktakan District and Serang Regency. Have no worries. You can reach it from your location easily. As the name suggests, you can feel like living in a forest. The environment is suitable for a family vacation, for sure. Above all, it is perfect for camping.
The Nuance
It is a no brainer. The Forest House features lots trees. They come in different types, as well. With these features, you are able to enjoy a natural nuance and a comfortable atmosphere. Not to mention the trees create a shady environment. For a perfect relaxation, you can sit and relax in the gazebos. There are some of them in this tourist spot. During holidays, some locals come here for cycling and jogging. It is because there is an available path to explore. Are you interested?
Exploring the Forest House
A forest always gives a comfortable sensation. No wonder, the Forest House becomes a favorite place for eradicating stresses. Lots of people come from big cities including Jakarta, Bandung, etc. They come for one reason. It is to spend a relaxing time with their families. Thus, the best thing to do in the Forest House is a picnic. Make sure to come with your kids and spouse. It will be a worthy family vacation. In fact, it is considered quite affordable.
Apart from a family vacation, people come to the Forest House to learn some history. Lim Oei Ping was the one who turned such area into a serene tourist site. This man came to Serang in 1962 for wandering. His dream is to create a natural tourist attraction in a forest. He found Sayar Mountain and decided to build some facilities there. Today, people keep coming to this location either for a family vacation or relaxation. Thanks to Koh Iping. He created one of the most recommended tourist spots in Serang Regency.
Many facilities are available at the Forest House. These include gazebos, badminton fields, a library, etc. The best features are definitely the trees. Visitors can sit and relax in under the trees and enjoy a calm nuance with either friends or families. The visitors are not only families. Some students often come to the location for a field study. Also, those who love sports should come there. These days, the site is popular both among people in Banten and outsiders. Sometimes, foreign tourists also visit it.
Nearby Attractions
Bumi Kali Talang
Wulandira Park
Banten Grand Mosque
How to Get There
For those who come from Jakarta, you can simply head to Serang Regency. The route is in Pantura Street. Next, you can continue following Tangerang – Merak Freeway. The trip may take 2 hours and the distance is 85 km. Once you reach Serang, your next destination is Taktakan District and Cidampit Village. That's all.
Where to Stay
Puri Kayana Hotel
Ratu Hotel 
D'gria Hotel

Latest News
Sawarna Beach Sawarna beach, that located in Lebak, Banten province is now becomes more popular to be visited. In a decade, this beach that located along the forest beach in line with Pelabuhan Ratu, raise as one of most-visited beach and entitled as a new pearl in Southern Banten. To reach Sawarna, the travelers from Jakarta can be start the journey from Tangerang, Tigaraksa and Malimping, Bayah. While, from Bandung, we can start from Pelabuhan Ratu, then down the coast to the west. Unfortunately, we have to ask to the…
---
Serang Serang is the capital of Banten Province and the administrative center of Serang Regency. The administrative center of the regency and the capital of the province is the independent municipality of Serang (Kota Serang). Serang is about 10 km from Old Banten, the province's former capital. Merak, a major port and ferry terminal, is located just west of the regency. Serang is bounded by Java Sea to the north, Tangerang Regency to the east, Lebak Regency and Pandeglang Regency to the south, and Cilegon to the west. Old Banten…
---
Pandeglang Pandeglang is a regency in Banten province with the capital of the same city. This rgency is bordered to the north of Serang, Lebak District in the East, and the Indonesian Ocean in the west and south. Its area also includes the island of Panaitan to the west, separated by the Strait of Panaitan, and number of small islands in the Indian Ocean, including the Deli Island and Tinjil Island. Ujung Kulon Peninsula is the most western tip in Java island, where there are wildlife reserves and there is…
---
Banten Banten is one of Indonesia Provinces that stand on the tip of Java Island. Formerly was a part of West Java Province, but on 2000 was separated and become a single province. The administrative city is located on Serang city. Banten at early begin was a port city with the busiest activity and prosperous people. Also, Banten was the most important port from Sunda Kingdom. When it was become a part of Sultanate of Banten, Banten became the biggest port city on South East Asia as big as Malaka…
---