Pelayangan Hill as a Family Vacation Destination in Banten
---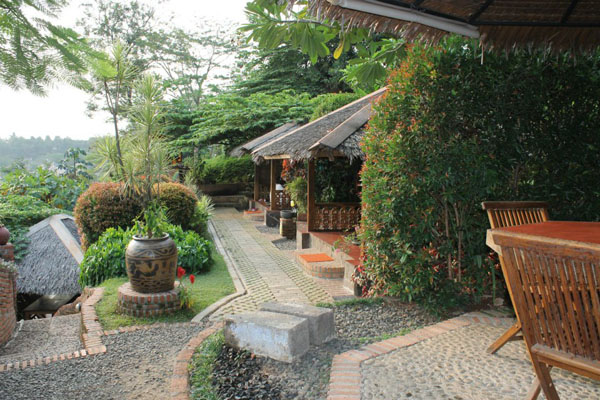 For nature lovers, there is a recommended vacation destination in Serpong District. The name is Pelayangan Hill. It is actually a famous restaurant. The location is in Cilenggang Street I 53, South Tangerang Regency. The locals call it BUPE. Apart from beautiful scenery, it is also popular for culinary. That means you can enjoy delicious foods and witness stunning sight at the same time. As the name suggests, the restaurant is located on a hill. Somehow, it gives a peaceful feeling to the guests.
The Nuance
Once you have arrived at the location, you may see a structure of a restaurant. It applies a traditional concept. The roof is covered with hay. It is also surrounded by trees and plants. The restaurant features several gazebos. From there, you are able to witness stunning views of nearby attractions. The trees make a comfortable nuance, as well. The sky is clear and it is covered by clouds. In the morning, the atmosphere is quite cool! This is indeed a great place for lessening.
Exploring Pelayangan Hill
Food lovers would love to visit Pelayangan Hill. That means culinary is the main attraction in this tourist spot. The best menu is giant gourami with fruit sauce. Fried tempe is also popular. You can eat them with a condiment. Apart from good foods, this place is famous for natural scenery. The guests are able to enjoy delicious foods while witness stunning views nearby. The songs of the birds and the sound of gurgling water in the pond also become your companion.
BUPE is a good place for both eating and finding peace. Somehow, it can eradicate your burdens and stresses. It is a worthy place either for a culinary adventure or relaxation. You can improve your psychological state, too. On top of that, the food doesn't cost you much money. They are even more affordable than other restaurants. Due to this reason, you can get both natural stress therapy and good foods cheaply! Can you find a better place than this?
The best time to visit Pelayangan Hill is during the lunch time. You can have a complete list of the menu. Not to mention the service is quite outstanding. Once you reach the location, a security may ask you regarding the reservation. Therefore, you should have been reserved a table prior to visiting BUPE. Here is the thing. Not all tables provide excellent views. Thus, you should be careful in choosing it. Also, pay attention to how many people are using the table.
Nearby Attractions
Martha Tiahahu Park
Paradise Dreamland
Taman Kota 2 BSD
How to Get There
For those who want to visit Palayangan Hill, you only need to reach Serpong District. From Jakarta, you can use BSD freeway. From the exit point, you need to turn right. Your destination is BSD City. Once you reach the Green, you should turn left. Next to a conventional store, there is a nameplate of BUPE. That means you have reached your primary destination. Follow the direction, so you are able to notice the restaurant soon. 
Where to Stay
ARA Hotel
Mercure Hotel
Fame Hotel

Latest News
Sawarna Beach Sawarna beach, that located in Lebak, Banten province is now becomes more popular to be visited. In a decade, this beach that located along the forest beach in line with Pelabuhan Ratu, raise as one of most-visited beach and entitled as a new pearl in Southern Banten. To reach Sawarna, the travelers from Jakarta can be start the journey from Tangerang, Tigaraksa and Malimping, Bayah. While, from Bandung, we can start from Pelabuhan Ratu, then down the coast to the west. Unfortunately, we have to ask to the…
---
Serang Serang is the capital of Banten Province and the administrative center of Serang Regency. The administrative center of the regency and the capital of the province is the independent municipality of Serang (Kota Serang). Serang is about 10 km from Old Banten, the province's former capital. Merak, a major port and ferry terminal, is located just west of the regency. Serang is bounded by Java Sea to the north, Tangerang Regency to the east, Lebak Regency and Pandeglang Regency to the south, and Cilegon to the west. Old Banten…
---
Pandeglang Pandeglang is a regency in Banten province with the capital of the same city. This rgency is bordered to the north of Serang, Lebak District in the East, and the Indonesian Ocean in the west and south. Its area also includes the island of Panaitan to the west, separated by the Strait of Panaitan, and number of small islands in the Indian Ocean, including the Deli Island and Tinjil Island. Ujung Kulon Peninsula is the most western tip in Java island, where there are wildlife reserves and there is…
---
Banten Banten is one of Indonesia Provinces that stand on the tip of Java Island. Formerly was a part of West Java Province, but on 2000 was separated and become a single province. The administrative city is located on Serang city. Banten at early begin was a port city with the busiest activity and prosperous people. Also, Banten was the most important port from Sunda Kingdom. When it was become a part of Sultanate of Banten, Banten became the biggest port city on South East Asia as big as Malaka…
---