Enjoying Good Times in BSD 2 City Park in Serpong District, Banten
---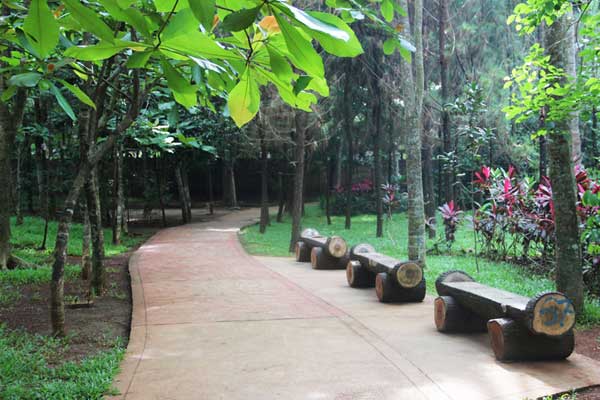 There are many ways to enjoy a holiday. One of them is to visit a park. In Banten Province, there is a famous city park called BSD 2. To be exact, it is located in Letnan Sutopo Street and it belongs to Tangerang Regency. It consists of numerous plants and a comfortable atmosphere. Not to mention you can find unique benches there. Most of the visitors come to the park either for a recreation or sightseeing. It is a popular vacation destination, especially on the weekends. Visitors want to eradicate their stresses in this location.
The Nuance
The park features many types of trees and plants. There is a well-built pavement, as well. When it comes to the benches, the shape is similar to a log. On top of that, the atmosphere is serene and comfortable. Not to mention the environment is quite clean. It makes you won't leave the park, for sure. As a tourist, there is one simple rule when spending times in the park. You need to keep your environment clean. There are several trash bins in 2 BSD City Park, after all. Don't ever litter!
Exploring BSD 2 City Park
The size of the park is about 7.5 hectares. Today, the local government has chosen it as a public tourist spot. People keep coming to this location over time. They want to do numerous activities such as sports, recreation, jogging, and much more. The entry fee is cheap and the environment is flawless. What about the name? Why is there 2? Does it mean you can find the 1? Yes, it does. There is BSD 1 City Park and the location is near to a famous school called Al-Azhar.
Most of the time, visitors don't need to spend money to enter the park. It is because the management has decided to take any money from the visitors these days. In terms of facilities, you can find many amenities. Once you enter the park, you can see plants and a soccer field. There is also a vast parking area. Food stands are also available in the park. The locals have been ready from the morning, after all. That means it is going to be easy to look for either foods or drinks.
BSD 2 City Park opens in the morning. You can even enter it at 6 am. It closes at 6 pm. For further information, there is already a steel plank showing information regarding the park. Before reaching the park, you may encounter a bridge. It helps you cross Cisadane River before entering the park, actually. In some occasions, visitors use the park for a pre-wedding photo session. It is possible as long as you have obtained permission from the management.
Nearby Attractions
Paradise Dreamland
Hutan Raya Park
Situ Gintung
How to Get There
Your main destination is definitely Serpong District, Banten.  For those who come from Jakarta, the fastest route will be Jakarta-Serpong Freeway. The trip usually takes about an hour. When it comes to the distance, it is 38 km.
Where to Stay
Santika BSD City Hotel
Pop Hotel
Pranaya Hotel

Latest News
Sawarna Beach Sawarna beach, that located in Lebak, Banten province is now becomes more popular to be visited. In a decade, this beach that located along the forest beach in line with Pelabuhan Ratu, raise as one of most-visited beach and entitled as a new pearl in Southern Banten. To reach Sawarna, the travelers from Jakarta can be start the journey from Tangerang, Tigaraksa and Malimping, Bayah. While, from Bandung, we can start from Pelabuhan Ratu, then down the coast to the west. Unfortunately, we have to ask to the…
---
Serang Serang is the capital of Banten Province and the administrative center of Serang Regency. The administrative center of the regency and the capital of the province is the independent municipality of Serang (Kota Serang). Serang is about 10 km from Old Banten, the province's former capital. Merak, a major port and ferry terminal, is located just west of the regency. Serang is bounded by Java Sea to the north, Tangerang Regency to the east, Lebak Regency and Pandeglang Regency to the south, and Cilegon to the west. Old Banten…
---
Pandeglang Pandeglang is a regency in Banten province with the capital of the same city. This rgency is bordered to the north of Serang, Lebak District in the East, and the Indonesian Ocean in the west and south. Its area also includes the island of Panaitan to the west, separated by the Strait of Panaitan, and number of small islands in the Indian Ocean, including the Deli Island and Tinjil Island. Ujung Kulon Peninsula is the most western tip in Java island, where there are wildlife reserves and there is…
---
Banten Banten is one of Indonesia Provinces that stand on the tip of Java Island. Formerly was a part of West Java Province, but on 2000 was separated and become a single province. The administrative city is located on Serang city. Banten at early begin was a port city with the busiest activity and prosperous people. Also, Banten was the most important port from Sunda Kingdom. When it was become a part of Sultanate of Banten, Banten became the biggest port city on South East Asia as big as Malaka…
---