A Fun Adventure to Curug Sawer in Cigeulis District, Banten
---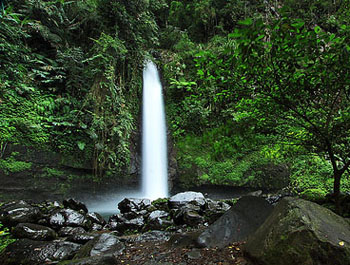 Curug means "waterfall". It is actually a local language. In Banten Province, you have different options of curug to visit. For instance, it is in Cigeulis District. The name is Curug Sawer. What makes it unique? It consists of two different falls. The upper waterfall is named Lalakina. It has the height of 25 meters. Below, it is called Curug Bikang. The height is only 7 meters. Apart from such uniqueness, people come to Sawer for learning local history. There is a worthy myth to learn. Thus, make sure to visit it on your next holiday!
The Nuance
A serene atmosphere is a main feature in Curug Sawer. It is surrounded by plants and rocks, as well. The water doesn't fall rapidly. That means it is safe for standing under it. In Bikang area, you can find an underwater cave. The length is about 8 km. This cave heads to Babakan Nangka. It becomes a unique feature of the fall, actually. During summer, there is a chance of viewing a rainbow. This location can be a good spot for a family vacation, as well.
Exploring Curug Sawer
The most attractive feature in Curug Sawer is the history. It holds an interesting local myth, as well. According to the locals, there is a white mystical crocodile living in Bikang. This creature has one job. It is to protect the beauty and serenity of the location, especially from the human. During the full moon, such crocodile appears as an old man. Do you believe it? You can learn this story from nearby villagers. For a better communication, you can hire a local hire. He helps you to talk to villagers.
Many visitors come to such waterfall for its beauty. No wonder, you are likely to encounter other tourists there. The solemn nature becomes a primary lure. You can enjoy a serenity and clean environment on it. In summer, the water appears clearer. Not to mention it gives you a warm mood. The big rocks can be a wonderful location for photography. That means you need to stand on them and take pictures right away. In a nutshell, the best time to visit it is in the hot season or summer.
On the other hand, you should not visit Curug Sawer during the rainy season. It doesn't support any trekkers due to the slippery landscape. The risk of getting injured becomes higher, too. Next, it is better to come in the morning. The purpose is to avoid the heat of the sun. Trekking becomes an interesting activity there. In this case, you need to wear proper footwear and equipment. Somehow, a good stamina is also required!
Nearby Attractions

Mount Karang
Batu Kuwung
Cigumawang Waterfall
Curug Putri
How to Get There
Curug Sawer is located in Cigeulis District. It belongs to Pandeglang Regency. From Jakarta, you can use Pantura Street. A freeway route is also recommended. The trip takes roughly 3 hours and the distance is 115 km. Once you reach Cigeulis, you need to walk to the location. No worries, it takes only 10 minutes. Due to this reason, it becomes an opportunity for trekking as well.
Where to Stay

Riz Hotel
Sofyan Inn
Sunset View Hotel

Latest News
Sawarna Beach Sawarna beach, that located in Lebak, Banten province is now becomes more popular to be visited. In a decade, this beach that located along the forest beach in line with Pelabuhan Ratu, raise as one of most-visited beach and entitled as a new pearl in Southern Banten. To reach Sawarna, the travelers from Jakarta can be start the journey from Tangerang, Tigaraksa and Malimping, Bayah. While, from Bandung, we can start from Pelabuhan Ratu, then down the coast to the west. Unfortunately, we have to ask to the…
---
Serang Serang is the capital of Banten Province and the administrative center of Serang Regency. The administrative center of the regency and the capital of the province is the independent municipality of Serang (Kota Serang). Serang is about 10 km from Old Banten, the province's former capital. Merak, a major port and ferry terminal, is located just west of the regency. Serang is bounded by Java Sea to the north, Tangerang Regency to the east, Lebak Regency and Pandeglang Regency to the south, and Cilegon to the west. Old Banten…
---
Pandeglang Pandeglang is a regency in Banten province with the capital of the same city. This rgency is bordered to the north of Serang, Lebak District in the East, and the Indonesian Ocean in the west and south. Its area also includes the island of Panaitan to the west, separated by the Strait of Panaitan, and number of small islands in the Indian Ocean, including the Deli Island and Tinjil Island. Ujung Kulon Peninsula is the most western tip in Java island, where there are wildlife reserves and there is…
---
Banten Banten is one of Indonesia Provinces that stand on the tip of Java Island. Formerly was a part of West Java Province, but on 2000 was separated and become a single province. The administrative city is located on Serang city. Banten at early begin was a port city with the busiest activity and prosperous people. Also, Banten was the most important port from Sunda Kingdom. When it was become a part of Sultanate of Banten, Banten became the biggest port city on South East Asia as big as Malaka…
---