A Sacred Stone in Pandeglang Regency – Goong Boulder
---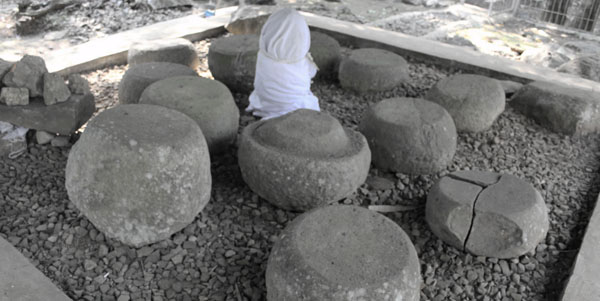 It is true Banten Province is the home of many natural attractions. That doesn't mean you can only enjoy beaches, lakes, and mountains. In Pandeglang Regency, there is a sacred stone called Goong. The locals categorize it as "Punden Berundak". Here is the fact. It is formed naturally and it holds a mystical aura. The prime stone is situated in the midst of other stones. It is also wrapped by white Mori fabric. In Javanese culture, Mori is considered a sacred fabric. Thus, it adds holiness of the Goong Boulder.
The Nuance
As mentioned before, there is a main boulder located in the middle. There are about 18 stones, actually. In terms of size, the height is mostly 22 cm. Their width is roughly 12 cm. The regular stones surround the main boulder. This kind of formation is called "Temu Gelang". Have no worries as you can learn the meaning of such name from the locals. Due to this reason, you need to be able to speak a little bit Indonesian Language. If not, you can simply come with a local guide. He may explain everything to you.
Exploring Goong Boulder
The location where Goong Boulder lies isn't quite intricate. It features a simple nuance and a usual landscape. What you can feel is its sacred aura, so it is better to come at noon. Once you reach the location, some locals may tell you a story behind the stone. In the past, it was a place of meeting among monks. In fact, the stones have the shape of a chair. That means the monks used these small stones to sit and discuss something.
Goong Boulder is situated in Kaduguling Village. It was a small settlement and became the home of Buddhists. It's said Goong became a place for worshipping and meeting. Near to the village, you can also find a fountain and a river. The locals call it a divine pond. Today, they call it Citaman Fountain. In fact, it has become one of the best attractions in Banten Province. Tourists come to this fountain to purify their soul and body. Well, the locals believe in such thing after all.
Another interesting thing about Goong Boulder is the magical value. Many people say it brings happiness and fortune to the visitors. No wonder, more tourists come there to give a prayer. In fact, some of them decide to meditate near to the boulder. They don't even care about the eerie nuance around the stone. Apart from wellness and prosperity, some people look for a good romance by praying there. Well, no one has proven it yet. What do you think?
Nearby Attractions
Cemara Beach
Daplangu Beach
Citaman Fountain
How to Get There
For those who want to visit Goong Boulder, the destination is indeed Kaduguling Village. First, you need to head to Pandeglang Regency. From Jakarta, the trip takes about 4-5 hours and the distance is 202 km. For a faster trip, you should take Pantura Street. Later, you need to use the Freeway.
Where to Stay
Berkah Resort
Umang Resort
Red House Beach Villa

Latest News
Sawarna Beach Sawarna beach, that located in Lebak, Banten province is now becomes more popular to be visited. In a decade, this beach that located along the forest beach in line with Pelabuhan Ratu, raise as one of most-visited beach and entitled as a new pearl in Southern Banten. To reach Sawarna, the travelers from Jakarta can be start the journey from Tangerang, Tigaraksa and Malimping, Bayah. While, from Bandung, we can start from Pelabuhan Ratu, then down the coast to the west. Unfortunately, we have to ask to the…
---
Serang Serang is the capital of Banten Province and the administrative center of Serang Regency. The administrative center of the regency and the capital of the province is the independent municipality of Serang (Kota Serang). Serang is about 10 km from Old Banten, the province's former capital. Merak, a major port and ferry terminal, is located just west of the regency. Serang is bounded by Java Sea to the north, Tangerang Regency to the east, Lebak Regency and Pandeglang Regency to the south, and Cilegon to the west. Old Banten…
---
Pandeglang Pandeglang is a regency in Banten province with the capital of the same city. This rgency is bordered to the north of Serang, Lebak District in the East, and the Indonesian Ocean in the west and south. Its area also includes the island of Panaitan to the west, separated by the Strait of Panaitan, and number of small islands in the Indian Ocean, including the Deli Island and Tinjil Island. Ujung Kulon Peninsula is the most western tip in Java island, where there are wildlife reserves and there is…
---
Banten Banten is one of Indonesia Provinces that stand on the tip of Java Island. Formerly was a part of West Java Province, but on 2000 was separated and become a single province. The administrative city is located on Serang city. Banten at early begin was a port city with the busiest activity and prosperous people. Also, Banten was the most important port from Sunda Kingdom. When it was become a part of Sultanate of Banten, Banten became the biggest port city on South East Asia as big as Malaka…
---