Ki Asoko Adi Negoro Park in Cipondoh, Banten Province
---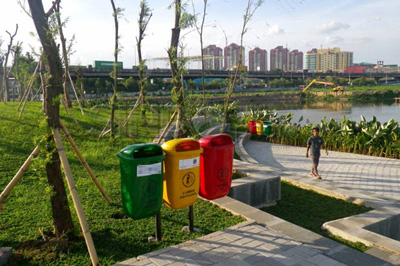 Banten Province is a worthy place to visit. It is part of Indonesia and it has numerous types of vacation destinations. Here is a recommendation. The name is Ki Asoko Adi Negoro Park. The locals use it to relax and spend good times with families. Kids and teenagers often play games in this area, too. This park is located in Hasyim Ashari Street 50. It is in Cipondoh District. Also, it is part of Tangerang City. Regardless of the age, everyone is allowed to visit and explore the park.
The Nuance
In terms of nuance, it is similar to any regular parks. However, it features good local ambiance. The park features places to relax and beautiful plants. Most of the visitors are people who live in Cipondoh and nearby cities. You can even see some kids playing in the park. They come either with friends or parents. Some teenagers are also seen in this area. Usually, they carry a mobile phone or a camera. The purpose is to take selfies and good pictures of objects in the park.
Exploring Ki Asoko Adi Negoro Park
Once you get to Cipondoh District, you must find a good hotel. Regardless of tourist destinations, you should include the park on the list. That means you need to drop by in the park while spending a holiday in Cipondoh. The locals consider the park as a community site. It is suitable either for exercising or relaxation. Parents can introduce numerous outdoor activities to their kids, as well. It is as simple as playing "hide and seek". Not to mention it gives you the chance to bond with your family members.
As for the tips, you must have prepared some foods and drinks prior to visiting the park. Why is that? No facilities and food vendors are seen in this location. If not, you should have eaten something before reaching the park. Today, Ki Asoko Adi Negoro becomes a good location for a picnic. Despite your age, a picnic is suitable for you. Thanks to the park, it features both good scenery and stunning features. In a nutshell, visitors won't regret coming to this area.
Another reason to visit Ki Asoko Adi Negoro is due to its amazing natural ambiance. Somehow, it gives you a peaceful sensation. It becomes an opportunity to get closer to nature. The park is a solution for those who want to eradicate stresses. No wonder, some visitors also come from other big cities such as Jakarta, Bandung, etc. These people find the park interesting and comfortable. Each of them has a different reason to visit the park, though.
Nearby Attractions
BSD Ocean Park
Juang Museum
How to Get There
A trip to Ki Asoko Adi Negoro Park costs about an hour, especially from Jakarta. It is because the distance is only 28 km. The best route to use is Pantura Street. Next, you can use Merak-Jakarta Freeway. If it is possible, you should ride a private car. Why is that? It is important to avoid checkpoints and bus stations. This way, you can reach the destination faster.
Where to Stay
Kyriad Hotel
Allium Hotel
Ibis Hotel

Latest News
Sawarna Beach Sawarna beach, that located in Lebak, Banten province is now becomes more popular to be visited. In a decade, this beach that located along the forest beach in line with Pelabuhan Ratu, raise as one of most-visited beach and entitled as a new pearl in Southern Banten. To reach Sawarna, the travelers from Jakarta can be start the journey from Tangerang, Tigaraksa and Malimping, Bayah. While, from Bandung, we can start from Pelabuhan Ratu, then down the coast to the west. Unfortunately, we have to ask to the…
---
Serang Serang is the capital of Banten Province and the administrative center of Serang Regency. The administrative center of the regency and the capital of the province is the independent municipality of Serang (Kota Serang). Serang is about 10 km from Old Banten, the province's former capital. Merak, a major port and ferry terminal, is located just west of the regency. Serang is bounded by Java Sea to the north, Tangerang Regency to the east, Lebak Regency and Pandeglang Regency to the south, and Cilegon to the west. Old Banten…
---
Pandeglang Pandeglang is a regency in Banten province with the capital of the same city. This rgency is bordered to the north of Serang, Lebak District in the East, and the Indonesian Ocean in the west and south. Its area also includes the island of Panaitan to the west, separated by the Strait of Panaitan, and number of small islands in the Indian Ocean, including the Deli Island and Tinjil Island. Ujung Kulon Peninsula is the most western tip in Java island, where there are wildlife reserves and there is…
---
Banten Banten is one of Indonesia Provinces that stand on the tip of Java Island. Formerly was a part of West Java Province, but on 2000 was separated and become a single province. The administrative city is located on Serang city. Banten at early begin was a port city with the busiest activity and prosperous people. Also, Banten was the most important port from Sunda Kingdom. When it was become a part of Sultanate of Banten, Banten became the biggest port city on South East Asia as big as Malaka…
---