Spending Good Times at Marcopolo Waterpark in Tangerang City, Banten
---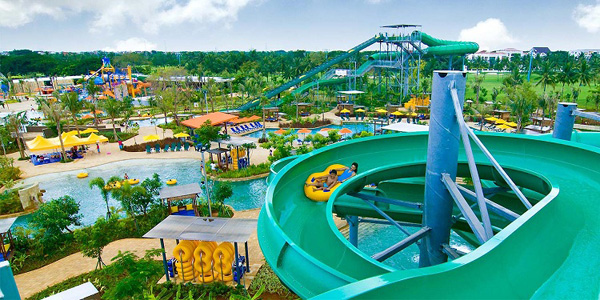 A family vacation should involve a good tourist spot for kids. In this case, waterparks become an excellent choice. The problem is there are many options of a waterpark. If you are visiting Banten Province, there is a recommended destination in Tangerang City. The name is Marcopolo Waterpark. This stunning spot is located in MH Thamrin Street. Just like most of the waterparks, you may find several pools with slides. This one is situated in a strategic location, so you won't regret visiting it. 
The Nuance
In terms of size, Marcopolo Waterpark is not quite big. There are several main pools for kids and the river-like pool. The guests are able to explore it wholeheartedly. In some parts of the waterpark, you can find a wide water slide. It is the most favorite feature, after all. Next, there are some lazy benches for you to relax. That means parents can watch their kids from this area. Not to mention there are many ornaments including water sprinklers and statues. All of them create a stunning and comfortable nuance in the waterpark.
Exploring Marcopolo Waterpark
Today, Marcopolo Waterpark has gained more popularity. Not only locals, visitors come from other cities as well. What makes it better than other water parks, actually? This one is located on a rooftop of a building. It is part of Serpong Town Square, so you need to reach the fifth floor of this building to find this beautiful waterpark. Apart from playing water, you are able to witness stunning scenery from above. The best view is the CBD Residence and nearby attractions.
As mentioned earlier, there are several pools available for the guests. It features different levels, too. For advanced swimmers, you should try the adult pool. On the other hand, there are pools for kids with shallow water. These ones are suitable for beginners as they are quite safe. In fact, there is a pool for toddlers. Do you want more? There is a special pool featuring a therapy service. All of these pools are definitely valuable. The guests should only choose one based on their preferences.
Almost all tourists love a feature called a stream pool. The length is about 200 meters. Another favorite feature is the whirlpool therapy. As the name suggests, it involves a spiral slide. Only the brave ones would love to try it. On top of that, many facilities are available in Marcopolo Waterpark. These include the changing rooms and toilets. Also, you may find a small mosque in the corner of the waterpark. Not to mention there are several lockers. That means you can keep your items there. The management allows the guests to carry snacks and drinks, in fact.
Nearby Attractions
BSD Ocean Park
Juang Museum
Alam Sutera
How to Get There
Tangerang and Jakarta are located near to each other. From Jakarta, you only need to spend about 1 hour to reach Marcopolo Waterpark. The distance is 30 km and the best route is Pantura Street. For a faster trip, it is better to ride a private car than public transportation services. Don't you agree?
Where to Stay
Santika Bintaro Hotel
Novotel Tangerang
Allium Tangerang

Latest News
Sawarna Beach Sawarna beach, that located in Lebak, Banten province is now becomes more popular to be visited. In a decade, this beach that located along the forest beach in line with Pelabuhan Ratu, raise as one of most-visited beach and entitled as a new pearl in Southern Banten. To reach Sawarna, the travelers from Jakarta can be start the journey from Tangerang, Tigaraksa and Malimping, Bayah. While, from Bandung, we can start from Pelabuhan Ratu, then down the coast to the west. Unfortunately, we have to ask to the…
---
Serang Serang is the capital of Banten Province and the administrative center of Serang Regency. The administrative center of the regency and the capital of the province is the independent municipality of Serang (Kota Serang). Serang is about 10 km from Old Banten, the province's former capital. Merak, a major port and ferry terminal, is located just west of the regency. Serang is bounded by Java Sea to the north, Tangerang Regency to the east, Lebak Regency and Pandeglang Regency to the south, and Cilegon to the west. Old Banten…
---
Pandeglang Pandeglang is a regency in Banten province with the capital of the same city. This rgency is bordered to the north of Serang, Lebak District in the East, and the Indonesian Ocean in the west and south. Its area also includes the island of Panaitan to the west, separated by the Strait of Panaitan, and number of small islands in the Indian Ocean, including the Deli Island and Tinjil Island. Ujung Kulon Peninsula is the most western tip in Java island, where there are wildlife reserves and there is…
---
Banten Banten is one of Indonesia Provinces that stand on the tip of Java Island. Formerly was a part of West Java Province, but on 2000 was separated and become a single province. The administrative city is located on Serang city. Banten at early begin was a port city with the busiest activity and prosperous people. Also, Banten was the most important port from Sunda Kingdom. When it was become a part of Sultanate of Banten, Banten became the biggest port city on South East Asia as big as Malaka…
---