Curug Tomo in Padaricang District, Banten Regency
---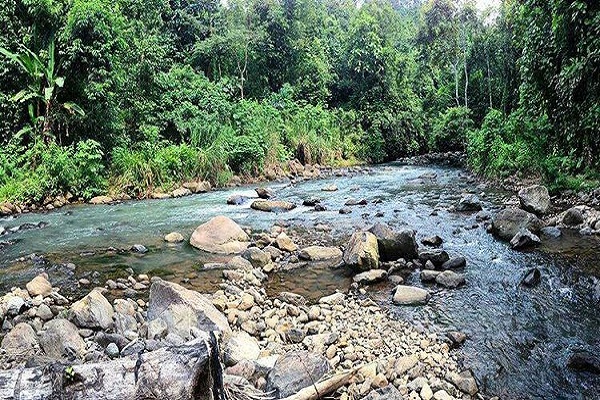 Banten is the home of natural attractions. That means tourists can find many beaches, lakes, mountains, and waterfalls. In Serang Regency, there is Curug Tomo. It belongs to Padarincang District, actually. The location of this beautiful waterfall is in Cibojong Village. The locals call it Leuwi Tomo Waterfall. This hidden gem is situated between Pulosari and Karang Mountain. No wonder, you can find numerous trees and hills. Today, the fall has attracted many visitors, especially from Jakarta. By some means, it is also a perfect location for a family vacation. 
The Nuance
Curug Tomo has the height of 5 meters. The best feature is the river. It is considered safe for playing water. Next, the fall is surrounded by nature. The serene nuance makes it more comfortable for relaxation, as well. Not many people come during working days. Thus, you can enjoy your time there perfectly. The river features some rocks, so you can climb on them. The only disappoint is the water clarity. It isn't as clear as other waterfalls in Banten. Have no worries. It is not a significant issue after all. 
Exploring Curug Tomo
Once you reach Cidahu Village, you need to park your vehicle nearby. That means you are going to walk to the location. It is a fun effort, after all. Along the way, you can see beautiful scenery and serene nature. This trekking activity costs about 30 minutes. The route isn't as comfortable as you thing. Thus, you need to wear good footwear. In order to avoid dehydration, make sure to carry bottled water. Some snacks are optional, actually. Overall, the views are quite stunning. These include mountains and trees!
Trekking is only the part of your trip. Once you have arrived in the waterfall, you can replenish your stamina by simply watching the falls of the water. Somehow, the sound of water splash may give you peace. Not to mention it is quite clear! Make sure to get in the water and play in it! In some parts of Curug Tomo, you can take selfies with your friends. Since you are getting wet, you must have prepared extra clothes. 
Despite its unpopularity, Curug Leuwi Tomo has gained more fans these days. It is because of the recommendations from past visitors. That means you also have a task to promote this waterfall to your friends and families. This way, Banten can get more visitors over time. Curug Tomo is a hidden gem in Cidahu Village. It is everyone's task to recommend it to others.
Nearby Attractions
How to Get There
It is time to go to Curug Tomo. From Jakarta, your first destination is Serang Regency. The trip takes a little bit long, so you need to have prepared enough stamina. Once you reach Serang, your next destination is Padaricang District. Next, you should head to Cibojong Village. Here is the thing. You should take a little walk to reach the waterfall. Due to this reason, make sure to park your vehicle in a nearby settlement. Don't forget to give them fees, though.
Where to Stay
Amaris Hotel
Wijaya Hotel

Latest News
Sawarna Beach Sawarna beach, that located in Lebak, Banten province is now becomes more popular to be visited. In a decade, this beach that located along the forest beach in line with Pelabuhan Ratu, raise as one of most-visited beach and entitled as a new pearl in Southern Banten. To reach Sawarna, the travelers from Jakarta can be start the journey from Tangerang, Tigaraksa and Malimping, Bayah. While, from Bandung, we can start from Pelabuhan Ratu, then down the coast to the west. Unfortunately, we have to ask to the…
---
Serang Serang is the capital of Banten Province and the administrative center of Serang Regency. The administrative center of the regency and the capital of the province is the independent municipality of Serang (Kota Serang). Serang is about 10 km from Old Banten, the province's former capital. Merak, a major port and ferry terminal, is located just west of the regency. Serang is bounded by Java Sea to the north, Tangerang Regency to the east, Lebak Regency and Pandeglang Regency to the south, and Cilegon to the west. Old Banten…
---
Pandeglang Pandeglang is a regency in Banten province with the capital of the same city. This rgency is bordered to the north of Serang, Lebak District in the East, and the Indonesian Ocean in the west and south. Its area also includes the island of Panaitan to the west, separated by the Strait of Panaitan, and number of small islands in the Indian Ocean, including the Deli Island and Tinjil Island. Ujung Kulon Peninsula is the most western tip in Java island, where there are wildlife reserves and there is…
---
Banten Banten is one of Indonesia Provinces that stand on the tip of Java Island. Formerly was a part of West Java Province, but on 2000 was separated and become a single province. The administrative city is located on Serang city. Banten at early begin was a port city with the busiest activity and prosperous people. Also, Banten was the most important port from Sunda Kingdom. When it was become a part of Sultanate of Banten, Banten became the biggest port city on South East Asia as big as Malaka…
---