A Retreat in Sawarna Beach in Lebak Regency, Banten
---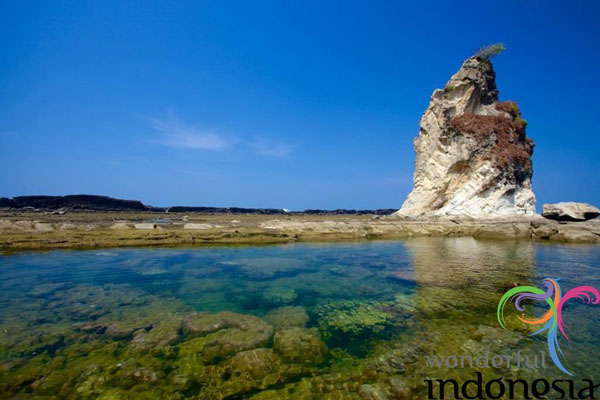 Banten Province has many beaches. If you look for a reference, there is Sawarna Beach. As the name suggests, it is located in Sawarna Village. Actually, it belongs to Lebak Regency. The beach is famous for its natural beauty and a stimulating approachability. Most of the visitors are actually people from Rangkasbitung and nearby districts. What makes it different than other beaches in Banten? It is the location. You should spend a little bit effort to reach it. The landscape is quite interesting as well. No one gets disappointed once they have arrived there.
The Nuance
The nuance is flawless. It is indeed a perfect place to relax! The seawater is clear and blue. When it comes to the wave, it is big! Some brave tourists would love to swim in it, though. In some way, the beach is suitable for surfing as well. Next, it is the sand. The color is brown and the texture is soft. However, it isn't quite wide. Some parts of the shorelines are surrounded by rocks, too. They come in different size. In the back, you can see high cliffs. They become a natural border of this location.
Exploring Sawarna Beach
The beach faces directly to the Indian Ocean. No wonder, the waves are quite strong. Not to mention the currents are considered dangerous, as well. However, some professional swimmers love it! If you aren't confident with your swimming skills, it is better not to get in the water. Apart from the strong seawater, Sawarna is also popular due to its challenging accessibility. Due to this reason, it becomes a hidden paradise in Lebak Regency. You need to give more efforts to reach the location.
In the past, Sawarna Beach wasn't quite popular. It was because people weren't able to reach the seashore easily. Thanks to the internet. Online promotions have lured many travelers to this stunning tourist spot. The sea is majestic and the hills are beautiful. Somehow, these become a perfect combination. For those with lots of burdens, you are able to eradicate your problems there. If you carry foods or snacks, you should never litter. Make sure to retain the beauty of the beach!
It is a fortunate thing. Sawarna Beach is located near to the local settlement. Even though the access isn't quite good, you can take advantage of local services. Some tourist guides are available in Sawarna Village. They don't even cost much money. If you are lucky, they will show you several nearby attractions such as Langir, Lalay, and Seribu Candi. These are hidden caves located in this area.
Nearby Attractions
Pulo Manuk Beach
Ciantir Beach
Tanjung Layar Beach
How to Get There
In order to reach the location, you should head to Lebak Regency first. From Jakarta, the distance is roughly 270 km. That means you are going to spend about 7 hours. Once you reach Sawarna Village, you can follow available routes. One thing, you should never expect comfortable roads. Not to mention you must prepare a good stamina. This long journey is nothing compared to the beauty of the beach! Enjoy.
Where to Stay
Ocean Queen Resort
Malibo Resort
Srikandi Homestay

Latest News
Sawarna Beach Sawarna beach, that located in Lebak, Banten province is now becomes more popular to be visited. In a decade, this beach that located along the forest beach in line with Pelabuhan Ratu, raise as one of most-visited beach and entitled as a new pearl in Southern Banten. To reach Sawarna, the travelers from Jakarta can be start the journey from Tangerang, Tigaraksa and Malimping, Bayah. While, from Bandung, we can start from Pelabuhan Ratu, then down the coast to the west. Unfortunately, we have to ask to the…
---
Serang Serang is the capital of Banten Province and the administrative center of Serang Regency. The administrative center of the regency and the capital of the province is the independent municipality of Serang (Kota Serang). Serang is about 10 km from Old Banten, the province's former capital. Merak, a major port and ferry terminal, is located just west of the regency. Serang is bounded by Java Sea to the north, Tangerang Regency to the east, Lebak Regency and Pandeglang Regency to the south, and Cilegon to the west. Old Banten…
---
Pandeglang Pandeglang is a regency in Banten province with the capital of the same city. This rgency is bordered to the north of Serang, Lebak District in the East, and the Indonesian Ocean in the west and south. Its area also includes the island of Panaitan to the west, separated by the Strait of Panaitan, and number of small islands in the Indian Ocean, including the Deli Island and Tinjil Island. Ujung Kulon Peninsula is the most western tip in Java island, where there are wildlife reserves and there is…
---
Banten Banten is one of Indonesia Provinces that stand on the tip of Java Island. Formerly was a part of West Java Province, but on 2000 was separated and become a single province. The administrative city is located on Serang city. Banten at early begin was a port city with the busiest activity and prosperous people. Also, Banten was the most important port from Sunda Kingdom. When it was become a part of Sultanate of Banten, Banten became the biggest port city on South East Asia as big as Malaka…
---