Visiting Cikoromoy Public Bath in Kadubungbung Village, Banten Province
---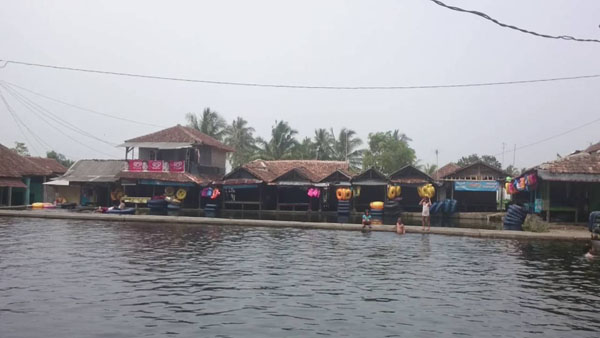 Each of you has a different preference when it comes to a family vacation. In Banten Province, the option of tourist spots varies. For a wonderful family vacation, you must head to Cimanuk District. The name is Cikoromoy Public Bath. Actually, it lies in Kadubungbung Village. As the name suggests, it is a perfect location to play water. Both kids and adults are able to enjoy it. The locals manage and retain this tourist spot well, so everyone is able to enjoy good times there.
The Nuance
Once you reach the location, you may see traditional houses. The public bath features fresh and calm water. The thing is the keeper may tell you to use a floating tire. At least, it helps you to safely and comfortably play in the water. For kids, a floating tire is a must. If you don't like swimming, there are several airboats to rent. In fact, there are plenty of them. Even though you come in holidays, you will always get either a floating tire of such air boat.
Exploring Cikoromoy Public Bath
Most of the time, this public bath is quite secluded. There are not many people coming to this location. Perhaps it is not as popular as other public baths in Banten Province. According to the keeper, the number of visitors has increased recently. That means people start to recognize the value of Cikoromoy Public Bath. Not to mention it features excellent scenery, which is the mountains. Tourists can enjoy such scenery while taking bath. Isn't that great? Perhaps it is the only public bath featuring such thing.
Despite its status as a traditional public bath, people find it comfortable and interesting. Most tourists are impressed by the fresh and clear water. Also, you may find many visitors in holidays. It will be a merry vacation for families. So, where does the water come from? The source of water is in Pulosari Mountains. It is likely the water is abundant and limitless. That means tourists are always able to visit it whenever they want. It is good news for you!
Apart from the public bath, you can also find several "warungs". They sell different types of local foods, especially fishes. The best menu is either grilled or fried fish. Once you and your family enjoy playing water, you can simply head to one of those local eateries and grab some foods. When it comes to facilities, there is a parking area. Have no worries. The parking fee is not expensive. It is as cheap as entry fee, actually. The best thing is that the management has decided to give many improvements to Cikoromoy Public Bath. It is for the sake of tourists. You are not an exception!
Nearby Attractions
Curug Putri
Karang Mountain
Cikoromoy Public Bath
How to Get There
If you come from Jakarta, the distance will be 118 km. That means you need to spend at least 3 hours to reach Cimanuk District. Once you reach the location, you can simply head to the public bath. Along the way, you are able to enjoy beautiful and natural scenery such as local houses, farms, mountains, and much more.
Where to Stay
Riz Hotel
Sofyan Inn
Sejahtera Hotel

Latest News
Sawarna Beach Sawarna beach, that located in Lebak, Banten province is now becomes more popular to be visited. In a decade, this beach that located along the forest beach in line with Pelabuhan Ratu, raise as one of most-visited beach and entitled as a new pearl in Southern Banten. To reach Sawarna, the travelers from Jakarta can be start the journey from Tangerang, Tigaraksa and Malimping, Bayah. While, from Bandung, we can start from Pelabuhan Ratu, then down the coast to the west. Unfortunately, we have to ask to the…
---
Serang Serang is the capital of Banten Province and the administrative center of Serang Regency. The administrative center of the regency and the capital of the province is the independent municipality of Serang (Kota Serang). Serang is about 10 km from Old Banten, the province's former capital. Merak, a major port and ferry terminal, is located just west of the regency. Serang is bounded by Java Sea to the north, Tangerang Regency to the east, Lebak Regency and Pandeglang Regency to the south, and Cilegon to the west. Old Banten…
---
Pandeglang Pandeglang is a regency in Banten province with the capital of the same city. This rgency is bordered to the north of Serang, Lebak District in the East, and the Indonesian Ocean in the west and south. Its area also includes the island of Panaitan to the west, separated by the Strait of Panaitan, and number of small islands in the Indian Ocean, including the Deli Island and Tinjil Island. Ujung Kulon Peninsula is the most western tip in Java island, where there are wildlife reserves and there is…
---
Banten Banten is one of Indonesia Provinces that stand on the tip of Java Island. Formerly was a part of West Java Province, but on 2000 was separated and become a single province. The administrative city is located on Serang city. Banten at early begin was a port city with the busiest activity and prosperous people. Also, Banten was the most important port from Sunda Kingdom. When it was become a part of Sultanate of Banten, Banten became the biggest port city on South East Asia as big as Malaka…
---