Karangsongsong Beach in Cibobos Village, Lebak Regency
---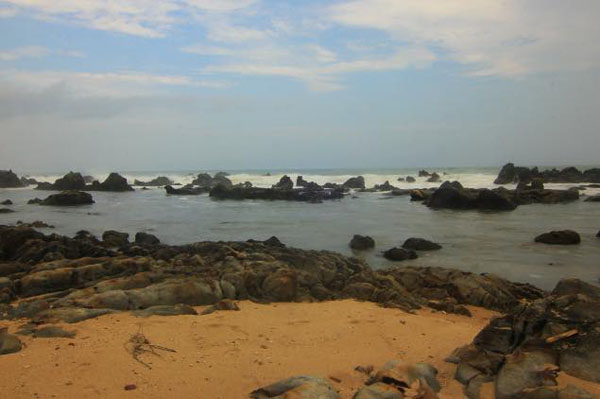 In Lebak Regency, there is a worthy beach to explore. The name is Karangsongsong Beach. It belongs to Cibobos Village. The best feature of the beach is definitely the waves. Just like any southern beaches in Java Island, the waves are strong and dangerous. That means you aren't allowed to swim in it. These strong waves hit the coral reefs and create a great sound. Somehow, it creates a serene atmosphere so you can eradicate your burden there.
The Nuance
When it comes to nuance, Karangsongsong Beach offers both boisterous and calm atmosphere. It combines two major features, which are the waves and the gusty wind. Even though the waves are quite big, some parts of the water are shallow. Thanks to the coral reefs. These things become a natural border and prevent the waves from reaching the seashore. Due to this reason, you can play water safely in such area. Even kids are allowed to approach this location. However, you need to pay a good attention to them.
Exploring Karangsongsong Beach
The best feature is Karangsongsong Beach is the coral reefs. They come in different size and shape. Tourists are able to enjoy the sound of the waves and feel the refreshing wind. The splash of the water becomes the primary feature of the beach, in fact. At noon, the waves become stronger so you can hear a louder splash. In some way, such phenomenon becomes a good object of photography. If you aren't into this activity, you can simply sit and relax on the sand.
In the back part of Karangsongsong Beach, you may find several trees. These include mahogany and teak. These trees are located in an area, having the size of 3 hectares. Due to this reason, you can simply relax near to the trees. Here is an idea. Why don't you carry a mat and some snacks? This way, you can enjoy a good lunch with your families. Even though there is an entry fee, it is worth an expense. That means you won't regret visiting the beach at all. It gives you both experiences and fun. The beach also becomes a nice location for a family location. That means you can build your relationship with your family members there.
There is a common rule when spending a vacation in Karangsongsong Beach. It is to take care of the environment. You should never litter, so you can help retain the sanity of the beach. Even though there are no guards, you should take care of the trash. This way, all tourists are able to retain the beauty of Karangsongsong Beach. In the afternoon, you can use your camera and take some pictures in this area.
Nearby Attractions
Panyaungan Beach
Pulo Manuk Beach
Tanjung Cariang
How to Get There
From Jakarta, you need to head to Lebak Regency. The trip may take about 5 hours and the distance is 196 km. For a faster route, you need to follow Pantura Street. Once you reach Lebak, it is time to head to Cibobos Village. The beach is situated near to this local settlement, after all.
Where to Stay

Latest News
Sawarna Beach Sawarna beach, that located in Lebak, Banten province is now becomes more popular to be visited. In a decade, this beach that located along the forest beach in line with Pelabuhan Ratu, raise as one of most-visited beach and entitled as a new pearl in Southern Banten. To reach Sawarna, the travelers from Jakarta can be start the journey from Tangerang, Tigaraksa and Malimping, Bayah. While, from Bandung, we can start from Pelabuhan Ratu, then down the coast to the west. Unfortunately, we have to ask to the…
---
Serang Serang is the capital of Banten Province and the administrative center of Serang Regency. The administrative center of the regency and the capital of the province is the independent municipality of Serang (Kota Serang). Serang is about 10 km from Old Banten, the province's former capital. Merak, a major port and ferry terminal, is located just west of the regency. Serang is bounded by Java Sea to the north, Tangerang Regency to the east, Lebak Regency and Pandeglang Regency to the south, and Cilegon to the west. Old Banten…
---
Pandeglang Pandeglang is a regency in Banten province with the capital of the same city. This rgency is bordered to the north of Serang, Lebak District in the East, and the Indonesian Ocean in the west and south. Its area also includes the island of Panaitan to the west, separated by the Strait of Panaitan, and number of small islands in the Indian Ocean, including the Deli Island and Tinjil Island. Ujung Kulon Peninsula is the most western tip in Java island, where there are wildlife reserves and there is…
---
Banten Banten is one of Indonesia Provinces that stand on the tip of Java Island. Formerly was a part of West Java Province, but on 2000 was separated and become a single province. The administrative city is located on Serang city. Banten at early begin was a port city with the busiest activity and prosperous people. Also, Banten was the most important port from Sunda Kingdom. When it was become a part of Sultanate of Banten, Banten became the biggest port city on South East Asia as big as Malaka…
---