Kelapa Tujuh Beach in Cilegon City, Banten
---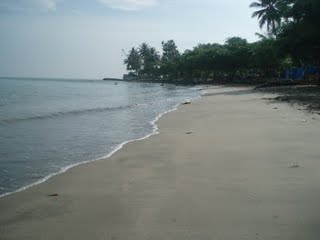 Banten Province has numerous attractions. That means tourists can spend a wonderful holiday in some parts of the province. For instance, you have Kelapa Tujuh Beach. It belongs to Cilegon City, after all. The location is in Suralaya Village, Pulomerak District. It is also near to Merak Freeway Gate! The distance is only 9 km from it. Apart from easy accessibility, Kelapa Tujuh becomes the only beach in Cilegon. Due to this reason, it becomes the center of a family vacation. That means you should expect lots of people there.
The Nuance
The most noticeable thing in the beach is the chimneys. You can see them from afar. They are located behind the hill. Actually, they are parts of Indonesia Power LTD. What about the beach? The waves are small and calm. Tourists can safely play and swim in the water. For kids, there are several floating tires available. These are a safety measure to swim. In the shorelines, the sand is quite soft and bright. There are several trees as well in the back of the seashore. Also, the length of the beach is roughly 200 meters.
Exploring Kelapa Tujuh Beach
The main feature of in Kelapa Tujuh Beach is the calm wave. Thus, tourists can enjoy numerous water sports comfortably. From the shorelines, you can see big boats as well. Not to mention there are several fishermen's boats. If you want to explore the water, there are some speedboats parked there. That means you are allowed to rent them. At noon, more visitors come to the beach so you need to get your speedboat soon. Otherwise, those people will leave you no speedboat at all.
The only disappointment is the management. Kelapa Tujuh Beach can be a wonderful 
place for a vacation if it is well-maintained. In some parts of the beach, there are littered junks. Bad tourists indeed have ruined the beauty of the beach. The problem is you can't find any trash can around Kelapa Tujuh. Perhaps this is the reason why people litter carelessly there. Despite this unpleasing sight, you can enjoy your vacation in the beach. Thanks to the serene nature and sports water facilities.
Villagers have built some tarpaulins in some parts of Kelapa Tujuh Beach. Tourists can simply throw a mat and sit comfortable in that location. The breeze of the wind is definitely refreshing. It can be a perfect location for a family vacation and relaxing. It will be great if you carry a lunch box. Once you have enjoyed good times in such location, it is time to explore nearby tourist attractions. Make sure to explore all of them!
Nearby Attractions
Pulorida Beach
Panjang Island
How to Get There
Most of the visitors come from nearby districts and Jakarta. If you come from Jakarta, you can simply take Pantura Street. The whole trip only takes about 2 ½ hours and the distance is 121 km. It can be faster if you ride a good car. It is either a private or rented car. Public transportation is also available, but it takes more time. Not to mention is isn't quite comfortable.
Where to Stay
Amaris Hotel
Pulorida Cottage

Latest News
Sawarna Beach Sawarna beach, that located in Lebak, Banten province is now becomes more popular to be visited. In a decade, this beach that located along the forest beach in line with Pelabuhan Ratu, raise as one of most-visited beach and entitled as a new pearl in Southern Banten. To reach Sawarna, the travelers from Jakarta can be start the journey from Tangerang, Tigaraksa and Malimping, Bayah. While, from Bandung, we can start from Pelabuhan Ratu, then down the coast to the west. Unfortunately, we have to ask to the…
---
Serang Serang is the capital of Banten Province and the administrative center of Serang Regency. The administrative center of the regency and the capital of the province is the independent municipality of Serang (Kota Serang). Serang is about 10 km from Old Banten, the province's former capital. Merak, a major port and ferry terminal, is located just west of the regency. Serang is bounded by Java Sea to the north, Tangerang Regency to the east, Lebak Regency and Pandeglang Regency to the south, and Cilegon to the west. Old Banten…
---
Pandeglang Pandeglang is a regency in Banten province with the capital of the same city. This rgency is bordered to the north of Serang, Lebak District in the East, and the Indonesian Ocean in the west and south. Its area also includes the island of Panaitan to the west, separated by the Strait of Panaitan, and number of small islands in the Indian Ocean, including the Deli Island and Tinjil Island. Ujung Kulon Peninsula is the most western tip in Java island, where there are wildlife reserves and there is…
---
Banten Banten is one of Indonesia Provinces that stand on the tip of Java Island. Formerly was a part of West Java Province, but on 2000 was separated and become a single province. The administrative city is located on Serang city. Banten at early begin was a port city with the busiest activity and prosperous people. Also, Banten was the most important port from Sunda Kingdom. When it was become a part of Sultanate of Banten, Banten became the biggest port city on South East Asia as big as Malaka…
---