Anyer Beach
---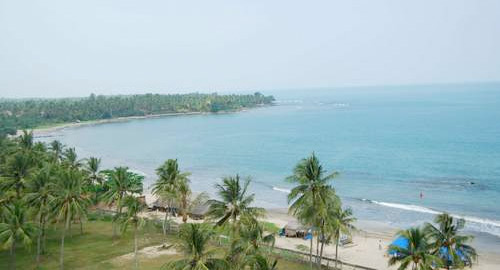 Anyer is a beach town in Banten. It is located at Anyer, 38 km from Serang City. The beach is facing the West, so we can see the view of Mt. Rakata (the remaining / child of Mt. Krakatau that exploded in 1833) and the sunset. A beautiful sea sight with all activities such as Jet Ski, Speed Boat, Para Sailing and other aquatic sport, those types of activities can be found here, as well as sunset view from the beach and an old lighthouse at Cikoneng. A lot of hotels from jasmine to international 5 stars can be tourist best choices to stay. Anyer is a popular beach resort for Jakartan.
Anyer beach has many unique enchantments. Its white sands amaze many tourists. They are so pure; we can feel the softness of the sands. The deep blue sea attracts many divers around the world because its various sea lives are so completely perfect. The sea breeze can make visitors' mind fresh, out of stress and enjoy. And the last enchantments that can make Anyer beach as the most favorite place to visit is the view of the legendary Krakatau Mountain and its historical lighthouse.
It is located in the west coast of Java about 120km from Jakarta. Sanghyang, 10 km off Anyer beach, is an easy diving destination for Jakartan divers who can only spare a weekend. This volcanic island offers white carbonate-sand beach and a wealth of underwater life, while Anyer offers a gorgeous sunset.

Latest News
Sawarna Beach Sawarna beach, that located in Lebak, Banten province is now becomes more popular to be visited. In a decade, this beach that located along the forest beach in line with Pelabuhan Ratu, raise as one of most-visited beach and entitled as a new pearl in Southern Banten. To reach Sawarna, the travelers from Jakarta can be start the journey from Tangerang, Tigaraksa and Malimping, Bayah. While, from Bandung, we can start from Pelabuhan Ratu, then down the coast to the west. Unfortunately, we have to ask to the…
---
Serang Serang is the capital of Banten Province and the administrative center of Serang Regency. The administrative center of the regency and the capital of the province is the independent municipality of Serang (Kota Serang). Serang is about 10 km from Old Banten, the province's former capital. Merak, a major port and ferry terminal, is located just west of the regency. Serang is bounded by Java Sea to the north, Tangerang Regency to the east, Lebak Regency and Pandeglang Regency to the south, and Cilegon to the west. Old Banten…
---
Pandeglang Pandeglang is a regency in Banten province with the capital of the same city. This rgency is bordered to the north of Serang, Lebak District in the East, and the Indonesian Ocean in the west and south. Its area also includes the island of Panaitan to the west, separated by the Strait of Panaitan, and number of small islands in the Indian Ocean, including the Deli Island and Tinjil Island. Ujung Kulon Peninsula is the most western tip in Java island, where there are wildlife reserves and there is…
---
Banten Banten is one of Indonesia Provinces that stand on the tip of Java Island. Formerly was a part of West Java Province, but on 2000 was separated and become a single province. The administrative city is located on Serang city. Banten at early begin was a port city with the busiest activity and prosperous people. Also, Banten was the most important port from Sunda Kingdom. When it was become a part of Sultanate of Banten, Banten became the biggest port city on South East Asia as big as Malaka…
---