Krakatau Junction Infinite Jogging Track in Cilegon, Banten Province
---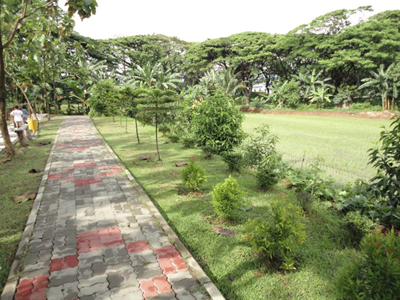 Cilegon City is part of Banten Province. It is also the home of Krakatau Junction Infinite Jogging Track. As the name suggests, this park becomes a favorite location among travelers and joggers. The location is in the midst of Cilegon City. It also functions as a city park. Today, many visitors come to the park for either relaxation or jogging. Most of them are the locals, but outsiders often visit it as well. The combination of cool atmosphere and shady trees are definitely peaceful.
The Nuance
Once you get to Krakatau Junction Infinite Jogging Track, you can feel a serene nuance. The path is well-paved and it is surrounded by trees. Some parts of the jogging track feature grassy lands, as well. These features are definitely calming. Thanks to the plants and trees. They help create a fresh and healthy air. No wonder, visitors take advantage of this jogging track to retain and improve their health. Not many people come to this location at the same time. That means the nuance is a little bit peaceful and spacious.
Exploring Krakatau Junction Infinite Jogging Track
The best time to visit the jogging track is on weekend or holidays. Most of the locals visit it on Sunday, actually. It is because they have lots of work to do on regular days. The weekend becomes an opportunity to do some simple sports, especially jogging. Make sure to come in the morning, though. It is because of the atmosphere. You can feel the freshest nuance in the morning. At least, you should have been there at 6 am. Another reason is the parking area. If you come late, you won't get enough space for parking.
It doesn't have to be jogging. You can do a simple walk, as well. The thing is you must wear proper footwear. Once you have prepared the equipment, it is time to explore the location. In some occasions, there is a local impromptu market. Many types of foods and items are sold here. Apart from jogging, you can also buy some items. It becomes your opportunity to try local specialties, as well. These include "ketoprak" and "bakso". On top of that, the price is affordable.
In a nutshell, Krakatau Junction Infinite Jogging Track is the most recommended location for jogging and relaxation. Here is the thing. You should never underestimate jogging. It helps you to retain health and confidence. With a simple movement, you can maintain weight and look younger. Somehow, it helps you increase stamina and endurance. If you come with families or friends, jogging help you improve your social relationship. It is an opportunity for bonding.
Nearby Attractions
Padang Golf Krakatau CC
Krakatau Steel Lake
How to Get There
A trip to Krakatau Infinite Jogging Track takes about 2 hours and 30 minutes from Jakarta. Overall, your prime destination is Cilegon City. The total distance is 122 km so it can be a tiring trip for many. What about the route? Usually, travelers take Pantura Street. It is the fastest way to reach the location, after all.
Where to Stay
Sari Kuring Indah Hotel
The Royale Krakatau Hotel
Cilegon City Hotel

Latest News
Sawarna Beach Sawarna beach, that located in Lebak, Banten province is now becomes more popular to be visited. In a decade, this beach that located along the forest beach in line with Pelabuhan Ratu, raise as one of most-visited beach and entitled as a new pearl in Southern Banten. To reach Sawarna, the travelers from Jakarta can be start the journey from Tangerang, Tigaraksa and Malimping, Bayah. While, from Bandung, we can start from Pelabuhan Ratu, then down the coast to the west. Unfortunately, we have to ask to the…
---
Serang Serang is the capital of Banten Province and the administrative center of Serang Regency. The administrative center of the regency and the capital of the province is the independent municipality of Serang (Kota Serang). Serang is about 10 km from Old Banten, the province's former capital. Merak, a major port and ferry terminal, is located just west of the regency. Serang is bounded by Java Sea to the north, Tangerang Regency to the east, Lebak Regency and Pandeglang Regency to the south, and Cilegon to the west. Old Banten…
---
Pandeglang Pandeglang is a regency in Banten province with the capital of the same city. This rgency is bordered to the north of Serang, Lebak District in the East, and the Indonesian Ocean in the west and south. Its area also includes the island of Panaitan to the west, separated by the Strait of Panaitan, and number of small islands in the Indian Ocean, including the Deli Island and Tinjil Island. Ujung Kulon Peninsula is the most western tip in Java island, where there are wildlife reserves and there is…
---
Banten Banten is one of Indonesia Provinces that stand on the tip of Java Island. Formerly was a part of West Java Province, but on 2000 was separated and become a single province. The administrative city is located on Serang city. Banten at early begin was a port city with the busiest activity and prosperous people. Also, Banten was the most important port from Sunda Kingdom. When it was become a part of Sultanate of Banten, Banten became the biggest port city on South East Asia as big as Malaka…
---