Batur Mountain in Pulomerak District, Banten Province
---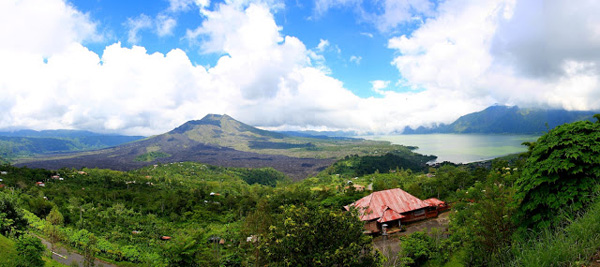 A nature vacation is popular among tourists. In Banten Province, you must visit a majestic mountain called Batur. It is located in Pulomerak District. Visitors can reach it from Cilegon City for 10 minutes. The distance is about 9 km, actually. The mountain is popular with numerous activities such as trekking, sightseeing, animal exploration, paragliding, and much more. If you don't like extreme activities, the mountain can be a perfect place to relax. It is one of the best tourist sites in Banten, after all. No wonder, it is quite well-known.
The Nuance
In terms of appearance, Batur Mountain is similar to Merapi Mountain of Yogyakarta Special Region. However, it features more dense trees and plants. That means it holds more creatures than other mountains. The landscape is a little bit challenging, so it is suitable for those who love trekking. When it comes to the weather, it is cold in the morning. At noon, it becomes hotter. Regardless of the time of visit, you must wear proper clothes and equipment. This way, you can explore the mountain comfortably.
Exploring Batur Mountain
There is another name of the mountain. The locals often call it Merak Mountain. It is because of the location. The mountain is situated in Pulomerak District. So, what can people do there? As mentioned before, you can do many things in Batur. Hiking is the most popular activity. You can either hike along or with friends. For beginners, it is better to come with a tour guide or an expert. At least, you should know the trekking route and the equipment to carry.
Apart from hiking, you can try other activities. For example, there is camping. Batur Mountain provides a camping area, so you can choose to enjoy the nature wholeheartedly. Once again, you should come with proper equipment and tools. Also, you must choose the right spot for camping. The locals may help you to choose the best location, actually. The next thing to do is to learn about flora and fauna. Batur Mountain is the home of numerous creatures. Thus, you can observe and get closer to those animals. These include birds, insects, and much more.
Do you love sports? Well, you can do jogging and paragliding. The thing is you must know the spots and routes well. People of Batur Mountain Village may help you with it. Next, it is sightseeing. Once you reach the top of the mountain, you can witness beautiful scenery from above. These include the Sunda Strait, local houses, Merak Port, Cilegon City, and much more. Not to mention you can witness stunning sun views.
Nearby Attractions
How to Get There
If you come from Jakarta, your first destination is Cilegon City in Banten Province. Take any type of vehicle and use the Pantura Street. The distance is 119 km and the trip may take 2-3 hours. Once you reach Cilegon City, your next destination is Pulomerak District. From there, Batur Mountain is noticeable. If necessary, you can hire a tour guide.
Where to Stay
Hotel Feri Merak
Pesona Enasa
The Royale Krakatau

Latest News
Sawarna Beach Sawarna beach, that located in Lebak, Banten province is now becomes more popular to be visited. In a decade, this beach that located along the forest beach in line with Pelabuhan Ratu, raise as one of most-visited beach and entitled as a new pearl in Southern Banten. To reach Sawarna, the travelers from Jakarta can be start the journey from Tangerang, Tigaraksa and Malimping, Bayah. While, from Bandung, we can start from Pelabuhan Ratu, then down the coast to the west. Unfortunately, we have to ask to the…
---
Serang Serang is the capital of Banten Province and the administrative center of Serang Regency. The administrative center of the regency and the capital of the province is the independent municipality of Serang (Kota Serang). Serang is about 10 km from Old Banten, the province's former capital. Merak, a major port and ferry terminal, is located just west of the regency. Serang is bounded by Java Sea to the north, Tangerang Regency to the east, Lebak Regency and Pandeglang Regency to the south, and Cilegon to the west. Old Banten…
---
Pandeglang Pandeglang is a regency in Banten province with the capital of the same city. This rgency is bordered to the north of Serang, Lebak District in the East, and the Indonesian Ocean in the west and south. Its area also includes the island of Panaitan to the west, separated by the Strait of Panaitan, and number of small islands in the Indian Ocean, including the Deli Island and Tinjil Island. Ujung Kulon Peninsula is the most western tip in Java island, where there are wildlife reserves and there is…
---
Banten Banten is one of Indonesia Provinces that stand on the tip of Java Island. Formerly was a part of West Java Province, but on 2000 was separated and become a single province. The administrative city is located on Serang city. Banten at early begin was a port city with the busiest activity and prosperous people. Also, Banten was the most important port from Sunda Kingdom. When it was become a part of Sultanate of Banten, Banten became the biggest port city on South East Asia as big as Malaka…
---