Batu Kuwung Hot Spring in Serang Regency, Banten
---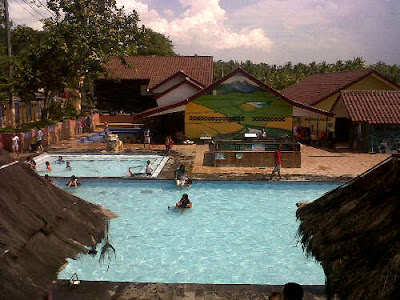 A beautiful holiday should feature a worthy vacation spot. If you are visiting Banten, you should reach Serang Regency. It is the home of Batu Kuwung Hot Spring. The location is in Padarincang District. To be exact, it is located in Batu Kuwung Village. It is also near to Karang Mountain. Apart from locals, many people from Jakarta and other cities also visit it. Here is the fact. This hot spring is considered the oldest one in Banten. It emits roughly 75 degrees Celsius.
The Nuance
In terms of appearance, the hot spring features a man-made pond. In the middle part of the pond, you can find the source of water. It is covered by stones. In the back, you can see some structures. The atmosphere is similar to a resort. There are actually two ponds. First, it is for adults. It features deeper water, for sure. Another pond is for kids. It features shallow water, so your kids can play in it safely. Both of them share the same quality of water, which is clear and warm!
Exploring Batu Kuwung Hot Spring
The primary activity in the hot spring is indeed bathing. The water is considered hot. Thus, the management decided to mix it with fresh water. As the result, there are ponds with warm water. These are used by tourists for bathing and swimming. Apart from that, you can learn the history of this tourist spot. It was named after the shape of the stone, where the water comes out. In the past, some bad guys meditated on such stone to eradicate bad lucks and evil traits.
As mentioned earlier, you can choose either a big or small pond. It depends on the size of your body. For kids, it is better to use the smaller one. Tourists are allowed to swim in those ponds. Still, you can also simply soaking in the water. According to locals, the water has a healing ability. It helps you deal with skin and bones issues. The water is warm, indeed. In the horizon, you can see majestic mountains and unspoiled scenery!
As for precaution, you should never use soap while bathing in Batu Kuwung Hot Spring. Why is that? It is considered useless. Instead, you can simply bathe your body using the water simultaneously. Also, don't spend too much time in the water. An hour is a limit. It is to avoid any side effects of hot water. Another tip is related to clothes. Make sure to carry some extras prior to visiting the hot spring. Don't eat snacks in the water as it may ruin the environment!
Nearby Attractions
Curug Cigumawang
Curug Cikotak
Karang Mountain
How to Get There
Your primary destination is Batu Kuwung Village. First, you should head to Serang Regency. If you come from Jakarta, the trip takes about 2-3 hours and the distance is 117 km. You can use Pantura Street and a Tangerang-Merak Freeway. If you want a comfortable trip, a car is a better choice. It is possible to ride a bus, too. However, it can be quite crowded during holidays!
Where to Stay
Casa Krakatoa
Prima Anyer Resort

Latest News
Sawarna Beach Sawarna beach, that located in Lebak, Banten province is now becomes more popular to be visited. In a decade, this beach that located along the forest beach in line with Pelabuhan Ratu, raise as one of most-visited beach and entitled as a new pearl in Southern Banten. To reach Sawarna, the travelers from Jakarta can be start the journey from Tangerang, Tigaraksa and Malimping, Bayah. While, from Bandung, we can start from Pelabuhan Ratu, then down the coast to the west. Unfortunately, we have to ask to the…
---
Serang Serang is the capital of Banten Province and the administrative center of Serang Regency. The administrative center of the regency and the capital of the province is the independent municipality of Serang (Kota Serang). Serang is about 10 km from Old Banten, the province's former capital. Merak, a major port and ferry terminal, is located just west of the regency. Serang is bounded by Java Sea to the north, Tangerang Regency to the east, Lebak Regency and Pandeglang Regency to the south, and Cilegon to the west. Old Banten…
---
Pandeglang Pandeglang is a regency in Banten province with the capital of the same city. This rgency is bordered to the north of Serang, Lebak District in the East, and the Indonesian Ocean in the west and south. Its area also includes the island of Panaitan to the west, separated by the Strait of Panaitan, and number of small islands in the Indian Ocean, including the Deli Island and Tinjil Island. Ujung Kulon Peninsula is the most western tip in Java island, where there are wildlife reserves and there is…
---
Banten Banten is one of Indonesia Provinces that stand on the tip of Java Island. Formerly was a part of West Java Province, but on 2000 was separated and become a single province. The administrative city is located on Serang city. Banten at early begin was a port city with the busiest activity and prosperous people. Also, Banten was the most important port from Sunda Kingdom. When it was become a part of Sultanate of Banten, Banten became the biggest port city on South East Asia as big as Malaka…
---