Batu Saung Beach in Cinangka District, Banten
---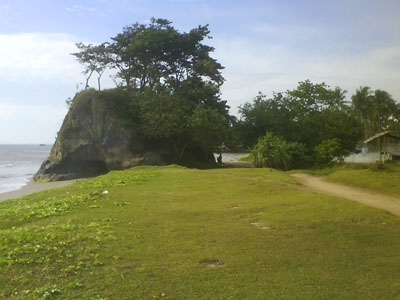 Nature tourism may never disappoint you. For those who visit Banten Province, you should consider Batu Saung Beach. It is one of the best beaches near to Anyer, after all. That means it shares the same beauty and value to nearby coasts. Still, it has uniqueness. The best feature is high coral reefs. Tourists are able to climb on it and witness great scenery. There is also a hollowed coral reef. It is similar to that of in Karang Bolong Beach. 
The Nuances
Just like other beaches in Anyer, Batu Saung has a sloping contour. It features white sand and several coral reefs. Near to the coast, you can find shady trees. Most of them are coconut trees. Many kids come to the beach during weekends. It is because the beach is quite popular among families. There are several public minibuses in some parts of the coast. Thanks to an easy access to the beach. The waves are strong, so it is not safe for swimming. However, you can ride a banana boat and have fun in the water.
Exploring Batu Saung Beach
What are the reasons for visiting Batu Saung? First, it is the scenery. The flawless beauty of shorelines may amaze you. It emits a natural beauty. In fact, many Indonesian serials took place some parts of the beach for shooting. When it comes to the size, the beach has the width about 7 hectares. There is even a hill located near to it. Not to mention there is a river and a small forest in the back. All these features create a perfect mood for a family vacation.
Most visitors come to Batu Saung Beach for a family gathering. Thanks to the abundant size of the coast. Even many companies use this location for a company outing. If you come with your kids, you can swim in the water comfortably. Have no fear. There is even a professional lifeguard service nearby. Apart from swimming, you can also conduct numerous types of water sports, especially body surf. Sometimes, tourists perform a team building and outbound in this location. Are you interested?
When it comes to facilities, you can find some villas, toilets, water sports equipment, and local restaurants. Thus, everyone can enjoy a splendid vacation in Batu Saung. As for precautions, you need to prepare some items. These include a hat, a sunglasses, swimming suit, and sunscreen. In addition, you must learn how to bargain. It is because some sellers are quite bad. They charge more than regular prices. Due to this reason, you must learn how to get perfect prices.
Nearby Attractions
How to Get There
Have no worries. It is easy to reach Batu Saung Beach. From Jakarta, your route will be Cilegon – Anyer – Cilangka. It is the fastest way to reach such beautiful beach. Actually, there is an alternative route. However, it takes longer than it should be. The location is near to Teuneung Intersection. When it comes to the entry fee, it is as affordable as other tourist spots in Carita District. Overall, the trip takes about 2 hours and 30 minutes. The distance from Jakarta is 135 km.
Where to Stay
Aston Anyer Hotel
Casa Krakatoa
Acacia Hotel

Latest News
Sawarna Beach Sawarna beach, that located in Lebak, Banten province is now becomes more popular to be visited. In a decade, this beach that located along the forest beach in line with Pelabuhan Ratu, raise as one of most-visited beach and entitled as a new pearl in Southern Banten. To reach Sawarna, the travelers from Jakarta can be start the journey from Tangerang, Tigaraksa and Malimping, Bayah. While, from Bandung, we can start from Pelabuhan Ratu, then down the coast to the west. Unfortunately, we have to ask to the…
---
Serang Serang is the capital of Banten Province and the administrative center of Serang Regency. The administrative center of the regency and the capital of the province is the independent municipality of Serang (Kota Serang). Serang is about 10 km from Old Banten, the province's former capital. Merak, a major port and ferry terminal, is located just west of the regency. Serang is bounded by Java Sea to the north, Tangerang Regency to the east, Lebak Regency and Pandeglang Regency to the south, and Cilegon to the west. Old Banten…
---
Pandeglang Pandeglang is a regency in Banten province with the capital of the same city. This rgency is bordered to the north of Serang, Lebak District in the East, and the Indonesian Ocean in the west and south. Its area also includes the island of Panaitan to the west, separated by the Strait of Panaitan, and number of small islands in the Indian Ocean, including the Deli Island and Tinjil Island. Ujung Kulon Peninsula is the most western tip in Java island, where there are wildlife reserves and there is…
---
Banten Banten is one of Indonesia Provinces that stand on the tip of Java Island. Formerly was a part of West Java Province, but on 2000 was separated and become a single province. The administrative city is located on Serang city. Banten at early begin was a port city with the busiest activity and prosperous people. Also, Banten was the most important port from Sunda Kingdom. When it was become a part of Sultanate of Banten, Banten became the biggest port city on South East Asia as big as Malaka…
---