Enjoying the Flawless Beauty of Ciantir Beach in Lebak Regency, Banten
---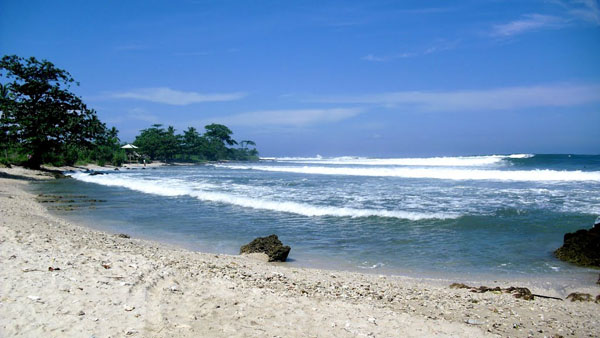 Do you like visiting the beach? In this case, you must visit Ciantir Beach. It is a recommended beach situated in Lebak Regency, Banten. Usually, the visitors come from nearby cities and Jakarta. Ciantir becomes one of the best beaches in Banten, in fact. The beauty is similar to that of Anyer. In terms of location, it is near to Sawarna Village. Thus, all tourists are able to reach it easily. Also, most visitors come during weekends. They are families, foreigners, the locals, and teenagers.
The Nuance
What makes a beach beautiful? There are numerous features, actually. For example, it is the waves. Ciantir Beach features strong waves. Thus, it is not safe for swimming. The sand is brown and it is quite soft. From afar, you can see shady trees as well. The water is blue and the wind is gusty. In the summer season, you may expect lots of clouds. All these features create a wonderful nuance. No wonder, many tourists come to the location either for beach walking or relaxing.
Exploring Ciantir Beach
Apart from natural features, Ciantir Beach is also popular for its facilities. Prior to reaching the beach, you may find numerous types of villas. They come in different prices and amenities, as well. For tourists, it is better to rent a villa beforehand. This way, you are able to enjoy a vacation on the beach in a more comfortable manner. The distance isn't far, either. That means you can reach the beach from the villa. One thing, it is better to rent the villa in working days. Otherwise, you won't get any in the holidays.
Ciantir Beach is indeed beautiful. Unfortunately, it is not suitable for swimming. Not to mention the charm isn't quite glamorous. Tourists can simply play in the sand and perform beach walking. If you love photography, you can take pictures in some parts of the beach. Make sure to capture the wild waves, as well. What's next? It is the food! There are several local "warungs". However, the prices are quite troublesome. If you don't want to spend too much money on food, you should carry foods from home.
Another interesting activity in Ciantir Beach is camping. For those who want to enjoy camping, you need to choose the right spot. Make sure it is safe and comfortable. Also, it is better not to build a tent near to the water. Otherwise, you are going to wet yourself. The only precaution in the beach is the waves. Tourists aren't allowed to swim in the water. As mentioned before, it is because of the strong waves. In fact, many people have lost there.
Nearby Attractions
Tanjung Layar Beach
Pulo Manuk Beach
Langir Cave
How to Get There
It is easy to reach Ciantir Beach. What you need to do is to reach Lebak Regency. If you come from Jakarta, the trip takes about 5-6 hours and the distance is 232 km. For the fastest trip, you can take Pantura Street. Tangerang-Merak Freeway also becomes the part of your trip, actually. What about the transportation? A private car is the most recommended one.
Where to Stay
Sawarna Hotel
Malibo Resort
Sawarna Villa

Latest News
Sawarna Beach Sawarna beach, that located in Lebak, Banten province is now becomes more popular to be visited. In a decade, this beach that located along the forest beach in line with Pelabuhan Ratu, raise as one of most-visited beach and entitled as a new pearl in Southern Banten. To reach Sawarna, the travelers from Jakarta can be start the journey from Tangerang, Tigaraksa and Malimping, Bayah. While, from Bandung, we can start from Pelabuhan Ratu, then down the coast to the west. Unfortunately, we have to ask to the…
---
Serang Serang is the capital of Banten Province and the administrative center of Serang Regency. The administrative center of the regency and the capital of the province is the independent municipality of Serang (Kota Serang). Serang is about 10 km from Old Banten, the province's former capital. Merak, a major port and ferry terminal, is located just west of the regency. Serang is bounded by Java Sea to the north, Tangerang Regency to the east, Lebak Regency and Pandeglang Regency to the south, and Cilegon to the west. Old Banten…
---
Pandeglang Pandeglang is a regency in Banten province with the capital of the same city. This rgency is bordered to the north of Serang, Lebak District in the East, and the Indonesian Ocean in the west and south. Its area also includes the island of Panaitan to the west, separated by the Strait of Panaitan, and number of small islands in the Indian Ocean, including the Deli Island and Tinjil Island. Ujung Kulon Peninsula is the most western tip in Java island, where there are wildlife reserves and there is…
---
Banten Banten is one of Indonesia Provinces that stand on the tip of Java Island. Formerly was a part of West Java Province, but on 2000 was separated and become a single province. The administrative city is located on Serang city. Banten at early begin was a port city with the busiest activity and prosperous people. Also, Banten was the most important port from Sunda Kingdom. When it was become a part of Sultanate of Banten, Banten became the biggest port city on South East Asia as big as Malaka…
---