Tasikardi Lake in Kramatwatu District, Banten
---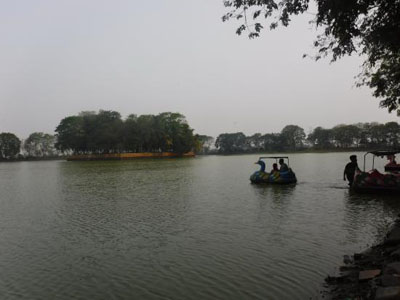 Aside from beaches, Banten Province also becomes the home of beautiful lakes. One of them is Tasikardi. It is located in Margasana Village. What you need to do is to reach Kramatwatu District. Tasikardi means "a manmade lake". It is actually a Sundanese Language. According to legend, the lake was created during the reign of Maulana Yusuf King. The rumor has it. The king and his family used the lake for resting. Today, it becomes one of the best tourist spots in Banten.
The Nuance
The first impression when coming to Tasikardi Lake is the serenity. It features natural beauties like shady trees, stunning water, and much more. The color of the water is green and it is surrounded by several trees. On the lake, you can find several duck boats. It is a no brainer. You are allowed to ride them. The thing is you need to pay the fee. The water is deep and unclear, so swimming isn't recommended there. What you can do are photography, riding a duck boat, and relaxation.
Exploring Tasikardi Lake
What can tourists expect from it? For example, you can learn the history of Tasikardi Lake. In the past, the name was Situ Kardi. The role is more than a tourist spot. The locals often used it to store water from Cibanten River. The purpose is indeed for irrigation. Back then, people used the water from the lake as a household supply as well. Today, Tasikardi serves mainly as a vacation destination among those who live in Kramatwatu District and other cities. Even some foreigners come there!
The lake features a calm water and gusty wind. You can find several shady trees nearby, too. With all these features, tourists are able to enjoy a refreshing and serene nuance. No wonder, many people come there for relaxation and looking for inspiration. Apart from those features, there are numerous farms located near to the lake. During harvest moon, farmers come to their land. This definitely becomes a stunning extra sight in Tasikardi Lake. Due to this reason, you should carry your camera and take good pictures of objects there.
Next, Tasikardi Lake is the home of numerous fishes. For those who love fishing, you can take your time there. When it comes to facilities, there are several canteens and stores. In fact, you can buy fishing equipment. Another interesting activity is camping. It is because you can find a camping ground there. It becomes an opportunity to get closer to the nature. Once you take your time in the lake, it is the time to visit nearby island using a boat.
Nearby Attractions
Wulandira Park
Banten Grand Mosque
How to Get There
Most of the visitors come from nearby villages. If you come from Jakarta, your first destination is Kramatwatu District. That means you should reach Serang Regency, as well. Once you have arrived at Kramatwatu, you can continue your trip to Margasana Village. The lake is noticeable, so you can find them easily. The whole trip takes about 2-3 hours and the distance is 106 km. You can either use a private car or rent it. Public transportation is not a bad idea, but it takes longer than a private vehicle.
Where to Stay
Horison Forbis Hotel
Grand Mangku Utara Hotel

Latest News
Sawarna Beach Sawarna beach, that located in Lebak, Banten province is now becomes more popular to be visited. In a decade, this beach that located along the forest beach in line with Pelabuhan Ratu, raise as one of most-visited beach and entitled as a new pearl in Southern Banten. To reach Sawarna, the travelers from Jakarta can be start the journey from Tangerang, Tigaraksa and Malimping, Bayah. While, from Bandung, we can start from Pelabuhan Ratu, then down the coast to the west. Unfortunately, we have to ask to the…
---
Serang Serang is the capital of Banten Province and the administrative center of Serang Regency. The administrative center of the regency and the capital of the province is the independent municipality of Serang (Kota Serang). Serang is about 10 km from Old Banten, the province's former capital. Merak, a major port and ferry terminal, is located just west of the regency. Serang is bounded by Java Sea to the north, Tangerang Regency to the east, Lebak Regency and Pandeglang Regency to the south, and Cilegon to the west. Old Banten…
---
Pandeglang Pandeglang is a regency in Banten province with the capital of the same city. This rgency is bordered to the north of Serang, Lebak District in the East, and the Indonesian Ocean in the west and south. Its area also includes the island of Panaitan to the west, separated by the Strait of Panaitan, and number of small islands in the Indian Ocean, including the Deli Island and Tinjil Island. Ujung Kulon Peninsula is the most western tip in Java island, where there are wildlife reserves and there is…
---
Banten Banten is one of Indonesia Provinces that stand on the tip of Java Island. Formerly was a part of West Java Province, but on 2000 was separated and become a single province. The administrative city is located on Serang city. Banten at early begin was a port city with the busiest activity and prosperous people. Also, Banten was the most important port from Sunda Kingdom. When it was become a part of Sultanate of Banten, Banten became the biggest port city on South East Asia as big as Malaka…
---