Cigaru Lake in Cisoka District, Tangerang, Banten Province
---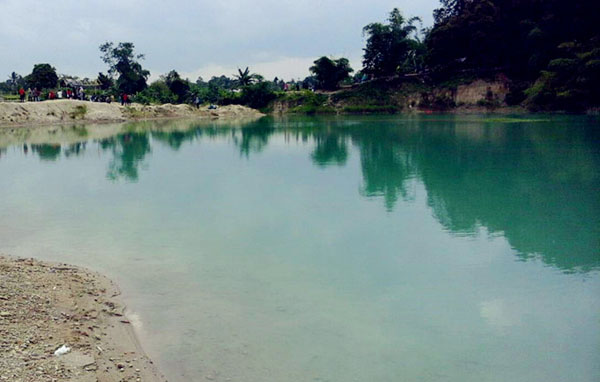 For those who are visiting Banten Province, there is a recommended vacation destination called Cigaru Lake. It is situated in Cisoka District. To be exact, it lies in Raksa Street 3. The lake belongs to Tangerang Regency, actually. The thing is it is not an actual or natural lake. It was formed due to the trace of sand mining. Today, it becomes a new tourist spot in Banten. The color of the water is stunning and the atmosphere is uplifting. Some tourists come there for selfies, too. 
The Nuance
Tangerang Regency should be proud of Cigaru Lake. The water has the prime color of green. The thing is it can alter simultaneously. Due to this reason, it becomes the main lure of this location. There is an important precaution. You are not allowed to swim in it! Visitors can only walk around near to the lake and take some pictures. When it comes to the land, it is sandy. The color is white. However, the landscape is hard. Thus, make sure to wear proper footwear.
Exploring Cigaru Lake
The local name is Blue Cigaru Lake. However, the water color is actually green. It only appears blue in some occasions. In fact, it also turns into other colors like yellowish and clear. In the past, Cigaru Lake was abandoned. So, what made it popular? Since 2015, the water has turned blue! It looks quite stunning and any people come to this location over time. Both locals and outsiders are attracted in visiting the lake these days. Thus, you should never miss this chance too.
The popularity increases due to the word of mouth. Many tourists come to this location for photography and even selfies. With an increase in numbers, the local government included it in the list of the best vacation spots in Tangerang Regency. Due to this reason, you may find lots of visitors on the weekends and holidays. They have different purposes in visiting the lake. Most of the visitors are teenagers. They come for selfies and photography. Sometimes, tourists carry a canvas and draw nearby scenery.
Apart from photography and walking around Cigaru Lake, tourists are possible to explore it using a traditional boat. The locals offer such service to visitors. The thing is they aren't always in the location. That means you must come at the right time! Make sure those people are around, so you can get into the boat. If not, you can simply enjoy a serene nuance near to the lake. Overall, this is a beautiful and worthy spot for either holiday or an adventure.
Nearby Attractions
How to Get There
Jakarta and Tangerang are not quite far. Thus, you can reach Cigaru Lake easily. The trip takes approximately 1-2 hours. After all, you need to spend about 61 km. A rented or private car is the best choice and you should take mainly Pantura Street. Once you reach Tangerang, it is time to head to Cisoka District. The location is in Raksa Street. Have no worries. It is easy to spot.
Where to Stay
Amaris Hotel
Santika Hotel

Latest News
Sawarna Beach Sawarna beach, that located in Lebak, Banten province is now becomes more popular to be visited. In a decade, this beach that located along the forest beach in line with Pelabuhan Ratu, raise as one of most-visited beach and entitled as a new pearl in Southern Banten. To reach Sawarna, the travelers from Jakarta can be start the journey from Tangerang, Tigaraksa and Malimping, Bayah. While, from Bandung, we can start from Pelabuhan Ratu, then down the coast to the west. Unfortunately, we have to ask to the…
---
Serang Serang is the capital of Banten Province and the administrative center of Serang Regency. The administrative center of the regency and the capital of the province is the independent municipality of Serang (Kota Serang). Serang is about 10 km from Old Banten, the province's former capital. Merak, a major port and ferry terminal, is located just west of the regency. Serang is bounded by Java Sea to the north, Tangerang Regency to the east, Lebak Regency and Pandeglang Regency to the south, and Cilegon to the west. Old Banten…
---
Pandeglang Pandeglang is a regency in Banten province with the capital of the same city. This rgency is bordered to the north of Serang, Lebak District in the East, and the Indonesian Ocean in the west and south. Its area also includes the island of Panaitan to the west, separated by the Strait of Panaitan, and number of small islands in the Indian Ocean, including the Deli Island and Tinjil Island. Ujung Kulon Peninsula is the most western tip in Java island, where there are wildlife reserves and there is…
---
Banten Banten is one of Indonesia Provinces that stand on the tip of Java Island. Formerly was a part of West Java Province, but on 2000 was separated and become a single province. The administrative city is located on Serang city. Banten at early begin was a port city with the busiest activity and prosperous people. Also, Banten was the most important port from Sunda Kingdom. When it was become a part of Sultanate of Banten, Banten became the biggest port city on South East Asia as big as Malaka…
---