Hotels In Banten
---
Olive Hotel Tangerang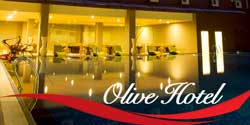 This contemporary hotel off Indonesian National Route 1 is 7 kilometers from Pasar Lama market and 20 kilometers from Soekarno-Hatta International Airport. Olive Hotel is a perfect destination for both business and leisure trips. Our modern hotel located in Tangerang is a touch of luxury with 90 standard rooms 12 suite rooms and 4 family suite rooms. Our staff are commited to providing extra ordinary hospitality to ensure your stay with us meets all your expectations.
Jl. Imam Bonjol No. 777 - Karawaci, Panunggangan Barat, Cibodas
Tangerang, Banten 15138
Indonesia
Phone: +62 21 29517777
Web: www.hoteloliveindonesia.com
Allium Hotel Tangerang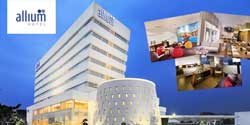 The leaning building structure marks the unique characteristic of Allium Tangerang Hotel and is considered a notable landmark in the city of Tangerang, Jakarta. As one of the closest hotels to the airport and among the best located and most comfortable hotels in the city, we offer a relaxing and affordable luxury destination for business and leisure travel. Strategically situated just 22 kilometres from Soekarno-Hatta Jakarta International Airport and close to Tangerang's shopping district.
Jl. Benteng Betawi No. 88, Buaran Indah
Tangerang, Banten 15148
Indonesia
Phone: +62 21 29205555
Web: alliumtangerang.samalihotels.com
Greenotel Cilegon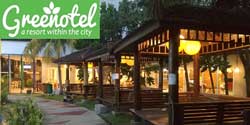 Greenotel Cilegon was built in 2015 and Opening in November 2015. Our Location is located in the Kawasan Green Megablok and the Cilegon Main Road, it's make easy to reach. The Concept of Hotel is Go Green, that's way Greenotel Cilegon is different from other Hotel's in Cilegon. This hotel is 11 km from Banten Lama and 41 km from Carita. The nearest airport is Soekarno Hatta Airport Jakarta, 65 km from Greenhotel Cilegon.
Cilegon Green Mega Block E2 No 33-34, Jl Ahmad Yani, Cibeber
Cilegon, Banten 42426
Indonesia
Phone: +62 254 396222
Web: www.greenotelcilegon.co.id
Le Dian Hotel & Cottages Serang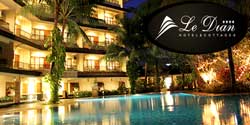 Serang was inaugurated as the Capital City of Banten Province in 2000. In response to its present, in 2006 Le Dian Hotel was established to accommodate travelers who are doing business in Serang City and industrial cities surrounding such as Cilegon, Tangerang, even Jakarta. Le Dian Hotel is also located close to numbers of points of interests to include local attraction, historical and cultural sites.
Serang, Banten 42118
Indonesia
Phone: +62 254 229888
Web: www.ledian-hotel.com

Latest News
Sawarna Beach Sawarna beach, that located in Lebak, Banten province is now becomes more popular to be visited. In a decade, this beach that located along the forest beach in line with Pelabuhan Ratu, raise as one of most-visited beach and entitled as a new pearl in Southern Banten. To reach Sawarna, the travelers from Jakarta can be start the journey from Tangerang, Tigaraksa and Malimping, Bayah. While, from Bandung, we can start from Pelabuhan Ratu, then down the coast to the west. Unfortunately, we have to ask to the…
---
Serang Serang is the capital of Banten Province and the administrative center of Serang Regency. The administrative center of the regency and the capital of the province is the independent municipality of Serang (Kota Serang). Serang is about 10 km from Old Banten, the province's former capital. Merak, a major port and ferry terminal, is located just west of the regency. Serang is bounded by Java Sea to the north, Tangerang Regency to the east, Lebak Regency and Pandeglang Regency to the south, and Cilegon to the west. Old Banten…
---
Pandeglang Pandeglang is a regency in Banten province with the capital of the same city. This rgency is bordered to the north of Serang, Lebak District in the East, and the Indonesian Ocean in the west and south. Its area also includes the island of Panaitan to the west, separated by the Strait of Panaitan, and number of small islands in the Indian Ocean, including the Deli Island and Tinjil Island. Ujung Kulon Peninsula is the most western tip in Java island, where there are wildlife reserves and there is…
---
Banten Banten is one of Indonesia Provinces that stand on the tip of Java Island. Formerly was a part of West Java Province, but on 2000 was separated and become a single province. The administrative city is located on Serang city. Banten at early begin was a port city with the busiest activity and prosperous people. Also, Banten was the most important port from Sunda Kingdom. When it was become a part of Sultanate of Banten, Banten became the biggest port city on South East Asia as big as Malaka…
---