Speelwijk Fort and Cemeteries
---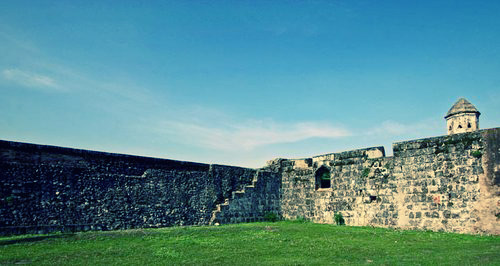 This fortress is sited in the north west of Surosowan, Pamarican village. Fort Speelwijk was built in 1682 by VOC and expanded in 1685 and 1731 to control the activities of the Banten kingdom and protect the Dutch interests at Banten. Situated not so far from Chinese temple Avalokiteshvara, this fortress directly facing to the sea. From this point, the Dutch troopers was watching and guarding the fort from pirates and local heroes. Inside the fortress, there's an Old Dutch cemetery. One of the buried bodies is a man who was born in Bergen-op-Zoom in 17th century. The Ruin of fortress implies that it was a great fortress in Banten, height about 5 meters and length of each side of 80 meters; also the canal for defense surrounded it. It has four bastions that still stand sturdily.
In 1659 a treaty between Banten and the Dutch, by then a trading company known for short as VOC, gave a tract of land free to the Cloggiest and it was here they built their stone defenses. At that time the sea was much closer than today, now fishing boats are just visible bobbing lazily on the tide from the battlements. In 1682 after a brief conflict the Dutch kicked the English traders out of 'their' turf and licking their wounds, they settled on the godforsaken Bengkulu on the west coast of Sumatra where they proceeded to drink vast quantities of alcohol and really piss off their head office in London.
Just outside the fort to the east are some tombs of those who never made it home. Like can be seen in Jakarta, Bogor, Penang and Melaka the silent tombs tell the story of western endeavors in the east and it is to the credit of the host countries that these burial places have often been spared the bulldozer. The ruin of Speelwijk fort is also stayed at the northwest of the tomb of the third king of Banten kingdom, Maulana Yusuf, who ruled in the 1570s. Since 1985, local archaeological finds have been displayed in the Banten Site Museum on Mesjid Banten Lama Street.

Latest News
Sawarna Beach Sawarna beach, that located in Lebak, Banten province is now becomes more popular to be visited. In a decade, this beach that located along the forest beach in line with Pelabuhan Ratu, raise as one of most-visited beach and entitled as a new pearl in Southern Banten. To reach Sawarna, the travelers from Jakarta can be start the journey from Tangerang, Tigaraksa and Malimping, Bayah. While, from Bandung, we can start from Pelabuhan Ratu, then down the coast to the west. Unfortunately, we have to ask to the…
---
Serang Serang is the capital of Banten Province and the administrative center of Serang Regency. The administrative center of the regency and the capital of the province is the independent municipality of Serang (Kota Serang). Serang is about 10 km from Old Banten, the province's former capital. Merak, a major port and ferry terminal, is located just west of the regency. Serang is bounded by Java Sea to the north, Tangerang Regency to the east, Lebak Regency and Pandeglang Regency to the south, and Cilegon to the west. Old Banten…
---
Pandeglang Pandeglang is a regency in Banten province with the capital of the same city. This rgency is bordered to the north of Serang, Lebak District in the East, and the Indonesian Ocean in the west and south. Its area also includes the island of Panaitan to the west, separated by the Strait of Panaitan, and number of small islands in the Indian Ocean, including the Deli Island and Tinjil Island. Ujung Kulon Peninsula is the most western tip in Java island, where there are wildlife reserves and there is…
---
Banten Banten is one of Indonesia Provinces that stand on the tip of Java Island. Formerly was a part of West Java Province, but on 2000 was separated and become a single province. The administrative city is located on Serang city. Banten at early begin was a port city with the busiest activity and prosperous people. Also, Banten was the most important port from Sunda Kingdom. When it was become a part of Sultanate of Banten, Banten became the biggest port city on South East Asia as big as Malaka…
---