A Splendid Place to Spend a Holiday in Cilegon City, Banten – Krakatau Country Club
---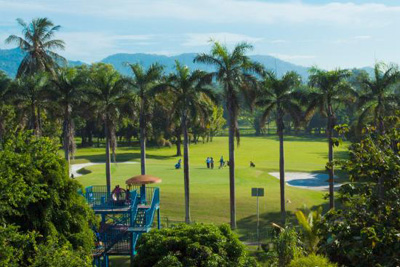 People in Banten have probably heard about Krakatau Country Club. This recreational place is situated in Cilegon City. To be exact, it lies in Marzuki Street 39. Also, it belongs to Kebondalem Village and Purwakarta District. This place provides different types of fun facilities to the guests such as a golf field, pools, sauna, a tennis court, restaurants, karaoke lounges, and much more. In a nutshell, KCC is the most completed recreational spot in Banten. You can either come with your families or friends.
The Nuance
The first impression you get when visiting KCC is an amusement. It is because this place offers complete fun facilities for everyone regardless of the age. Mostly, the visitors are families with kids. It is because the facilities are suitable for children. The pools are the most favorite section, actually. There are also some rubber boats and other facilities. In terms of nuance, this tourist spot is surrounded by trees. That means visitors can feel a comfortable atmosphere when spending good times and playing with their families.
Exploring Krakatau Country Club
According to the locals, the management only provided swimming pools for visitors. In some occasions, Krakatau Country Club also becomes a location for a swimming competition. People in Cilegon are always waiting for such event. Today, tourists can enjoy numerous fun facilities. The best feature is indeed the "water boom". It opened in 2009. Many families take advantage of it as a perfect recreational spot and relaxation. It features 4 different swimming pools. One of them has the depth of 1 m. This pool also includes a slide with a strong current.
The height of the slide is about 20 meters. In terms of shape, it is similar to a snake. There are different spirals with a distinct color, too. Next, there is a pool for kids. The depth is only 60 cm. It features a slide in the midst part of the pool. Actually, the best feature is a giant bucket. It may spill the water every 1 minute and 40 seconds. Overall, it is safe and suitable for your kids. For adults, the previous pool is a better choice.
Krakatau Country Club has many facilities. However, the water boom is definitely a great option for a family with kids. Thanks to the management. It has become a merrier tourist spot these days. The environment is clean and the facilities are splendid. There is even a flying fox crossing the water boom. Not to mention the guests are able to rent an ATV and get around the location. With all these features, KCC is everyone's favorite tourist destination. Make sure to visit it with your families.
Nearby Attractions
Padang Golf Krakatau
Krakatau Junction
How to Get There
If you want to visit KCC, you must head to Banten Province first. From Jakarta, it takes 2-3 hours and the distance is approximately 110 km. If you come by private vehicle, you can simply take Pantura Street. Once you reach Cilegon, you must head to Purwakarta District and Kebondalem Village.
Where to Stay
The Royale Krakatau Hotel
Cilegon Hotel
Amaris Hotel

Latest News
Sawarna Beach Sawarna beach, that located in Lebak, Banten province is now becomes more popular to be visited. In a decade, this beach that located along the forest beach in line with Pelabuhan Ratu, raise as one of most-visited beach and entitled as a new pearl in Southern Banten. To reach Sawarna, the travelers from Jakarta can be start the journey from Tangerang, Tigaraksa and Malimping, Bayah. While, from Bandung, we can start from Pelabuhan Ratu, then down the coast to the west. Unfortunately, we have to ask to the…
---
Serang Serang is the capital of Banten Province and the administrative center of Serang Regency. The administrative center of the regency and the capital of the province is the independent municipality of Serang (Kota Serang). Serang is about 10 km from Old Banten, the province's former capital. Merak, a major port and ferry terminal, is located just west of the regency. Serang is bounded by Java Sea to the north, Tangerang Regency to the east, Lebak Regency and Pandeglang Regency to the south, and Cilegon to the west. Old Banten…
---
Pandeglang Pandeglang is a regency in Banten province with the capital of the same city. This rgency is bordered to the north of Serang, Lebak District in the East, and the Indonesian Ocean in the west and south. Its area also includes the island of Panaitan to the west, separated by the Strait of Panaitan, and number of small islands in the Indian Ocean, including the Deli Island and Tinjil Island. Ujung Kulon Peninsula is the most western tip in Java island, where there are wildlife reserves and there is…
---
Banten Banten is one of Indonesia Provinces that stand on the tip of Java Island. Formerly was a part of West Java Province, but on 2000 was separated and become a single province. The administrative city is located on Serang city. Banten at early begin was a port city with the busiest activity and prosperous people. Also, Banten was the most important port from Sunda Kingdom. When it was become a part of Sultanate of Banten, Banten became the biggest port city on South East Asia as big as Malaka…
---