Krakatau Jungle Park in Cilegon City, Banten
---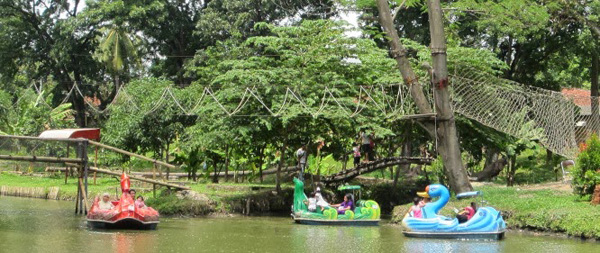 There is a recommended tourist spot in Cilegon City called Krakatau Jungle Park. It is a popular spot for a family outing. It also becomes one of the best tourist lures in Banten Province. The location is in Jaya Karta Street 121. Actually, it belongs to Kebondalem Village. The park features numerous challenging outbound games, especially flying fox. There is even a swimming pool for kids. No wonder, most visitors are families. It is also crowded on weekends. On top of that, the nuance is comfortable.
The Nuance
Once you reach Krakatau Jungle Park, you can see shady trees. They are big and green. Many pigeons are often seen there. They come to the park looking for foods. In some occasions, some scouts come to the park for an outdoor program. Overall, the park represents an education and adventure. There is also a ticket booth. It doesn't cost much, so everyone is able to afford it. In terms of nuance, it is both comfortable and cool. Thus, any tourists should take care of the environment well. That means you should never litter!
Exploring Krakatau Jungle Park
The park is considered an affordable and merry recreation place in Cilegon City. Today, it becomes a favorite place among families. If you have kids, you must take advantage of it. The park actually belongs to Krakatau Steel Corporation. That means it is the part of the company. Also, it combines an ecology, nature, and adventure concept. Mostly, visitors want to try flying fox and other stimulating activities. However, there are other types of activities as well. It is as simple as sitting under the trees. There are several gazebos, too.
Apart from flying fox, the other features are mini trains. Your kids would really love it. Next, there are ponds. Near to the ponds, you can find duck boats. With proper a small amount of fee, you can rent them and explore the ponds. Next, there are plastic balls. You can enter the ball and play in the water. It seems uncomfortable, though. Not to mention the weather is a little bit hot. If you have decided to try such feature, you should not spend more than 10 minutes in it.
With all those features, Krakatau Jungle Park sounds promising. You don't even need to spend much money to enter it. On top of that, your kids can try different types of features and games. When it comes to facilities, there is a vast parking area. Also, there are toilets and small mosques. There is only one rule. You must take care of the environment. For those who carry snacks, it is not allowed to throw the trash carelessly.
Nearby Attractions
How to Get There
If you live in Jakarta, your destination is Cilegon City, Banten. The trip takes about 2-3 hours and the distance is 112 km. You can take Pantura Street for the fastest route. When it comes to transportation, a private car is recommended. Make sure to book a hotel beforehand. It is likely you want to spend more than one day in Cilegon.
Where to Stay
Jayakarta Hotel
Amaris Hotel
The Royale Krakatau

Latest News
Sawarna Beach Sawarna beach, that located in Lebak, Banten province is now becomes more popular to be visited. In a decade, this beach that located along the forest beach in line with Pelabuhan Ratu, raise as one of most-visited beach and entitled as a new pearl in Southern Banten. To reach Sawarna, the travelers from Jakarta can be start the journey from Tangerang, Tigaraksa and Malimping, Bayah. While, from Bandung, we can start from Pelabuhan Ratu, then down the coast to the west. Unfortunately, we have to ask to the…
---
Serang Serang is the capital of Banten Province and the administrative center of Serang Regency. The administrative center of the regency and the capital of the province is the independent municipality of Serang (Kota Serang). Serang is about 10 km from Old Banten, the province's former capital. Merak, a major port and ferry terminal, is located just west of the regency. Serang is bounded by Java Sea to the north, Tangerang Regency to the east, Lebak Regency and Pandeglang Regency to the south, and Cilegon to the west. Old Banten…
---
Pandeglang Pandeglang is a regency in Banten province with the capital of the same city. This rgency is bordered to the north of Serang, Lebak District in the East, and the Indonesian Ocean in the west and south. Its area also includes the island of Panaitan to the west, separated by the Strait of Panaitan, and number of small islands in the Indian Ocean, including the Deli Island and Tinjil Island. Ujung Kulon Peninsula is the most western tip in Java island, where there are wildlife reserves and there is…
---
Banten Banten is one of Indonesia Provinces that stand on the tip of Java Island. Formerly was a part of West Java Province, but on 2000 was separated and become a single province. The administrative city is located on Serang city. Banten at early begin was a port city with the busiest activity and prosperous people. Also, Banten was the most important port from Sunda Kingdom. When it was become a part of Sultanate of Banten, Banten became the biggest port city on South East Asia as big as Malaka…
---