Visiting Kenekes Village in Rangkas Bitung Regency, Banten
---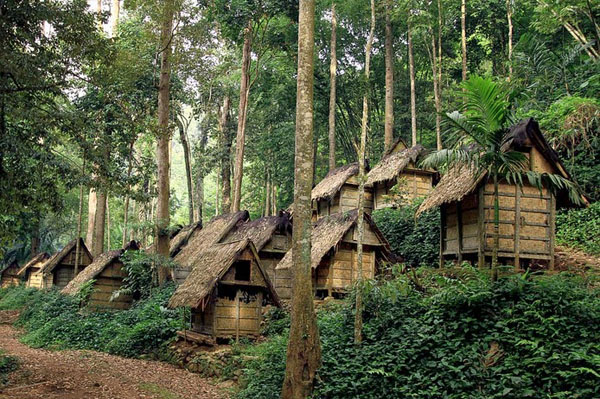 Indonesia is a rich nation and it is the home of tons of culture. In Banten Province, there is Baduy Village. It is situated in Rangkas Bitung Regency and it offers numerous cultural attractions. For example, there is Kenekes Village. It has become one of the best attractions in Baduy Village. Today, tourists come to such settlement to enjoy the performance directly. The thing is you can find many types of cultural attractions in Baduy Village. Mostly, tourists want to observe how the locals perform their activities every day.
The Nuance
In terms of nuance, the village is quite traditional. All the people don't like vehicles. No wonder, you may see them walking all the time. The village features a wild nature. It seems there are no facilities nearby. It is because the villagers are against any modern influences. Somehow, tourists considered it unique and interesting. Kenekes has attracted many visitors recently. Even though it takes a little bit effort to reach the location, it is worth a visit. Your time and effort won't go to waste.
Exploring Kenekes Village
A trip to Kenekes is definitely challenging. Most of the tourists would take advantage of a tour guide. This person is able to give an efficient direction to reach the village. As long as you have the money, you can get such kind of service. Once you reach the location, make sure to show respect to the villagers. They don't use any vehicles and smartphones. If it is possible, you need should avoid using those things as well. With this thing in mind, you are able to get along well with the locals.
As mentioned before, there are no facilities in Kenekes Village. Here is the tip. You need to carry some foods and bottled water. If you are lucky, the villagers may ask you to join their feast. This requires a good communication skill, though. For a flawless communication, you should hire a tour guide. He or she may help you to talk to villagers well. That means you have a better chance to get invited to dinner or any types of foods.
What about the accommodation? Well, the villages don't feature any hotels. What you can get is the formation of traditional houses. Once again, you are lucky if the locals invite you to stay in their home. One thing, there are not many facilities. It is because you are going to live like them. Here is the fact. People of Baduy Dalam are intolerant to technology. In this case, you should not show any types of gadgets in front of them. If you are looking for more tolerant community, you need to reach Baduy Luar People instead.
Nearby Attractions
Banten Girang
Batu Kuwung
Karang Mountain
How to Get There
It doesn't matter where you live as you can reach Kenekes Village without hassles. The trip from Jakarta takes 2 hours and the distance is 98 km. If you want a faster trip, it is better to ride a private car. In this case, Pantura Street becomes your primary way to reach your destination.
Where to Stay
Cottage Baduy
Sofyan Inn
Puri Kayana Hotel

Latest News
Sawarna Beach Sawarna beach, that located in Lebak, Banten province is now becomes more popular to be visited. In a decade, this beach that located along the forest beach in line with Pelabuhan Ratu, raise as one of most-visited beach and entitled as a new pearl in Southern Banten. To reach Sawarna, the travelers from Jakarta can be start the journey from Tangerang, Tigaraksa and Malimping, Bayah. While, from Bandung, we can start from Pelabuhan Ratu, then down the coast to the west. Unfortunately, we have to ask to the…
---
Serang Serang is the capital of Banten Province and the administrative center of Serang Regency. The administrative center of the regency and the capital of the province is the independent municipality of Serang (Kota Serang). Serang is about 10 km from Old Banten, the province's former capital. Merak, a major port and ferry terminal, is located just west of the regency. Serang is bounded by Java Sea to the north, Tangerang Regency to the east, Lebak Regency and Pandeglang Regency to the south, and Cilegon to the west. Old Banten…
---
Pandeglang Pandeglang is a regency in Banten province with the capital of the same city. This rgency is bordered to the north of Serang, Lebak District in the East, and the Indonesian Ocean in the west and south. Its area also includes the island of Panaitan to the west, separated by the Strait of Panaitan, and number of small islands in the Indian Ocean, including the Deli Island and Tinjil Island. Ujung Kulon Peninsula is the most western tip in Java island, where there are wildlife reserves and there is…
---
Banten Banten is one of Indonesia Provinces that stand on the tip of Java Island. Formerly was a part of West Java Province, but on 2000 was separated and become a single province. The administrative city is located on Serang city. Banten at early begin was a port city with the busiest activity and prosperous people. Also, Banten was the most important port from Sunda Kingdom. When it was become a part of Sultanate of Banten, Banten became the biggest port city on South East Asia as big as Malaka…
---