Dano Swamp in Luwuk Village, Serang Regency
---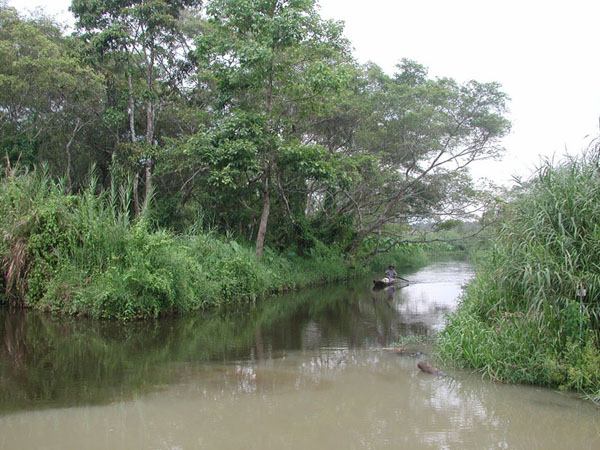 A beautiful vacation should involve a unique tourist spot. In Banten Province, you have Dano Swamp. It is a recommended place to explore. What is it exactly? It is a swamp looking like a lake! People come to the location to ride a boat and explore the swamp. Somehow, it becomes unique vacation nature tourism. The thing is not many people know it. To be exact, the swamp is situated in Luwuk Village. It belongs to Gunung Sari District. Despite unpopular, it has been recognized by the locals. Today, people from Jakarta and nearby cities also start visiting the lake.
The Nuance
In terms of appearance, it is similar to a lake. That means there are a watery body and numerous water plants. Some parts of the swamp are covered by grasses. In some occasions, there are several traditional boats and local people. They look for woods and other valuables in that location. If you are lucky, you can ride on their boat and explore the swamp. The thing is you need to wear proper clothes. Some mosquitos and insects can be real burdens, especially during summer.
Exploring Dano Swamp
The first thing to do in Dano Swamp is to learn the history. In the past, that location was an inactive volcano crater. As the time goes by, it became a lake. It turned into a swamp recently. That means it is a swamp over a lake. This uniqueness is definitely attractive. When it comes to the size, it is about 2,500 ha. The nuance is soothing, as well. Many green trees and numerous animals become extras in such location.
If you love birds, you can find many species of them. In fact, it reaches more than 200 species of birds living in this swamp. Some reptiles also live there, so you may expect alligators too. The beauty of the swamp is outstanding. Make sure not to miss the afternoon. At that time, the sun may set beautifully. Not to mention there is thick fog, there. The shape and size are similar to cotton. These indeed create a flawless beauty of nature.
Once you have explored the swamp, you can take your time for resting. Near to Dano Swamp, there are several chairs or benches. That means tourists are allowed to sit and relax there. If you carry snacks and drinks, you can enjoy them while watching the unspoiled beauty of Dano. The wind is chilling, too. Today, visitors come from either Banten or Jakarta. In fact, the visitors also come from other cities.
Nearby Attractions
Tanjung Kait Beach
Pintu Seribu Mosque
How to Get There
So, are you visiting the lake? It is better to prepare everything. For example, you need to find the fastest route to reach the location. From Jakarta, you can simply follow Pantura Street. It is through Tangerang – Merak Freeway. The trip takes about 2-3 hours. It depends on your vehicle! When it comes to the distance, it is about 60 km. For many, it is not a long trip. Still, you need to be prepared well.
Where to Stay

Latest News
Sawarna Beach Sawarna beach, that located in Lebak, Banten province is now becomes more popular to be visited. In a decade, this beach that located along the forest beach in line with Pelabuhan Ratu, raise as one of most-visited beach and entitled as a new pearl in Southern Banten. To reach Sawarna, the travelers from Jakarta can be start the journey from Tangerang, Tigaraksa and Malimping, Bayah. While, from Bandung, we can start from Pelabuhan Ratu, then down the coast to the west. Unfortunately, we have to ask to the…
---
Serang Serang is the capital of Banten Province and the administrative center of Serang Regency. The administrative center of the regency and the capital of the province is the independent municipality of Serang (Kota Serang). Serang is about 10 km from Old Banten, the province's former capital. Merak, a major port and ferry terminal, is located just west of the regency. Serang is bounded by Java Sea to the north, Tangerang Regency to the east, Lebak Regency and Pandeglang Regency to the south, and Cilegon to the west. Old Banten…
---
Pandeglang Pandeglang is a regency in Banten province with the capital of the same city. This rgency is bordered to the north of Serang, Lebak District in the East, and the Indonesian Ocean in the west and south. Its area also includes the island of Panaitan to the west, separated by the Strait of Panaitan, and number of small islands in the Indian Ocean, including the Deli Island and Tinjil Island. Ujung Kulon Peninsula is the most western tip in Java island, where there are wildlife reserves and there is…
---
Banten Banten is one of Indonesia Provinces that stand on the tip of Java Island. Formerly was a part of West Java Province, but on 2000 was separated and become a single province. The administrative city is located on Serang city. Banten at early begin was a port city with the busiest activity and prosperous people. Also, Banten was the most important port from Sunda Kingdom. When it was become a part of Sultanate of Banten, Banten became the biggest port city on South East Asia as big as Malaka…
---