Visiting Suka Hujan Beach in Lebak Regency, Banten
---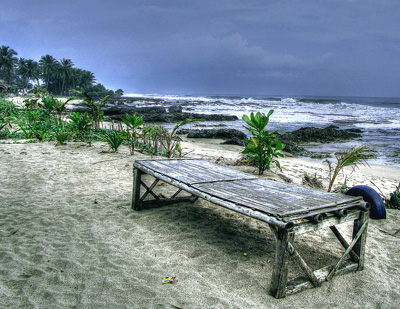 Many beaches are available in Banten Province. One of them is located in Lebak Regency and the name is Suka Hujan Beach. It is situated about15 km from Malingping District. As the name suggests, it lies in Suka Hujan Village. The beach is popular with its white sand and coral reefs, actually. It becomes a perfect location to enjoy beautiful sea scenery. However, it is not as crowded as other beaches in Lebak. Despite such fact, the beach is recommended for those who want to relax and spend good times in nature.
The Nuance
The waves aren't quite strong. That means it is possible to swim. However, the locals don't recommend it. It is better to obey their precautions! In terms of beauty, the beach emits a stunning aura. Thanks to the coconut trees and coral reefs. They make the coast more worthy. Next, it is the wind. Once you get to the beach, you can feel the gusty wind. Overall, Suka Hujan Beach is suitable for relaxation. Beach walking is also recommended!
Exploring Suka Hujan Beach
Most of the tourists come to Suka Hujan Beach for its beautiful sand. That means beach walking is the most popular activity there. The sand has a soft texture. It doesn't hurt your feet at all. Next, it is about the coral reefs. These beautiful things often become an object of photography. In fact, some tourists come to the beach to perform a pre-wed photo session. The beautiful landscape of the beach has attracted many nature lovers from different locations. As a traveler, you should take this opportunity.
In holidays, Suka Hujan Beach gets more visitors. Moreover, many local food vendors come to the beach to sell their products. That means you can buy different types of snacks and drinks. In the afternoon, it is time to enjoy the beautiful sunset. The romantic color of the sun gives a comforting feeling to everyone. It is an opportunity to improve and retain your relationship, especially for lovers.
In terms of size, Suka Hujan Beach is not quite wide. It is not as wide as other southern beaches in Banten Province. However, it gives you a better privacy. A serene nuance becomes a top feature in the beach. Not to mention there are coral reefs. They look majestic and beautiful. Somehow, they become the icon of the beach. Since it is located near to Bagedur Beach, you must visit such coast too. That means you can visit two different beaches in one go. Make sure to learn the route, though. For beginners, a trip to those beaches can be troublesome.
Nearby Attractions
How to Get There
Lebak Regency has the distance of 114 km from Jakarta. That means you may spend about 3-4 hours. The trip is considered long and tiring. Importantly, you must take Pantura Street and Tangerang – Merak Freeway. Once you reach Lebak, your next destination is Suka Hujan Village. Have no worries. The locals may help you by giving direction. Thanks to their friendliness.
Where to Stay
Graha Bahari Hotel
Rahayu Hotel
Malingping Bahari Hotel

Latest News
Sawarna Beach Sawarna beach, that located in Lebak, Banten province is now becomes more popular to be visited. In a decade, this beach that located along the forest beach in line with Pelabuhan Ratu, raise as one of most-visited beach and entitled as a new pearl in Southern Banten. To reach Sawarna, the travelers from Jakarta can be start the journey from Tangerang, Tigaraksa and Malimping, Bayah. While, from Bandung, we can start from Pelabuhan Ratu, then down the coast to the west. Unfortunately, we have to ask to the…
---
Serang Serang is the capital of Banten Province and the administrative center of Serang Regency. The administrative center of the regency and the capital of the province is the independent municipality of Serang (Kota Serang). Serang is about 10 km from Old Banten, the province's former capital. Merak, a major port and ferry terminal, is located just west of the regency. Serang is bounded by Java Sea to the north, Tangerang Regency to the east, Lebak Regency and Pandeglang Regency to the south, and Cilegon to the west. Old Banten…
---
Pandeglang Pandeglang is a regency in Banten province with the capital of the same city. This rgency is bordered to the north of Serang, Lebak District in the East, and the Indonesian Ocean in the west and south. Its area also includes the island of Panaitan to the west, separated by the Strait of Panaitan, and number of small islands in the Indian Ocean, including the Deli Island and Tinjil Island. Ujung Kulon Peninsula is the most western tip in Java island, where there are wildlife reserves and there is…
---
Banten Banten is one of Indonesia Provinces that stand on the tip of Java Island. Formerly was a part of West Java Province, but on 2000 was separated and become a single province. The administrative city is located on Serang city. Banten at early begin was a port city with the busiest activity and prosperous people. Also, Banten was the most important port from Sunda Kingdom. When it was become a part of Sultanate of Banten, Banten became the biggest port city on South East Asia as big as Malaka…
---