Exploring Situ Palayangan in Margajaya Village, Banten Province
---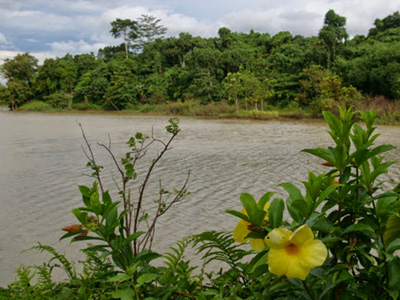 A great vacation involves a challenging location. In Banten Province, there is a site called Situ Palayangan. It is a popular site for those who love an adventure. The location is in Kalang Anyar District and it always attracts many visitors. Situ Palayangan is a wonderful location to enjoy fishing and water exploration. Even those without experiences are able to enjoy good times there. For those who look for a peaceful nuance, that place is a recommended place to go.
The Nuance
Once you reach the site, you can see a serene lake and calming nature. It is surrounded by thick bushes and wonderful nuance. The atmosphere is cold, especially in the morning. At weekend, many people come to the location. Have no worries. There are many natural attractions available. Sometimes, you may see birds and bugs. They come to this location for eating and breeding. In a nutshell, the lake emits a comfortable nuance. It is a perfect location for a self-reflection.
Exploring Situ Palayangan
Situ means "lake". It becomes a popular checkpoint for those who are visiting Baduy and Kenekes Village. Why do tourists love it? It helps visitors to calm themselves. Before visiting Kenekes, it is better to drop by in this lake. The distance is only 2 km from Rangkasbitung, after all. It is also perfect for those who love photography. Many beautiful objects are available such as wild plants and birds. If you are lucky, you can see rare bugs as well. 
Somehow, Situ Palayangan is able to replenish your soul. No wonder, many tourists come to this location for relaxation. Apart from being a tourist site, the lake has been used as the source of irrigation. Local farmers take advantage of the abundant water of the lake, especially those who live in Karanganyar and Cimarga Village. The next attraction is the small island located in this area. It becomes a symbol of the lake and makes it different to the others.
The best thing to do in Situ Palayangan is fishing. Thanks to the abundant amount of fish in the lake. For local teenagers, the lake becomes a great location for hanging out in the afternoon. Today, tourist agents have included the lake into the Baduy tour package. That means you can visit both Kenekes Village and Situ Palayangan in one go. Don't forget to carry your fishing rod, though. It is because you won't find facilities providing such item nearby. It is better safe than being regretful later. Here is another thing. Don't forget to carry a camera.
Nearby Attractions
Baros Indah Permai
Athlete Pool
Cigaru Cisoka
Kenekes Village
How to Get There
For those who come from Jakarta, your first destination is Lebak Regency. Next, you need to head to Karang Anyar District. Once you get there, it is time to head to Margajaya Village. The whole trip takes about 3 hours and the distance is 115. It doesn't matter what type of vehicle you might use. The best route is definitely Pantura Street.
Where to Stay
Ksatria Hotel
angkit Hotel
Wijaya Hotel

Latest News
Sawarna Beach Sawarna beach, that located in Lebak, Banten province is now becomes more popular to be visited. In a decade, this beach that located along the forest beach in line with Pelabuhan Ratu, raise as one of most-visited beach and entitled as a new pearl in Southern Banten. To reach Sawarna, the travelers from Jakarta can be start the journey from Tangerang, Tigaraksa and Malimping, Bayah. While, from Bandung, we can start from Pelabuhan Ratu, then down the coast to the west. Unfortunately, we have to ask to the…
---
Serang Serang is the capital of Banten Province and the administrative center of Serang Regency. The administrative center of the regency and the capital of the province is the independent municipality of Serang (Kota Serang). Serang is about 10 km from Old Banten, the province's former capital. Merak, a major port and ferry terminal, is located just west of the regency. Serang is bounded by Java Sea to the north, Tangerang Regency to the east, Lebak Regency and Pandeglang Regency to the south, and Cilegon to the west. Old Banten…
---
Pandeglang Pandeglang is a regency in Banten province with the capital of the same city. This rgency is bordered to the north of Serang, Lebak District in the East, and the Indonesian Ocean in the west and south. Its area also includes the island of Panaitan to the west, separated by the Strait of Panaitan, and number of small islands in the Indian Ocean, including the Deli Island and Tinjil Island. Ujung Kulon Peninsula is the most western tip in Java island, where there are wildlife reserves and there is…
---
Banten Banten is one of Indonesia Provinces that stand on the tip of Java Island. Formerly was a part of West Java Province, but on 2000 was separated and become a single province. The administrative city is located on Serang city. Banten at early begin was a port city with the busiest activity and prosperous people. Also, Banten was the most important port from Sunda Kingdom. When it was become a part of Sultanate of Banten, Banten became the biggest port city on South East Asia as big as Malaka…
---