Sirih Beach in Serang Regency, Banten
---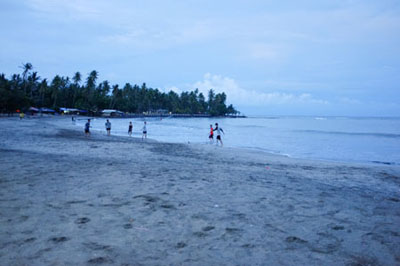 Have you heard about Sirih Beach? It is a beautiful coast located in Karang Bolong Street, Serang Regency. Still, it belongs to Banten Province. The beach is recognized due to its beautiful white sand. The location is quite strategic, so everyone can reach it easily. It is also situated near to several hotels. There is a ticket fee, but it is not expensive. On top of that, the beach is quite crowded. That means you may expect many visitors, especially during the holidays. Somehow, it gives you the chance to make new friends. Also, the beach may increase your family bond.
The Nuance
Many people love the soft texture and the beauty of the sand. No wonder, the locals consider Sirih Beach as their signature tourist spot. The water isn't quite clear, but it features calm waves. Near to the seashore, there are several "warungs" or food stands. Tourists are able to enjoy good foods there. Not to mention local beverages are also worth a try. Some of them are called "wedangs". These include local tea, coffee, ginger, etc. If you love iced drinks, you can simply talk to the sellers.
Exploring Sirih Beach
In terms of facilities, Sirih Beach provides almost everything. These include banana boats, jet skis, local boats, tents, and much more. For those who want to swim in the water, you can simply rent a floating tire. It is a crucial item for your kids. This way, the children can swim safely. For families, a lunch on the beach sounds great. The thing is you need to carry a mat and some foods. As an alternative, you can buy some foodstuffs and drinks from the food stands.
Sirih Beach features a hot temperature, so it can be uncomfortable at noon. In this case, you need to carry several items such as a hat, sunglasses, sunscreen, etc. At least, these things help you reduce the sore sensation due to excessive heat. There are no shady trees, so you should not expect refreshing nuance there. Sometimes, the water appears grimy. Despite these weaknesses, you won't regret visiting Sirih Beach. It is a recommended place to enjoy a family vacation, after all.
The next thing to do in Sirih Beach is relaxation. Tourists can simply enjoy the nuance. It is because the beach features many visitors, stunning sand, food vendors, and outstanding facilities. As for relaxation, you can use a mat and sit on the sand. Make sure to come with friends or families, though. If you come with your spouse, the beach also emits a romantic nuance, especially during sunset. Isn't that great?
Nearby Attractions
Banten Girang
Bumi Kali Talang
Wulandira
How to Get There
First, you need to head to Serang Regency. It doesn't take much time from Jakarta, actually. With a regular car, the trip takes 1-2 hours and the distance is approximately 86 km. The best routes to reach the location are Pantura Street and Tangerang-Merak Freeway. Once you reach Serang, it is time to head to Karang Bolong Street.
Where to Stay
Le Dian Hotel
Puri Kayana Hotel
Ratu Hotel
Marbela Hotel

Latest News
Sawarna Beach Sawarna beach, that located in Lebak, Banten province is now becomes more popular to be visited. In a decade, this beach that located along the forest beach in line with Pelabuhan Ratu, raise as one of most-visited beach and entitled as a new pearl in Southern Banten. To reach Sawarna, the travelers from Jakarta can be start the journey from Tangerang, Tigaraksa and Malimping, Bayah. While, from Bandung, we can start from Pelabuhan Ratu, then down the coast to the west. Unfortunately, we have to ask to the…
---
Serang Serang is the capital of Banten Province and the administrative center of Serang Regency. The administrative center of the regency and the capital of the province is the independent municipality of Serang (Kota Serang). Serang is about 10 km from Old Banten, the province's former capital. Merak, a major port and ferry terminal, is located just west of the regency. Serang is bounded by Java Sea to the north, Tangerang Regency to the east, Lebak Regency and Pandeglang Regency to the south, and Cilegon to the west. Old Banten…
---
Pandeglang Pandeglang is a regency in Banten province with the capital of the same city. This rgency is bordered to the north of Serang, Lebak District in the East, and the Indonesian Ocean in the west and south. Its area also includes the island of Panaitan to the west, separated by the Strait of Panaitan, and number of small islands in the Indian Ocean, including the Deli Island and Tinjil Island. Ujung Kulon Peninsula is the most western tip in Java island, where there are wildlife reserves and there is…
---
Banten Banten is one of Indonesia Provinces that stand on the tip of Java Island. Formerly was a part of West Java Province, but on 2000 was separated and become a single province. The administrative city is located on Serang city. Banten at early begin was a port city with the busiest activity and prosperous people. Also, Banten was the most important port from Sunda Kingdom. When it was become a part of Sultanate of Banten, Banten became the biggest port city on South East Asia as big as Malaka…
---