Exploring Sangkir Cave in Bojongmanik District, Banten Province
---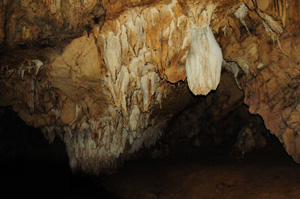 Banten Province is situated in the west part of Java Island. Still, it belongs to Indonesia. It is popular for its beaches indeed. However, you can also find other natural attractions. For example, there is Sangkir Cave in Lebak Regency. This recreational site is suitable for those who love an adventure and new explorations. The width of the cave is about 6 meters. However, no one knows how deep the cave is. Some experts even say it may reach Kanekes Village. Well, who knows?
The Nuance
In terms of nuance, it is similar to any regular caves. The atmosphere is dark and moist. The walls of the cave are considered damp, as well. Somehow, it creates a creepy aura. If you want to explore the cave well, it is better to carry a flashlight. The floor is wet, as well. That means you need to wear proper footwear when exploring the cave. Another tip is the number of explorers. It is better to come with a companion. It is possible to explore the cave alone, but it is not recommended.
Exploring Sangkir Cave
The best thing to do is Sangkir Cave is definitely cave exploration. It is also called spelunking. In fact, it is a safe activity as long as you follow the procedures. If it is possible, you need to come with a professional. He can help you learn the art of caving. That means you won't hurt yourself when exploring the site. You know where to go and how to explore the cave. Thanks to the expert. A local tour guide is also recommended.
Before visiting Sangkir Cave, you must learn several rules of caving. The most important thing is your attitude. You must not take anything. What you can only take are pictures. Thus, it is allowed to carry a camera. Since the atmosphere is a little bit dark, you need to carry a flashlight. It helps you pass through obstacles easily. Also, you can use the flashlight to provide illumination for the objects before you capture some pictures of them. Thus, it is a prime item to carry when performing cave exploration.
Next, it is related to the footprints. Don't litter and you need to minimize any impact to the cave. If you come with kids, make sure they don't draw anything on the wall. Any visitors should take care of the environment, after all. In some occasions, you may encounter bats. Have no worries. They cause no harm to you. On the other hand, you can make them your objects of photography.
Nearby Attractions
Curug Gendang
Tanjung Lesung
Situ Cikedal
How to Get There
So, how can you reach Sangkir Cave? The location is in Lebak Regency. For those who come from Jakarta, it takes about 5 hours. The distance is 160 km, after all. When it comes to the transportation option, the best choice is a private car. It is fast and reliable. Also, you need to take Pantura Street for the fastest way to reach Sangkir Cave.
Where to Stay
Karibia Krakatau Hotel
Kharisma Beach Resort
Katon Hotel

Latest News
Sawarna Beach Sawarna beach, that located in Lebak, Banten province is now becomes more popular to be visited. In a decade, this beach that located along the forest beach in line with Pelabuhan Ratu, raise as one of most-visited beach and entitled as a new pearl in Southern Banten. To reach Sawarna, the travelers from Jakarta can be start the journey from Tangerang, Tigaraksa and Malimping, Bayah. While, from Bandung, we can start from Pelabuhan Ratu, then down the coast to the west. Unfortunately, we have to ask to the…
---
Serang Serang is the capital of Banten Province and the administrative center of Serang Regency. The administrative center of the regency and the capital of the province is the independent municipality of Serang (Kota Serang). Serang is about 10 km from Old Banten, the province's former capital. Merak, a major port and ferry terminal, is located just west of the regency. Serang is bounded by Java Sea to the north, Tangerang Regency to the east, Lebak Regency and Pandeglang Regency to the south, and Cilegon to the west. Old Banten…
---
Pandeglang Pandeglang is a regency in Banten province with the capital of the same city. This rgency is bordered to the north of Serang, Lebak District in the East, and the Indonesian Ocean in the west and south. Its area also includes the island of Panaitan to the west, separated by the Strait of Panaitan, and number of small islands in the Indian Ocean, including the Deli Island and Tinjil Island. Ujung Kulon Peninsula is the most western tip in Java island, where there are wildlife reserves and there is…
---
Banten Banten is one of Indonesia Provinces that stand on the tip of Java Island. Formerly was a part of West Java Province, but on 2000 was separated and become a single province. The administrative city is located on Serang city. Banten at early begin was a port city with the busiest activity and prosperous people. Also, Banten was the most important port from Sunda Kingdom. When it was become a part of Sultanate of Banten, Banten became the biggest port city on South East Asia as big as Malaka…
---