Batu Lawang Hill in Cilegon, Banten Province
---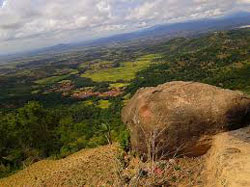 Banten Province is considered a great destination for holidays. Why is that? You can find numerous options for vacation spots. If you visit Cilegon, there is Batu Lawang Hill. It is named after two enormous stones. The gap between those stones creates a shape like a door. Thus, Lawang means "door" in English. The location is suitable for those who love a peaceful atmosphere. Instead of visiting crowded Anyer Beach, you can enjoy a serene nature and fresh air. From the hill, you can witness numerous attractions from afar. These include Karang Mountain, Krenceng Lake, and Pinang Mountain.
The Nuance
You can see the best views from the top of the hill. That means it takes some efforts to reach such spot. The landmark features bushes and trees. If you look at the sky, there are numerous clouds. They look so beautiful from the hill, as well. Therefore, the best time to visit Batu Lawang is in the summer. The purpose is to avoid heavy rains. Also, it is better to hike the hill in the morning. This way, you can feel fresh and pure atmosphere!
Exploring Batu Lawang Hill
The best attraction in Batu Lawang Hill is the local activity. Many people come to the hill either for relaxation or looking for valuable items. You can even see them while trekking. In fact, the route passes villagers' farms. If you can speak Indonesian, you must drop by and talk to them for a moment. If you are lucky, they will give you some jackfruits and snacks. The thing is water becomes rare in the hot season. Thus, you must carry enough bottled water prior to trekking. 
Apart from trekking, you can enjoy photography. The hill offers numerous attractions. The best view is the gap between two giant stones. Somehow, the shape is similar to a frog! If you love photography, you should never miss it. Apart from the stones, you can take selfies. Some objects are also attractive, in fact. These include trees, hills, and clouds. From the top of the hill, you can even witness nearby scenery such as boats, Sunda Strait, and much more. Make sure to reach the top of the hill first!
As for the tips, you must carry bottled water and some snacks. It is because you may need much energy for trekking. Not to mention there are no food stands or facilities. What you get is only nature and serene atmosphere. Next, it is related to apparels. Make sure to wear comfortable clothes and footwear! Sometimes, the weather is quite hot. In this case, you should apply sunscreen before trekking. At least, it can reduce the damages caused by excessive sun rays.
Nearby Attractions
Wulandira Park
Banten Mosque
Panjang Island
How to Get There
Your first destination is Cilegon. To be exact, Batu Lawang Hill is located in Gerem Village. The main route is definitely Merak. If you come from Jakarta, you should head to Serang District. Actually, many tour agents are ready to help you. If not, you can take advantage of a private car. There is a nameplate of the tourist spot. From there, you need to hike for about 3 km.
Where to Stay
Jayakarta Hotel
Amaris Hotel
Sari Kuring Indah Hotel

Latest News
Sawarna Beach Sawarna beach, that located in Lebak, Banten province is now becomes more popular to be visited. In a decade, this beach that located along the forest beach in line with Pelabuhan Ratu, raise as one of most-visited beach and entitled as a new pearl in Southern Banten. To reach Sawarna, the travelers from Jakarta can be start the journey from Tangerang, Tigaraksa and Malimping, Bayah. While, from Bandung, we can start from Pelabuhan Ratu, then down the coast to the west. Unfortunately, we have to ask to the…
---
Serang Serang is the capital of Banten Province and the administrative center of Serang Regency. The administrative center of the regency and the capital of the province is the independent municipality of Serang (Kota Serang). Serang is about 10 km from Old Banten, the province's former capital. Merak, a major port and ferry terminal, is located just west of the regency. Serang is bounded by Java Sea to the north, Tangerang Regency to the east, Lebak Regency and Pandeglang Regency to the south, and Cilegon to the west. Old Banten…
---
Pandeglang Pandeglang is a regency in Banten province with the capital of the same city. This rgency is bordered to the north of Serang, Lebak District in the East, and the Indonesian Ocean in the west and south. Its area also includes the island of Panaitan to the west, separated by the Strait of Panaitan, and number of small islands in the Indian Ocean, including the Deli Island and Tinjil Island. Ujung Kulon Peninsula is the most western tip in Java island, where there are wildlife reserves and there is…
---
Banten Banten is one of Indonesia Provinces that stand on the tip of Java Island. Formerly was a part of West Java Province, but on 2000 was separated and become a single province. The administrative city is located on Serang city. Banten at early begin was a port city with the busiest activity and prosperous people. Also, Banten was the most important port from Sunda Kingdom. When it was become a part of Sultanate of Banten, Banten became the biggest port city on South East Asia as big as Malaka…
---