A Splendid KCC Golf Field in Cilegon City, Banten Province
---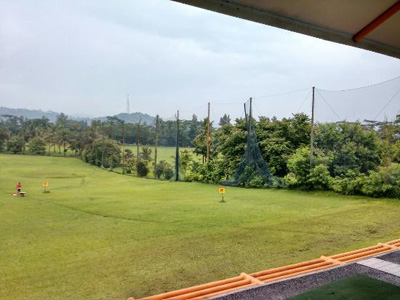 A life in a big city is related to burdens and stresses. In order to relieve these problems, a recreational activity becomes a priority. For example, you can get rid of stress by performing a sports activity. The simplest option is golf. In Banten Province, there is a great golf field called KCC. It is located in Cilegon City, actually. It opens for public, so any travelers or tourists can access it. It doesn't matter how skillful you are. This golf field is suitable for anyone regardless of the experience.
The Nuance
In terms of size, KCC (Krakatau Country Club) Golf Field is considered wide. It comes with a comfortable and chilling nuance, as well. Apart from golfing, you can simply hang around and relax in this location. Like other regular golf fields, there are some features such as grassy lands, sands, and a pond. There is also a structure located near to this field. Most tourists use it for relaxation. In many parts of the field, there are shady trees. These give a serene and calm atmosphere.
Exploring KCC Golf Field
The locals often consider golf as a luxurious sports activity. They think it is only accessible for rich people. However, they are wrong. Today, any regular people are able to enjoy it regardless of age, skills, and social status. Thanks to KCC Golf Field. In some occasions, the management even holds a special event. The purpose is to train the guests regarding golfing. That means participants will learn several basic techniques and tricks of such sport. Not to mention there are some competitions, too.
The size of KCC Golf Field is about 52 hectare. Here is the fact. It is the best and the most featured golf field in Banten Province. On top of that, it provides coaching clinic facilities to visitors. In order to get all these amenities, you need to pay the membership fee first. Have no worries. The price is cheap. Not to mention the management often gives a free membership to some lucky visitors. In this case, you should take never miss the training schedule. Even those who live outside Banten have the same opportunities.
Is golf the answer for you? A family vacation and sports activities can be related. When it comes to golfing, you have many advantages of it. For instance, it keeps you fit and improves muscle tone. Someway, it helps you lose body fat. If you come with families, golfing is able to help you retain relationships. In KCC Golf Field, you have the chance to meet new people and make some new friends. Isn't it great?
Nearby Attractions
Krakatau Junction
Krakatau Steel Lake
How to Get There
A trip from Jakarta to Cilegon City takes about 2-3 hours. The distance is approximately 122 km. The best route is Pantura Street. Next, you can use Tangerang-Merak Freeway. Once you reach Cilegon, you only need to head to Krakatau Country Club. It features numerous facilities, especially the golf field. Enjoy!
Where to Stay
Sari Kuring Indah Hotel
The Royale Krakatau Hotel
Cilegon City Hotel


Latest News
Sawarna Beach Sawarna beach, that located in Lebak, Banten province is now becomes more popular to be visited. In a decade, this beach that located along the forest beach in line with Pelabuhan Ratu, raise as one of most-visited beach and entitled as a new pearl in Southern Banten. To reach Sawarna, the travelers from Jakarta can be start the journey from Tangerang, Tigaraksa and Malimping, Bayah. While, from Bandung, we can start from Pelabuhan Ratu, then down the coast to the west. Unfortunately, we have to ask to the…
---
Serang Serang is the capital of Banten Province and the administrative center of Serang Regency. The administrative center of the regency and the capital of the province is the independent municipality of Serang (Kota Serang). Serang is about 10 km from Old Banten, the province's former capital. Merak, a major port and ferry terminal, is located just west of the regency. Serang is bounded by Java Sea to the north, Tangerang Regency to the east, Lebak Regency and Pandeglang Regency to the south, and Cilegon to the west. Old Banten…
---
Pandeglang Pandeglang is a regency in Banten province with the capital of the same city. This rgency is bordered to the north of Serang, Lebak District in the East, and the Indonesian Ocean in the west and south. Its area also includes the island of Panaitan to the west, separated by the Strait of Panaitan, and number of small islands in the Indian Ocean, including the Deli Island and Tinjil Island. Ujung Kulon Peninsula is the most western tip in Java island, where there are wildlife reserves and there is…
---
Banten Banten is one of Indonesia Provinces that stand on the tip of Java Island. Formerly was a part of West Java Province, but on 2000 was separated and become a single province. The administrative city is located on Serang city. Banten at early begin was a port city with the busiest activity and prosperous people. Also, Banten was the most important port from Sunda Kingdom. When it was become a part of Sultanate of Banten, Banten became the biggest port city on South East Asia as big as Malaka…
---