Kanteh Waterfall in Cilograng District, Banten Province
---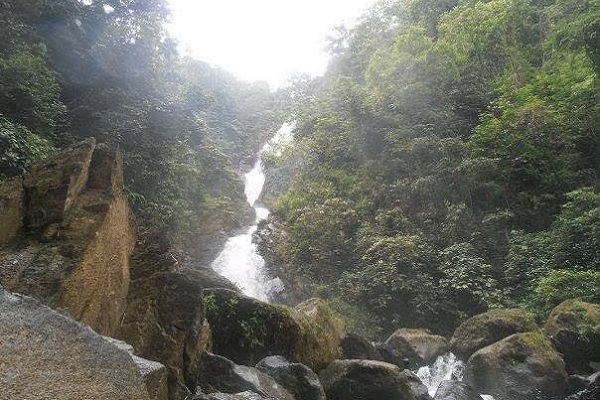 Holidays are great times for travelers. In this case, Banten Province should be a wonderful destination for everyone. It features many types of nature tourist spots and one of them is Kanteh Waterfall. The location is in Cikatomas Village and it belongs to Cilograng District. The local name is Curug Kenteh. It is both beautiful and relaxing. Most of the visitors spend good times in Kanteh to relax and enjoy the serene nature. Some of them also take advantage of the waterfall to play water. It is also suitable for a family vacation, actually.
The Nuance
Even though the water isn't quite clear, it is fresh. The splash of the water looks beautiful, as well. There are 3 ponds in each of the levels of the falls. In terms of height, Kanteh Waterfall is about 80 meters. It is situated between two cliffs, with the height of 100 meters. These features make a perfect nuance. No wonder, it helps tourists to relax and eradicate stresses at once. Not to mention the temperature is quite nice. The best time to visit the waterfall is in the morning, actually.
Exploring Kanteh Waterfall
Apart from its beauty, Kanteh Waterfall holds an interesting history. In the past, there was a rich settlement. An old man lived in such village and the people respected him much. It was because of his sacred spirit and magical power. The locals often asked for the help of this man for abundant sources of corps. With his help, the villagers lived in a prosperous way. Also, this old man recommended the villagers to build irrigation. In some way, Kanteh Waterfall was part of such story.
So, what can people do in Kanteh Waterfall? Most of the time, they come to play in the water. As mentioned before, there are three ponds available. Each of them offers distinct attractions. Also, they come in a different depth. It is true the water is safe for swimming. Still, you need to be careful in playing in the ponds. Also, it can be dangerous for kids without supervision. If you come with children, make sure to accompany them in the water. This helps you to prevent accidents.
Another fun activity in Kanteh Waterfall is photography. It is also merrier if you come with your friends or families. That means you can take pictures together in front of the waterfall. Not to mention there are many interesting objects near to the falls. These include bushes, sparkling water, and stones. Another best feature is the atmosphere. In the morning, the nuance is quite chilling. It may give you a refreshing feeling, as well.
Nearby Attractions
How to Get There
It takes much time to reach Curug Kenteh, especially for those who come from Jakarta. The distance is 166 km and it takes about 4-5 hours. However, it is a worthy trip. Once you reach Cihideung Village, you need to walk for 40 minutes to reach the location. That means the trip features a little bit trekking, as well. This tiring activity is rewarding, though.
Where to Stay
Kuda Laut Resort
Ocean Queen Resort

Latest News
Sawarna Beach Sawarna beach, that located in Lebak, Banten province is now becomes more popular to be visited. In a decade, this beach that located along the forest beach in line with Pelabuhan Ratu, raise as one of most-visited beach and entitled as a new pearl in Southern Banten. To reach Sawarna, the travelers from Jakarta can be start the journey from Tangerang, Tigaraksa and Malimping, Bayah. While, from Bandung, we can start from Pelabuhan Ratu, then down the coast to the west. Unfortunately, we have to ask to the…
---
Serang Serang is the capital of Banten Province and the administrative center of Serang Regency. The administrative center of the regency and the capital of the province is the independent municipality of Serang (Kota Serang). Serang is about 10 km from Old Banten, the province's former capital. Merak, a major port and ferry terminal, is located just west of the regency. Serang is bounded by Java Sea to the north, Tangerang Regency to the east, Lebak Regency and Pandeglang Regency to the south, and Cilegon to the west. Old Banten…
---
Pandeglang Pandeglang is a regency in Banten province with the capital of the same city. This rgency is bordered to the north of Serang, Lebak District in the East, and the Indonesian Ocean in the west and south. Its area also includes the island of Panaitan to the west, separated by the Strait of Panaitan, and number of small islands in the Indian Ocean, including the Deli Island and Tinjil Island. Ujung Kulon Peninsula is the most western tip in Java island, where there are wildlife reserves and there is…
---
Banten Banten is one of Indonesia Provinces that stand on the tip of Java Island. Formerly was a part of West Java Province, but on 2000 was separated and become a single province. The administrative city is located on Serang city. Banten at early begin was a port city with the busiest activity and prosperous people. Also, Banten was the most important port from Sunda Kingdom. When it was become a part of Sultanate of Banten, Banten became the biggest port city on South East Asia as big as Malaka…
---