Carita Beach
---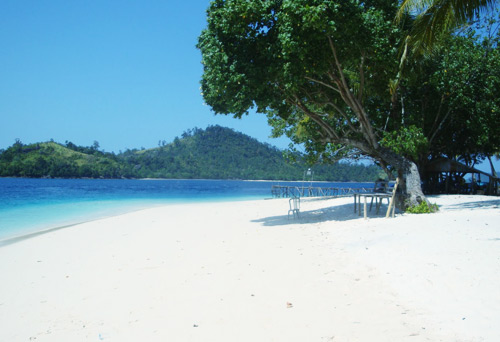 This beach is about a three-hour drive along the highway to the west of Jakarta, and has a great beach for swimming, as the waters are relatively calm on this side of the island. A great place for swimming, scuba diving, snorkeling, sailing, fishing, and underwater photography, this resort offers a complete set of facilities including restaurants, accommodation, motorboats, and diving equipments. This beach is located in West Banten, Labuhan district, Padeglang regency, which is accessible by any land transportation and takes about 3 hours drive from Jakarta. The parlous state of conservation in Indonesia, and in Java in particular means that this small, degraded forest behind this busy beach resort is one of the best places to find some of Java's lowland endemics. The forest has heavily used both by tourists (more high school students) and by local woodcutters and trappers. All the forest on the ridge tops appears to have been recently logged and this forest would appear to have a limited future - another victim of Indonesia's economic woes.
Besides white beaches behind hundreds of swaying coconut trees, one panoramic highlight is the visibility of the infamous Krakatoa Volcano from Carita, rising above the horizon in Sunda Strait between Java and Sumatra. The visitors won't have difficulties finding a place to stay here as many cottages, hotels and camping grounds are all available, not to mention the inevitable seafood.
Accessible from Jakarta over a fair road, the visitors can reach it in less than 3 hours, one third of which is over a toll road, which is being extended to the extreme western part of Java in Merak. Here again, most visitors arrive from Jakarta, as Bandung is more than 6 hours away from Carita by road.

Latest News
Sawarna Beach Sawarna beach, that located in Lebak, Banten province is now becomes more popular to be visited. In a decade, this beach that located along the forest beach in line with Pelabuhan Ratu, raise as one of most-visited beach and entitled as a new pearl in Southern Banten. To reach Sawarna, the travelers from Jakarta can be start the journey from Tangerang, Tigaraksa and Malimping, Bayah. While, from Bandung, we can start from Pelabuhan Ratu, then down the coast to the west. Unfortunately, we have to ask to the…
---
Serang Serang is the capital of Banten Province and the administrative center of Serang Regency. The administrative center of the regency and the capital of the province is the independent municipality of Serang (Kota Serang). Serang is about 10 km from Old Banten, the province's former capital. Merak, a major port and ferry terminal, is located just west of the regency. Serang is bounded by Java Sea to the north, Tangerang Regency to the east, Lebak Regency and Pandeglang Regency to the south, and Cilegon to the west. Old Banten…
---
Pandeglang Pandeglang is a regency in Banten province with the capital of the same city. This rgency is bordered to the north of Serang, Lebak District in the East, and the Indonesian Ocean in the west and south. Its area also includes the island of Panaitan to the west, separated by the Strait of Panaitan, and number of small islands in the Indian Ocean, including the Deli Island and Tinjil Island. Ujung Kulon Peninsula is the most western tip in Java island, where there are wildlife reserves and there is…
---
Banten Banten is one of Indonesia Provinces that stand on the tip of Java Island. Formerly was a part of West Java Province, but on 2000 was separated and become a single province. The administrative city is located on Serang city. Banten at early begin was a port city with the busiest activity and prosperous people. Also, Banten was the most important port from Sunda Kingdom. When it was become a part of Sultanate of Banten, Banten became the biggest port city on South East Asia as big as Malaka…
---