Mountain Biking in Pinang Mountain, Banten Province
---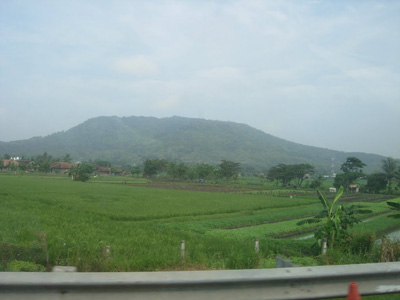 More people are into mountain biking now. It is even considered better than road biking. Not to mention there are many locations of MTB tracks available. If you are visiting Banten Province there is Pinang Mountain MTB Track. There are no cars and hassles. Visitors can simply come with their mountain bike and enjoy a splendid adventure there. Are you interested? It is good for your health and you can enjoy the serene of nature. On top of that, it costs nothing!
The Nuance
Pinang Mountain is a famous tourist spot in Banten Province. One of the best features is the mountain bike track. Everyone is allowed to access this location, in fact. Just like typical mountains, it is surrounded by shady trees and numerous types of landscapes. The nuance is relaxing as there are no vehicles and pollution. The best time to visit the mountain is in the morning. It is when the atmosphere is cool and the sun isn't quite hot. Make sure not to come in the afternoon as it can be a little bit dark.
Exploring Pinang Mountain MTB Track
The mountain bike park is situated in Wanayasa Village. It belongs to Kramatwatu District and Serang Regency, actually. The locals consider it as the best spot for mountain biking. Not to mention they have created a Volcano MTB Community. This is a popular club in Cilegon. If you live nearby, you can join it and make some friends. Also, it becomes an opportunity to learn more about mountain biking. Even beginners can join it. The instructor and the leader may share knowledge and experience with the members, after all.
Another name of mountain biking is downhill biking. The community comes to Pinang Mountain every weekend. Thus, it is better to come in such time. The MTB track has the length of 2.2 km. Most of the features are the downhill and they come in different angles. There is even a downhill with 50 degrees angle. Dare you to explore it? Before visiting this location, it is better to learn the schedule. Somehow, it is also important to know a little bit about the history of MTB Community.
It is said such community has been there since 2005. It got more members over time. Most of the members are mountain biking and nature lovers. Some of them even come from other provinces. For beginners, such activity can be dangerous. The community helps rookies to perform downhill biking in a safe manner. This becomes a reason to join the club, so you should never overlook it. There is an instructor and he may tell you about the safety standards. In a nutshell, mountain biking includes safety gears like goggle, helmet, and body protectors. Once you fulfill such requirements, you are ready to go.
Nearby Attractions
Wulandira Park
Banten Grand Mosque
How to Get There
A trip to Cilegon City takes about 2-3 hours. The distance is 96 km from Jakarta to Pinang Mountain. You can use Pantura Street and later turn to Tangerang-Merak Freeway. From there, your last destination will be Pinang Mountain.
Where to Stay
Horrison Forbis
Grand Mangku Putra
Sari Kuring Indah Hotel

Latest News
Sawarna Beach Sawarna beach, that located in Lebak, Banten province is now becomes more popular to be visited. In a decade, this beach that located along the forest beach in line with Pelabuhan Ratu, raise as one of most-visited beach and entitled as a new pearl in Southern Banten. To reach Sawarna, the travelers from Jakarta can be start the journey from Tangerang, Tigaraksa and Malimping, Bayah. While, from Bandung, we can start from Pelabuhan Ratu, then down the coast to the west. Unfortunately, we have to ask to the…
---
Serang Serang is the capital of Banten Province and the administrative center of Serang Regency. The administrative center of the regency and the capital of the province is the independent municipality of Serang (Kota Serang). Serang is about 10 km from Old Banten, the province's former capital. Merak, a major port and ferry terminal, is located just west of the regency. Serang is bounded by Java Sea to the north, Tangerang Regency to the east, Lebak Regency and Pandeglang Regency to the south, and Cilegon to the west. Old Banten…
---
Pandeglang Pandeglang is a regency in Banten province with the capital of the same city. This rgency is bordered to the north of Serang, Lebak District in the East, and the Indonesian Ocean in the west and south. Its area also includes the island of Panaitan to the west, separated by the Strait of Panaitan, and number of small islands in the Indian Ocean, including the Deli Island and Tinjil Island. Ujung Kulon Peninsula is the most western tip in Java island, where there are wildlife reserves and there is…
---
Banten Banten is one of Indonesia Provinces that stand on the tip of Java Island. Formerly was a part of West Java Province, but on 2000 was separated and become a single province. The administrative city is located on Serang city. Banten at early begin was a port city with the busiest activity and prosperous people. Also, Banten was the most important port from Sunda Kingdom. When it was become a part of Sultanate of Banten, Banten became the biggest port city on South East Asia as big as Malaka…
---