Pulo Manuk Beach in Lebak Regency, Banten
---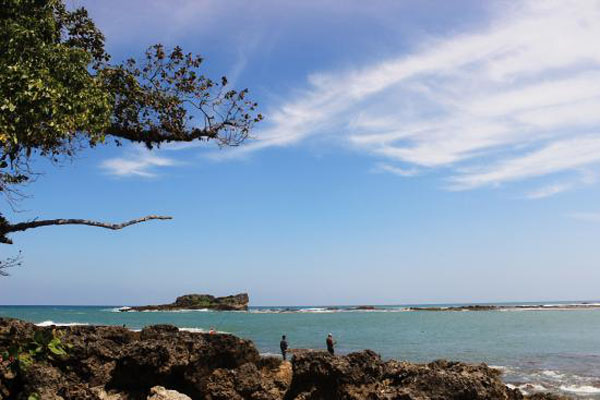 Travelers often look for new vacation destinations as they are craving for new adventures. In Lebak Regency, there is a recommended tourist spot called Pulo Manuk Beach. To be exact, the location is in Sawarna Village, Bayah District. The name derived from the Sunda Language. The meaning is the island of birds. Pulo means "island" and Manuk means "bird". As the name implies, you may find many types of birds living near to the beach. They come to this area either to eat or rest.
The Nuance
In terms of beauty, the beach offers an average charm. That means it doesn't have special features. As mentioned earlier, the best feature in the island is the bird. Apart from such creature, you can also find other animals such as wild monkeys. They often come to the beach to reach visitors. The thing is they are considered a naughty creature. The sea water has moderate waves, so it is possible to swim in it. The nuance is calm and serene. That means you can simply relax and watch the sea scenery in a comfortable manner.
Exploring Pulo Manuk Beach
Apart from the birds, Pulo Manuk Beach is also famous for its white sand. It features a clean appearance and soft texture. Everyone can play around on it without hassles. If you like sunbathing, you can also do it there. What about the entry fee, though? It is true you need to pay the ticket. However, it doesn't cost much. The management uses the money to retain and improve the quality of the beach, after all. This way, tourists are able to enjoy a vacation in a more comfortable manner.
In terms of beauty, Pulo Manuk Beach is considered exotic. It doesn't have special features, though. Some tourists also come to the beach to learn a history behind it. According to the story, this location was part of WWII. Japanese came there and apply Romusha to the locals. Many people died due to such program. Many of them were buried in Pulo Manuk. Due to this reason, the beach also emits a thrilling nuance. Still, it doesn't reduce its attractiveness.
In a nutshell, everyone is able to enjoy good times in Pulo Manuk Beach. The beach has become an interesting vacation destination over time. Even backpackers are able to explore the beach without hassles. There are many hotels located near to the beach, especially in Bayah District. You can even find villas and homestays. Each of them features different prices and amenities, so you are allowed to compare and review them first prior to renting a room.
Nearby Attractions
Tanjung Layar Beach
Legon Pari Beach
Lalay Cave
How to Get There
The beach is located in Bayah District. For those who come from Jakarta, you need to spend about 5-6 hours. The best route to reach the location is through Jagorawi Freeway. The distance is about 182 km, so it is going to be a long trip. Due to this reason, you should have prepared everything. These include snacks, money, drinks, clothes, etc.
Where to Stay
Sawarna Hotel
Sawarna Villa

Latest News
Sawarna Beach Sawarna beach, that located in Lebak, Banten province is now becomes more popular to be visited. In a decade, this beach that located along the forest beach in line with Pelabuhan Ratu, raise as one of most-visited beach and entitled as a new pearl in Southern Banten. To reach Sawarna, the travelers from Jakarta can be start the journey from Tangerang, Tigaraksa and Malimping, Bayah. While, from Bandung, we can start from Pelabuhan Ratu, then down the coast to the west. Unfortunately, we have to ask to the…
---
Serang Serang is the capital of Banten Province and the administrative center of Serang Regency. The administrative center of the regency and the capital of the province is the independent municipality of Serang (Kota Serang). Serang is about 10 km from Old Banten, the province's former capital. Merak, a major port and ferry terminal, is located just west of the regency. Serang is bounded by Java Sea to the north, Tangerang Regency to the east, Lebak Regency and Pandeglang Regency to the south, and Cilegon to the west. Old Banten…
---
Pandeglang Pandeglang is a regency in Banten province with the capital of the same city. This rgency is bordered to the north of Serang, Lebak District in the East, and the Indonesian Ocean in the west and south. Its area also includes the island of Panaitan to the west, separated by the Strait of Panaitan, and number of small islands in the Indian Ocean, including the Deli Island and Tinjil Island. Ujung Kulon Peninsula is the most western tip in Java island, where there are wildlife reserves and there is…
---
Banten Banten is one of Indonesia Provinces that stand on the tip of Java Island. Formerly was a part of West Java Province, but on 2000 was separated and become a single province. The administrative city is located on Serang city. Banten at early begin was a port city with the busiest activity and prosperous people. Also, Banten was the most important port from Sunda Kingdom. When it was become a part of Sultanate of Banten, Banten became the biggest port city on South East Asia as big as Malaka…
---