Joining a Fun Sports Activity in Krakatau Bike Park, Cilegon, Banten
---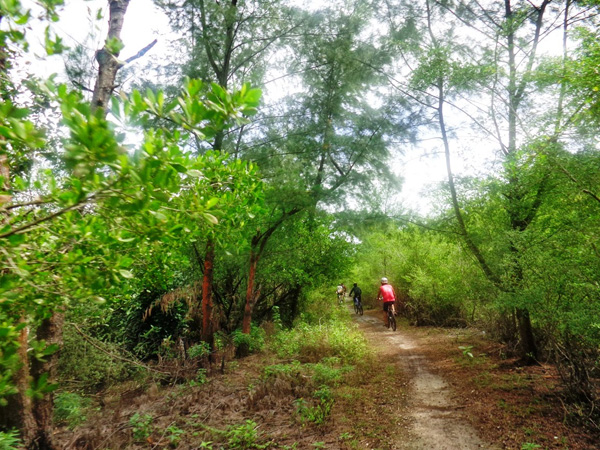 Mountain biking is a fun sports activity. For those who live in Banten Province, Krakatau Bike Park is indeed familiar. As the name suggests, it is a place for biking. To be exact, the location is in Purwakarta District. From there, you should head to Kotabumi. Mountain biking is a new hit these days. That means you are going to conquer the downhill landscape. Somehow, it is similar to skiing. It elevates your adrenaline and gives thrilling sensation. In some occasions, there is an event in this bike park. The participants come from numerous regions, as well.
The Nuance
Krakatau Bike Park features a natural route for biking. That means you may encounter numerous plants and trees. The landscape is quite challenging yet fun. You won't find any big stones in this area. That means the route is considered safe either for beginners or professionals. For the best experience, you need to come during an event. This way, you are able to compete against other bikers. The thing is you need to carry and prepare the equipment beforehand. These include a mountain bike, a helmet, and other safety gears.
Exploring Krakatau Bike Park
The local often conducts a mountain bike competition. It is because they want to find new talented bikers. Not to mention it helps promote the popularity of Cilegon City. Hopefully, more tourists come to Krakatau Bike Park and other tourist spots in Cilegon, Banten. The participants come from other regions. In fact, some of them come from other provinces and islands. Everyone can join it regardless of the ages. Even your kids can participate in such event. It doesn't have to be a tight competition. For many, it becomes a fun activity.
In a casual time, Krakatau Bike Park becomes a vacation destination for tourists. That means there is no competition at all. You can simply explore the mountain bike route freely with your families. For many, it is considered more comfortable. It also becomes an opportunity to teach your kids how to ride a mountain bike. With proper safety gears and a good bike, this activity can be quite comfortable. It is a unique way to spend a holiday in Banten Province. Thus, you must include it in your tour activity.
Mountain biking gives many benefits to everyone. For instance, it helps you decrease stresses. The power of nature and a good landscape may alter your mood. That means you can improve your health by performing such activity. Somehow, it helps you reduce blood pressure. Don't you believe it? Apart from that, a mountain biking gives you healthier heart and joints. It is a recommended activity for everyone. In this case, Krakatau Bike Park may accommodate any bikers!
Nearby Attractions
Padang Golf Krakatau
KCC
Krakatau Junction
How to Get There
The first thing to do is to visit Banten Province. From Jakarta, the trip takes 2-3 hours and the distance is 109 km. You can use Pantura Street for a faster trip. Next, it is time to reach Purwakarta District and head to Kotabumi.
Where to Stay
Amaris Hotel
The Royale Krakatau Hotel
Cilegon City Hotel

Latest News
Sawarna Beach Sawarna beach, that located in Lebak, Banten province is now becomes more popular to be visited. In a decade, this beach that located along the forest beach in line with Pelabuhan Ratu, raise as one of most-visited beach and entitled as a new pearl in Southern Banten. To reach Sawarna, the travelers from Jakarta can be start the journey from Tangerang, Tigaraksa and Malimping, Bayah. While, from Bandung, we can start from Pelabuhan Ratu, then down the coast to the west. Unfortunately, we have to ask to the…
---
Serang Serang is the capital of Banten Province and the administrative center of Serang Regency. The administrative center of the regency and the capital of the province is the independent municipality of Serang (Kota Serang). Serang is about 10 km from Old Banten, the province's former capital. Merak, a major port and ferry terminal, is located just west of the regency. Serang is bounded by Java Sea to the north, Tangerang Regency to the east, Lebak Regency and Pandeglang Regency to the south, and Cilegon to the west. Old Banten…
---
Pandeglang Pandeglang is a regency in Banten province with the capital of the same city. This rgency is bordered to the north of Serang, Lebak District in the East, and the Indonesian Ocean in the west and south. Its area also includes the island of Panaitan to the west, separated by the Strait of Panaitan, and number of small islands in the Indian Ocean, including the Deli Island and Tinjil Island. Ujung Kulon Peninsula is the most western tip in Java island, where there are wildlife reserves and there is…
---
Banten Banten is one of Indonesia Provinces that stand on the tip of Java Island. Formerly was a part of West Java Province, but on 2000 was separated and become a single province. The administrative city is located on Serang city. Banten at early begin was a port city with the busiest activity and prosperous people. Also, Banten was the most important port from Sunda Kingdom. When it was become a part of Sultanate of Banten, Banten became the biggest port city on South East Asia as big as Malaka…
---